Prior to creating Girls on Food, I wanted to create a blog called Girl v. Man v. Food. The blog would center around myself participating in food challenges a la Adam Richman's Man v. Food. For a long time I've been fascinated with food challenges. Sure, I much prefer sitting down, taking my time and savoring every morsel of a dish, as a food blogger should. But I am so curious what it's like to have to push gastronomic abilities for a cheering audience. My buddy Taylor actually competed in the 2015 Silver Lake Pizza Eater competition (and won!) and I was green with envy.
Fast forward to last week – I receive a message on Facebook from a female (whom I have no mutual friends in common with) to come into Yup Dduk in K-Town, Los Angeles for a spicy food challenge. I mean, how could I say no to an invite from a stranger on Facebook?
Confession time – I'm a wuss when it comes to spicy foods. I do ok with Mexican-based heat, but when it comes to Korean heat, my experience is pretty limited. One time, I ate a Thai chile in a bowl of Tom Yum soup and my tongue was sent into flames. I had the server bring me a pitcher of water (I ended up needing 2), I also had to order rice and a side of ice cream. That heat wouldn't even disappear for a whole 30 minutes. So… did I have any business accepting this food challenge?
I felt like I needed a friend with a great sense of humor to get me through this so I took my comedienne pal Rachel along for the ride. Cause if you can't laugh at yourself pre-emitively failing a foodie challenge, what can you laugh at?  Insert the nervous looking emoticon here.
Yup Dduk
3603 W 6th St, Los Angeles, CA 90020
https://www.orderspoon.com/yupddukla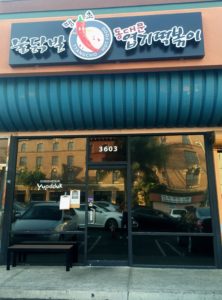 Yup Dduk is located inside of a K-Town strip mall (valet is only $2!). It's exterior comes off unassuming, you would probably think it's another quaint Korean restaurant. There's an adorable smiling chili pepper in their sign. Cute. Then, I realized the chili pepper in the logo isn't just smiling, he's profusely sweating. And the sweat is red… Does this mean he's sweating blood? Oh no. What did I agree to?
The atmosphere inside is very youthful (hashtags on the wall are so Millennial) , there's upbeat K-Pop playing and if you're not in the mood for table service, you can dine fast casual style at the cash register. The servers are so welcoming and they thoroughly explain what the #KTownSpicyChallenge is all about.
Yup Dduk specializes in ddukbokki bowl, which are chewy, gnocchi-like rice cakes. The ddukbokki is smothered with a gochujang chili sauce and you can add toppings. You have a choice of mild, original or the spicy challenge. First, there are other great items I want you to explore with me before the scalding main event.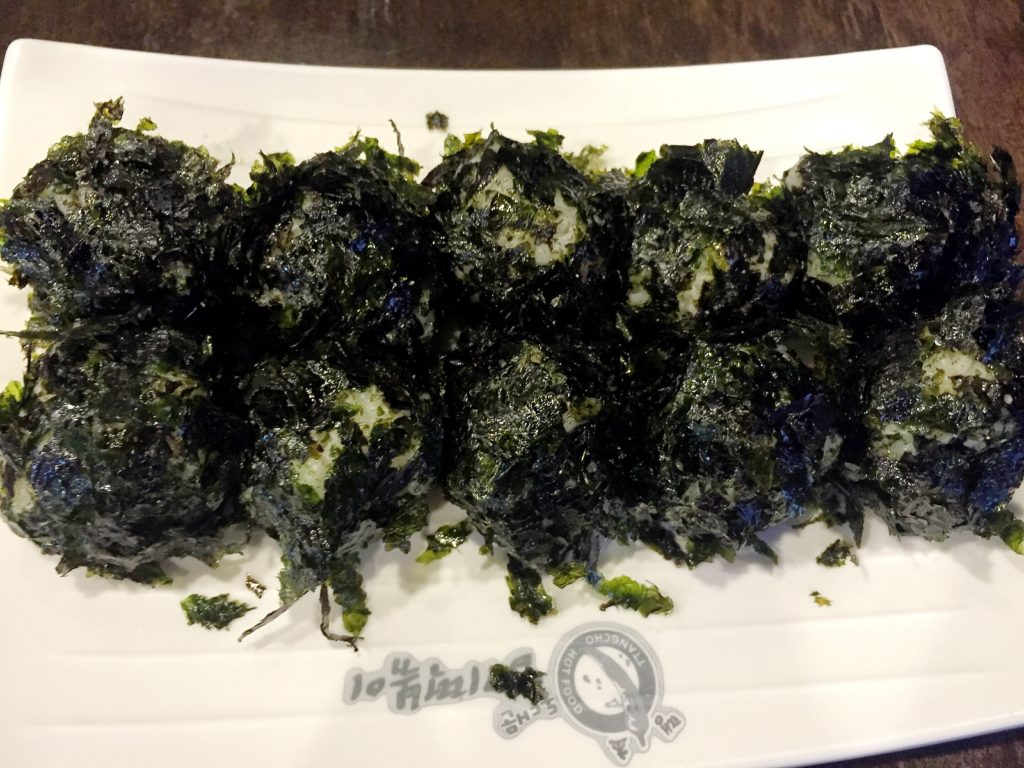 Rachel is a vegetarian and Yup Dduk was accommodating to that (yay!). We started with a side order of Rice Balls. They were covered in minced nori pieces. The perfect prep food for the stomach before we got crazy.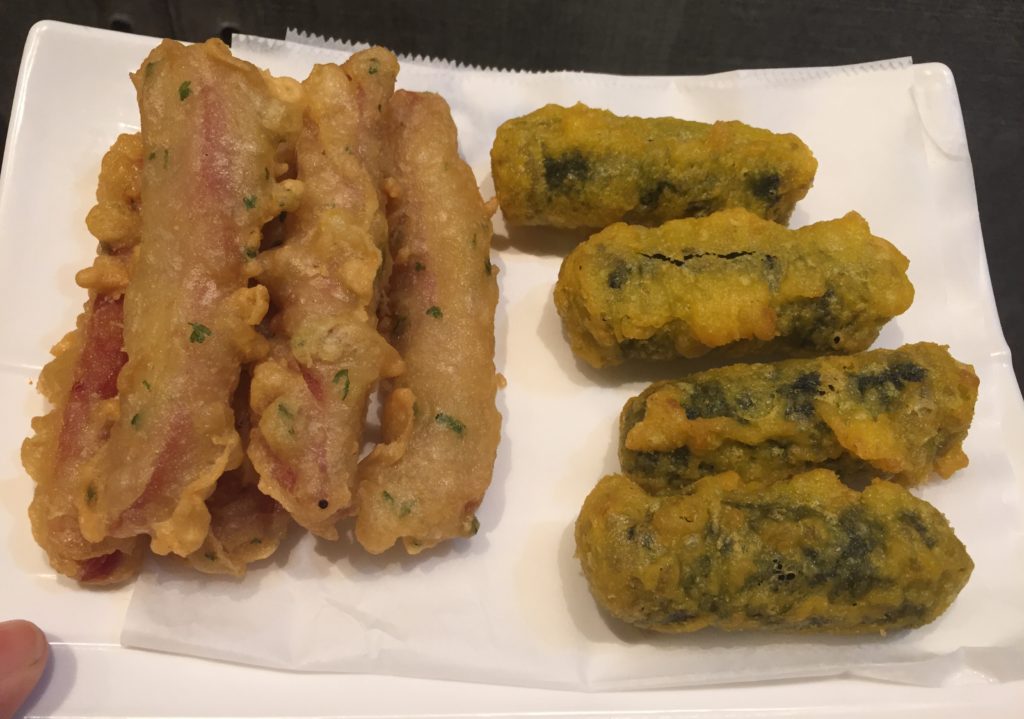 The Deep Fried Spam (left), for me, is what fantasies are made of. Foodies, without irony, I adore Spam. So to have it battered and deep fried was pure heaven for me. The Deep Fried Spam here is crispy, meaty, salty heaven. For our vegetarian friends, the Cellophane Noodles (right) are great, they're boiled, wrapped in nori then fried to a crisp.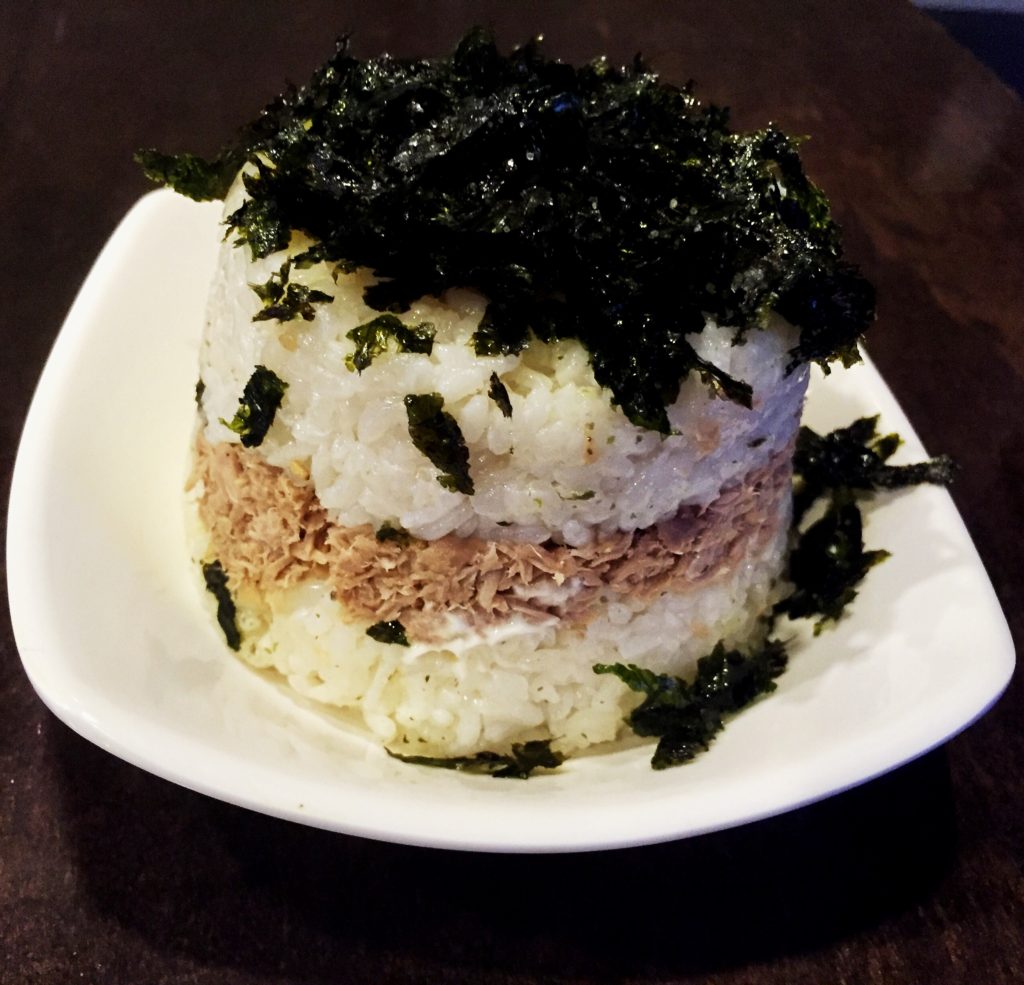 For fun, I tried to try the Jumbo Tuna Mayo Rice Ball. It's along the lines of a tuna musubi, topped with shredded nori, opposed to wrapped. It may seem very simple, but it for sure came in handy once my #KTownChallenge bowl arrived.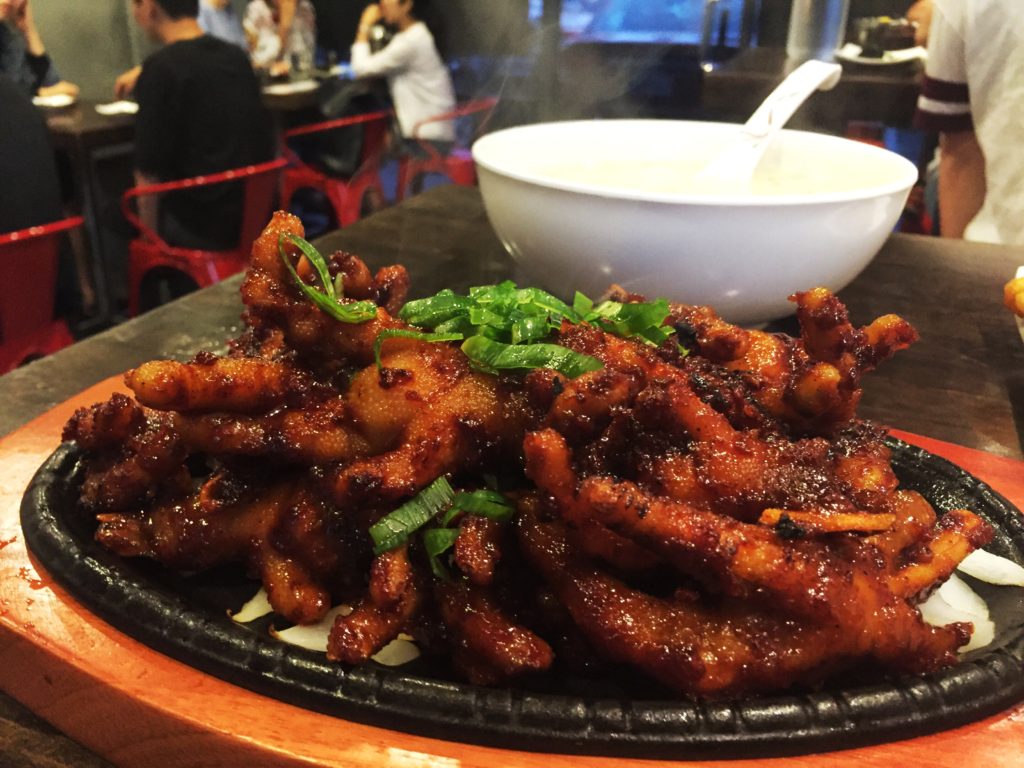 Just before the challenge, I got hit with a pretty tough curveball. They brought us their Original Chicken Feet, which are fried but not battered. I'm always up to try something new, and I'm part Filipino, so it may be strange to my overseas relatives that I've never tried this traditional dish before. But, it's just never happened for me, so here's my chance!
I feel so lame reporting this, but it was covered in an "original" amount of chili sauce. I could barely handle this. I did get a taste of that gelatinous flavor, but I'm so weak, I couldn't handle the heat from the gochujang chili. Take a note – order this "mild" not original.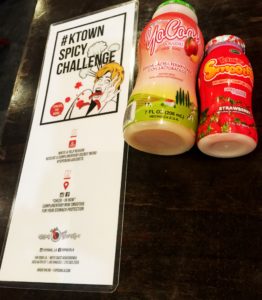 Upon arrival, if you let the server know you're taking part in the #KTownSpicyChallenge, you are provided with a little prep for it. We were given probiotic smoothies to protect our stomach lining. That's… a great sign?
The smoothie shot provided was a sweet treat but I am all about that YoCool Peach probiotic! Peaches are perfect for the summer and it's packed with live and active cultures!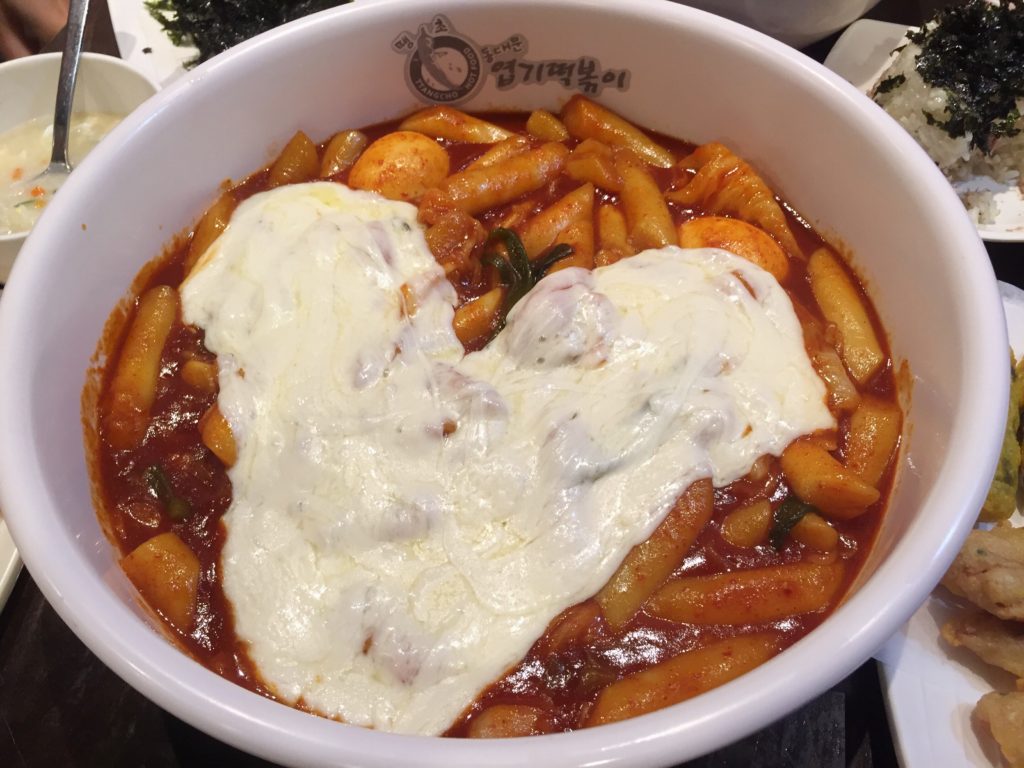 Ok foodies, here's the event we've all been waiting for! And they even made the mozzarella cheese into a heart. Cause we're girls!
This is the Yup Dduk, the Original Spicy Rice Cake and I went with the #KTownSpicyChallenge level of heat. This was vegetarian but you can order it with fried fish patties if you wanted to.
At only $18, this is an ample portion that could satisfy up to 4 people. If you were to order this bowl alone, you could potentially have leftovers for days. I recommend ordering it at a mild level, so you can really enjoy the chewy cakes and the flavors in there. But order the #KTownSpicyChallenge if you think you can handle that heat. 😉
As you can see, it's covered in that hot chili sauce and ready to set your tongue aflame. One bite and I was defeated. My very first food challenge slipped away from me so quickly. Luckily, I had that Jumbo Tuna Rice Ball as a friend to help cool me down, along with water.
So readers: I failed. Horribly. After one bite. But that's ok. Cause this next dish rocked my socks.
This is the Army Stew. I even posted a video of the #noodleporn on our Instagram page, if you want to see sexiness in action. It's a lot more mild than the Yup Dduk, it's also more jam-packed with flavors – there's sausage, tofu, Spam, onions, American cheese and rice cakes. Aside from the kimchi, it does remind me of the Jollibee Spaghetti, the sauce is a lot more sweet and savory than hot. And at $22 it can feed an army (see what I did there?). I loved it and will be back for it.
Even though the #KTownSpicyChallenge is their most known dish, Yup Dduk has other worthy foods that makes them a new favorite in the area.  If you're ever in the Koreatown part of LA, be sure to stop in!
1863 Total Views
2 Views Today