Little Tokyo is LA's cultural center for their Japanese-American population. Being only five blocks (long blocks to be fair) it manages to pack in many merchants. The Little Tokyo Galleria is a stand alone of its neighborhood. This three story building is beloved among LA-locals with it's famous Little Tokyo Marketplace, many department stores, and restaurants. According to Urbanize LA, expansion on the Little Tokyo will continue upwards, if you will, with a series of high-rise buildings. I can't speak for the other businesses of the Little Tokyo Marketplace; I know owner Chef Eric Baker, of the self-proclaimed "gourmet fast-food" pan-Asian stand BaoBab, is excited about this development.
Eric told me "I think the new development is great. It's going to bring a more diverse group of people to our small shop and hopefully help us grow. As far as the decision to come to little Tokyo it was mainly the location. We took the challenge to open up an entirely new concept in the area."
BaoBab
333 S. Alameda St. #100 E, Los Angeles, CA 90013
https://www.facebook.com/BAOandBAB/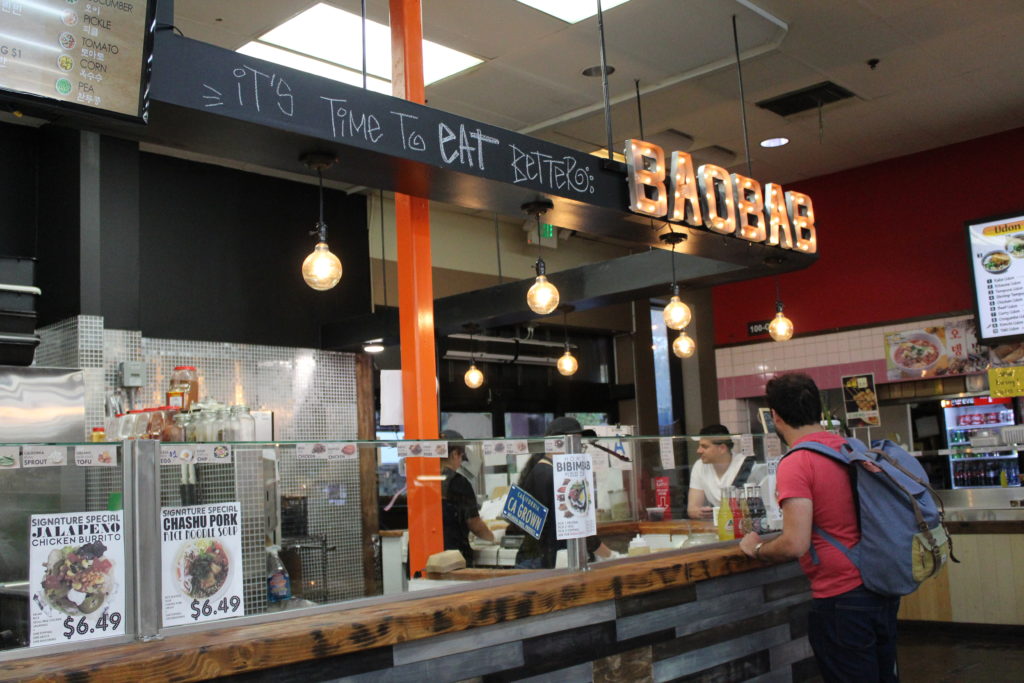 BaoBab is the new kid in town at the Little Tokyo Marketplace. This stand sits across from the long-time running Sakura Noodles, but Baker assured me, they've taken him and his business under their wing. "There has been a learning curve. At first, we were a little unorganized, but now that we have our system down I feel like they respect us a little more. There's always going to be that competition, but that's what makes us strive to better. They have indirectly been helping us get better every day."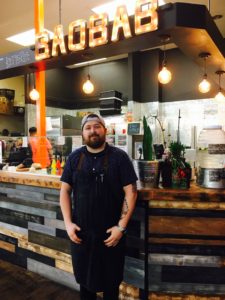 When I asked Baker if there's any surprise when his customers find out he's the chef, he said "I've had customers ask 'why is this white guy cooking Korean-inspired food?' I love when people ask that because once they try the food, they usually come back with something nice to say. I've always been open to trying new food, but for some reason, my inspiration always came back to Asian dishes. The variety of flavors and techniques are endless. Aside from that people are pretty open about me selling them food after they taste it." 
When you approach the BaoBab counter, you're given the option of buns, a sushi-rito, a burrito or a bowl (which can be a salad, rice or rice noodle bowl) to stuff with your filling choice. Upon reading this menu, one can go gluten-free or low-carb if need be.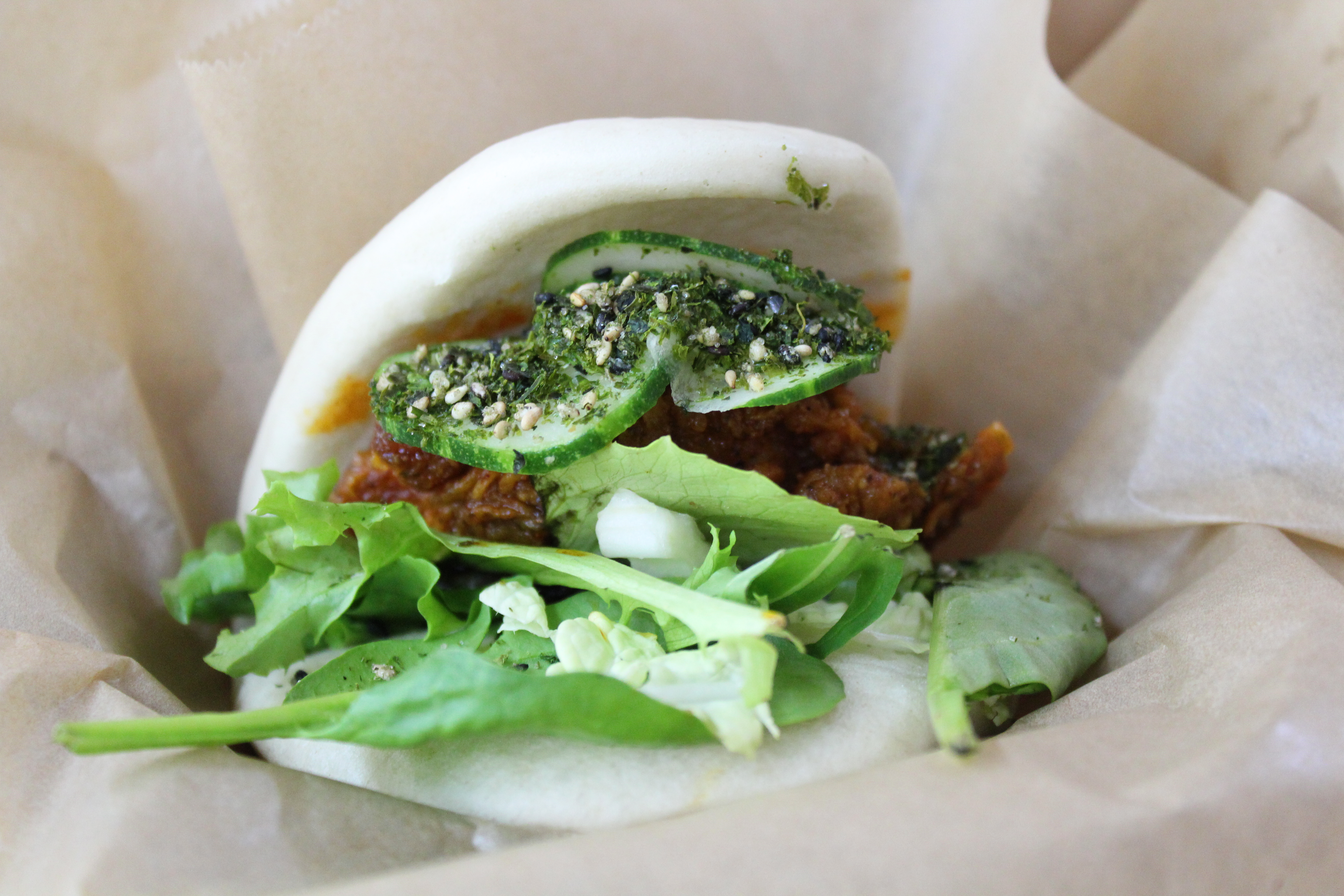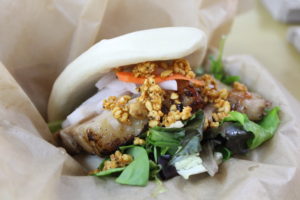 I started out by getting a hold of a pair of buns. Heat lovers will love the Nashville Hot Chicken (Eric's personal favorite). This boneless chicken leg and thigh is dipped in cayenne pepper, paprika and fried to a crisp. By ordering this as a bun, the spiciness calms down a little. It's also sandwiched with fresh cucumber, greens, and nori to cool down the heat.
The Chashu Braised Pork, pork belly marinated in a soy and pineapple sauce then braised. In this bun, the pork is topped with pickled daikon and carrot and a crunchy peanut topping. I loved the fatty pork belly with the pickles, the buns soaks up all the juiciness, and it's delicious.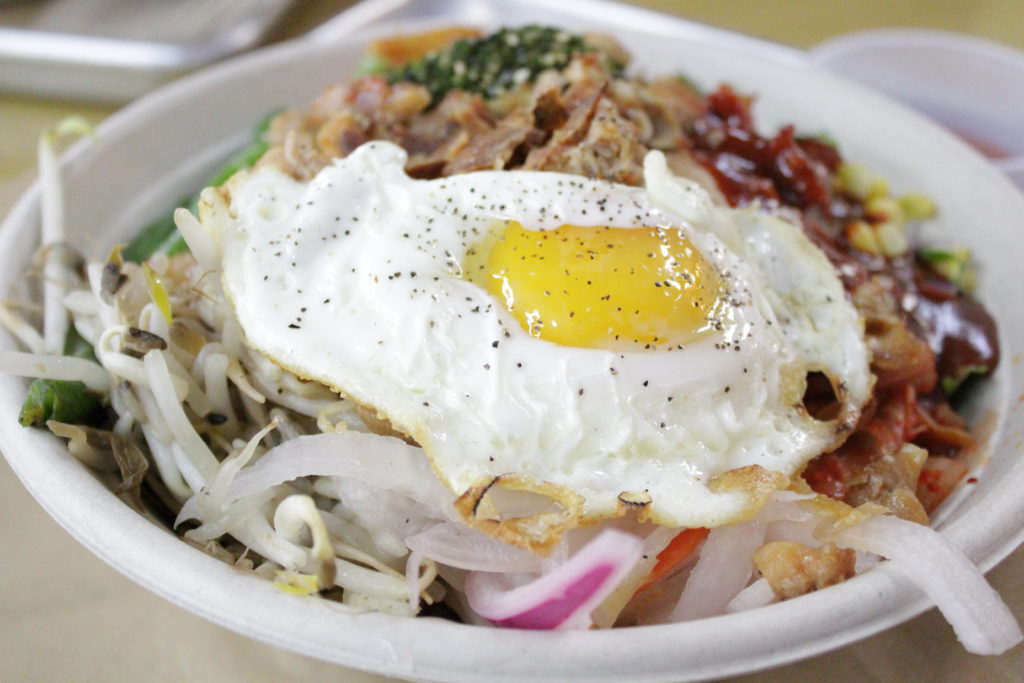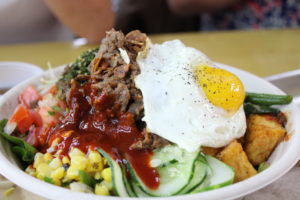 The rice bowls were my favorite way to go here. Similar to a bibimbap bowl, fried rice is mixed up with an array of veggies, fried tofu, your choice of protein and topped with a sunny side up egg. I tried two protein options, the Seoul BBQ Chicken, and the Bulkogi BBQ Beef. They were both a fantastic mix of flavors, the stand out being the fermented chili sauce on this is more tangy than hot. My favorite was the chicken, which was surprisingly tender, it had a stewed texture to it.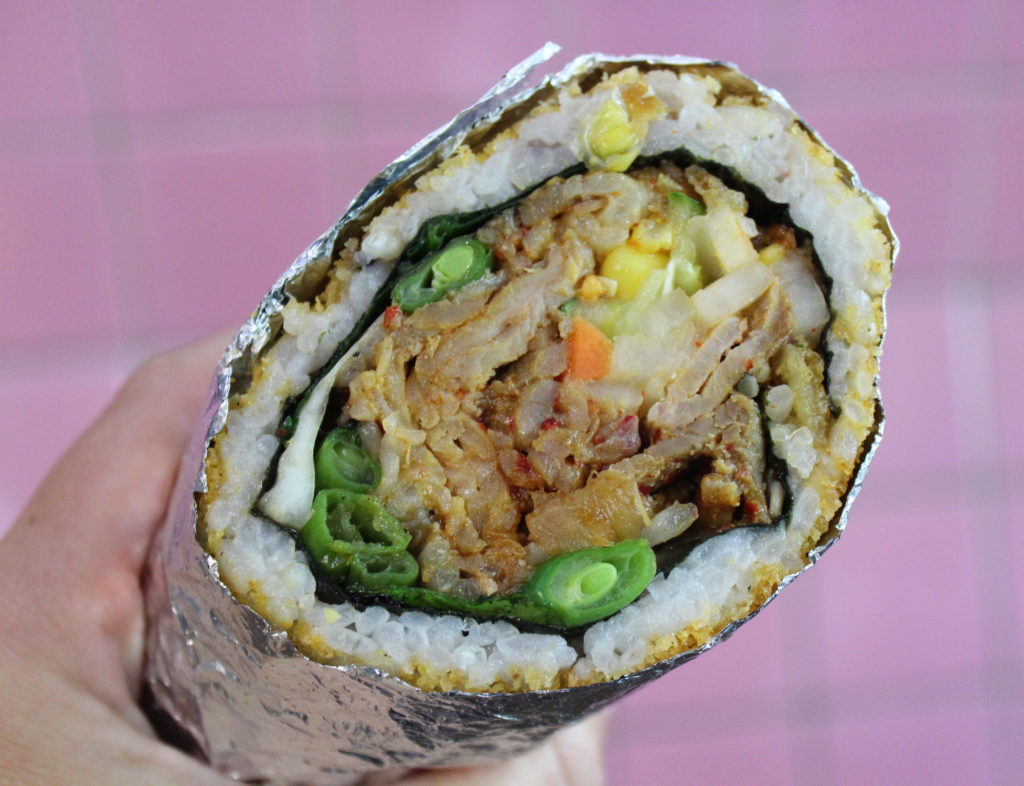 I'm sure other bloggers are going to give me flack for this… but yes, I tried the Sushi-rito option. I've openly snubbed this trend for the past two years and refused to try one. But here's the thing- BaoBab's sushi-rito is rolled in crushed tempura bits and… (wait for it) FLAMMIN' HOT CHEETOS! How on earth could I say no to that??? I stuffed mine with Chashu Pork, but I also tried the Ceviche Sashimi Tuna and they were both unexpectedly awesome.
Does Eric want to expand BaoBab? "Definitely. We want to have multiple locations and take this as far as we can. We were recently contacted by a company that franchised some well-known fast-casual concepts; they showed interest in us. Right now the sky is the limit, and we are definitely trying to run with this."  
836 Total Views
5 Views Today