The fifth annual Music City Food + Wine Festival was held this past weekend at Bicentennial Park and it did not disappoint. In an effort to keep up with the ever-evolving culinary scene in the Music City, festival programming was expanded to include a Friday Night Grand Taste highlighting more of our local chefs and restaurateurs. One noticeable change this year was the ratio of booze to food. It was overwhelming and for many quite a challenge to remain sober. In 48 hours, I consumed no less than 10,000 calories. Clearly, I was living my best life. With more than 100 vendors at the festival, I had a hard time culling down my list of favorites. So I chose my top tasty takeaways from the festival.
One of my first stops at the Music City Food+Wine is always Barilla Pasta. Chef Yury Krasilovsky always has a spectacular pasta dish featured. It doesn't hurt that he lives in Chicago and we have a chance to catch up on our favorite new restaurants in the city. This year Barilla brought their A game and one helluva pasta pan! Below you will see Chef Yury preparing Barilla Penne with Tomato "Passata", Burrata Cheese and Arugula Pistachio Pesto.
Hot chicken…It's what Nashville is known for, among other things.  Hattie B's was serving up their delicious hot chicken (and no, it wasn't too spicy) on top of a pimento cheese grit cake. Of course, no hot chicken bite is complete without a pickle!  Hattie B's partnered with a local brewery, Bearded Iris, to pair this bite with their Homestyle or Scatterbrained Beer. I found the Homestyle to be a little less hoppy and more to my liking with this bite.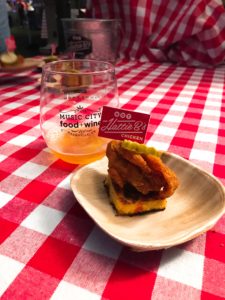 Continue reading "Tasty Takeaways from Music City Food + Wine Festival" →