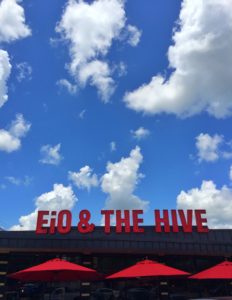 I have found my personal heaven on earth in EiO and the Hive. Owner and Wellness Entrepreneur, Jennifer Masley, has brought her expertise and poured it lovingly into every square inch of this restaurant. She focuses on local and sustainable products, keeping a healing, worldly menu for us to enjoy!
Along with Jennifer is Chef Dale Levitski. From competing on Top Chef to working in some of the finest restaurants in Chicago and now Nashville, I am so excited to have him in my neighborhood!
One of my favorite features of this new hot spot is that EiO has a small farm with veggies, bees and chickens. The plan is to start doing education and private meals in the garden.
EiO and the Hive
5304 Charlotte Ave, Nashville TN, 37205
Eioandthehive.com
Continue reading "My Favorite Nashville Farm-to-Table Spot: EiO and the Hive" →