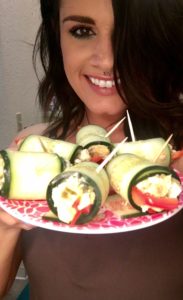 I'm just a girl who loves food, making food and getting inspired by food I see on social media—especially when the food is being eaten by my favorite hero, the adorkably charming Chris Pratt. He has been posting his snacks on Instagram in a funny, tortured cause he has to get in shape kind of way, which I of course couldn't help but watch. If you guys are not familiar with his little #WHATSMYSNACK videos then you need to go watch them like now. I'll wait.
Now that you are all caught up with what I am talking about, the snacks he is posting actually look pretty tasty. I was drawn to the cucumber egg roll. Now I have no real idea what is in his but I figured I could recreate a version and make my own #WHATSMYSNACK.
Without further ado… Here is my Chris Pratt-inspired cucumber egg roll snack.
Continue reading "Summer Recreates Chris Pratt's Cucumber Egg Rolls #WHATSMYSNACK" →