Ocean Avenue's Day At The Races, was a culinary walking tour jam-packed with food, drinks and entertainment. Select Santa Monica restaurants, located within walking distance, such as Del Frisco's, Red O, O+O Sicilian Kitchen and Bar, Chez Jay, Jimmy's Famous Tavern, and Herringbone and also the Loews Hotel come together and celebrate the Kentucky Derby. Proceeds went to the Surfrider Foundation, which is an organization that is dear to me.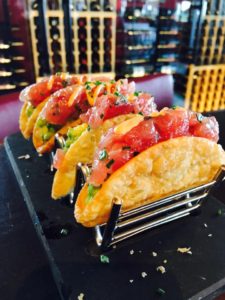 Surfrider Foundation helps protect our beaches and to keep our waters clean. I was fortunate enough to meet and speak with three core volunteers Summer, Josh and Graham from the West Los Angeles Malibu Chapter. My son has participated in beach clean ups before for Dock Weiler (#proudmomma!) so I was happy for him to meet others who are noble in their care for beaches as well.
We were given a card that mapped out all 7 places we needed to visit and had to have checked off on our list. Once you complete the card, you have the opportunity to bring it back to the main booth at Del Frisco's and be entered in a drawing to win a night stay at The Shore Hotel. Who wouldn't want to win staying at a cool, chic and hip hotel right on Ocean Avenue?