The not-so-mellow month of May is going strong for LA Times Food Bowl in Los Angeles. Patrons of this month long festival are indulging in all things food and beverage, including various markets, tastings, workshops and even documentary screenings, that are taking place in multiple locations all over LA and surrounding areas.
I checked out one of the finer, more avant-garde events, the A Very Bazaar Evening, hosted by The Bazaar by José Andrés, at SLS Hotel, a Luxury Collection Hotel, Beverly Hills. Friend to Girls on Food Meagan and I explored this spot together, which is famous for modern tapas.
Culinary Director José Andrés is a Michelin-Starred and James-Beard Award winning chef, often credited with bringing the small plates (tapas) and trend to the US. If for some reason you're unfamiliar with him, please do yourself a favor just watch videos of him on Youtube.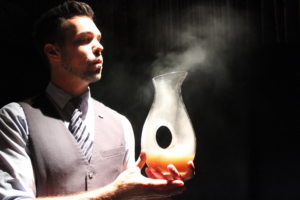 This intimate event was set in their tapas bar, Rojo at The Bazaar and featured many different tasting stations. In addition to modern takes on classic tapas and wine, many stations explored creations through avant-garde techniques, which Chef José Andrés is famous. This event was a feast for the eyes as well as the tastebuds.
"At Bazaar by José Andrés, we want you to see the process", Head Bartender Billy Yoder told me, as he infused smoke into his A Fire in Jerez cocktail. This cocktail with Whistle Pig Rye, San Emilio Sherry, lemon, rosemary, applewood smoke is right up my alley since I love smokier cocktails.
Continue reading "A Very Bazaar Evening, Indeed: Julianne Explores The Bazaar by José Andrés" →