Dallas Observer Iron Fork 2016
Centennial Hall at Fair Park, 1001 Washington St., Dallas, TX 75210
http://microapp.dallasobserver.com/ironfork/2016/index.php
Dawn: Fellow GOF Stephanie D. and I took part in the Dallas Observer Iron Fork tasting event Wednesday night. We were able to sample a TON of food. I mean a TON. I am still full. The venue was packed with local restaurants and wine, beer and cocktail vendors aiming to please our taste buds with delightful yummies. While we were snacking a DJ was spinning tunes for us to chew to.
They had it all. From BBQ to bundt cakes, salad to stew, crepes to crab cakes…it was all represented. We are each sharing our top 3 bites. The bites that our minds and mouths say, "More, more!"
Stephanie D.: I'm not ashamed to admit; I left Iron Fork barely able to move. Partially because I was wearing ridiculously high heels but mostly, because the food offered up for sampling at this event was so off the chain, I never stopped eating. So many great restaurants were represented and man they came out guns a blazin'.
Dawn: Back Home BBQ served up a piece of turkey and their Earl's sausage. The turkey was tender, smoky and juicy. The sausage had a spicy bite. The smoky meats were served over creamy, well-seasoned mashed potatoes. No salt or sauce required. Not that I won't try some sauce when I visit their restaurant!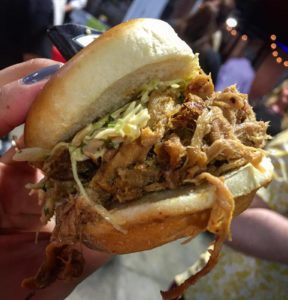 Stephanie D.: One of my top three favorite bites was the very first bite I took and boy howdy, did it set the tone for the deliciousness that would ensue throughout the evening. Have you had the Pulled Pork Slider from Top Golf Dallas? If you haven't, grab your golf racket, or pucks, or whatever and go immediately.
It's that good.
This slider had slowly smoked, shredded, BBQ pulled pork, a secret mop sauce, beer slaw (SO delicious) on a freshly toasted sweet yeast roll.
Honey, I've never been much of a golfer, but if you're gonna feed me stuff like this, I might just decide to turn pro.
Dawn: I am a big fan of the pretzel. Sweet or savory – I want it. This plate, from The Common Table, was sublime. It was loaded with Bavarian pretzel bites. They were great on their own: soft and warm. It only got better, because on top of those babies was beer cheese. This cheese was creamy, earthy and tangy. THEN on top of that a sprinkle of herbed parmesan. My oh my. I would have gone back for more (and more), but I was taught as a kid only to take my fair share. Darn it!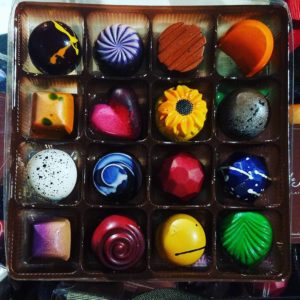 Stephanie D.: I'm a "dessert first" kinda girl, so my primary mission for this little shin-dig was: Find Chocolate. I followed my nose to a gorgeous table that had the most delicious, pure, organic homemade chocolate I have ever tasted.
Chocolate Secrets Chocolatier was in the house with a sampling of their Bonbons, bark and macarons.  They even had full-size handbags and shoes that were hand-made, entirely out of chocolate. When you combine accessories and chocolate, It makes me love you more.
The best bite at this table was hands down the macarons. I was able to sample the Espresso and Popcorn flavors. Oh my God, you guys.  So light and chewy. I'm gonna be breaking their door down for a private tasting very soon. This is next level stuff here. It's not just chocolate; it's art.
Yummy, creamy, chocolatey art.
Dawn: This one, from LUCK, was a surprise. I walked up and saw these yummy, baby biscuits. Then this beautiful, inviting pot of awesomeness. Then the handsome, bearded gentleman said it was rabbit stew. I smiled and took the plate knowing I was NOT going to eat rabbit. No, sir! Then the aroma hit me. That was all she wrote. I couldn't resist it, and I am so pleased I didn't. This rabbit stew was incredibly scrumptious. The gravy was thick and savory. I could see carrots, celery, and mushrooms. The meat was tender. Think of it as chicken and dumplings made with rabbit.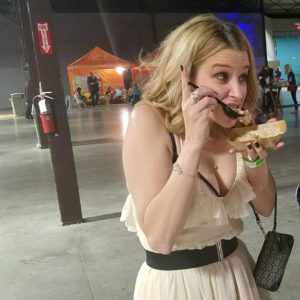 Stephanie D.: Of all of the amazing little bite-lets I had at Iron Fork, one stood out so far ahead of the rest.
Well hello there, Back Home BBQ.
This was the last thing I tried and talk about saving the best for last. Man alive, their barbecue is fantastic.
They served me a little basket with a full serving of their Bacon Cheddar Mashed Potatoes, a slice of smoked turkey and a nice slab of some of the most amazing brisket I've ever tried.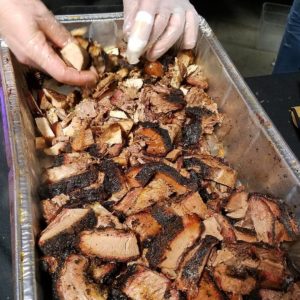 The mashed potatoes were perfectly smooth and creamy.
The turkey was full of flavor and NOT DRY AT ALL. <– That never happens.
The brisket was beautifully balanced with sweet, savory, salt and smoke.
I'm not exaggerating when I say that the next time my family has a barbecue, I might just order some Back Home and take a day off from the kitchen.
xoxo