Since I moved to the North County of San Diego ten years ago, I have been completely in love with Encinitas. This charming and chill beach town is literally what dreams are made of and the dream keeps getting better. Recently, I've been delighted to see an emerging food scene along the North County coast. Though the trek from Ocean Beach to Encinitas is daunting, I couldn't miss out on the opportunity to try Union Kitchen & Tap. My friend, Paul, came to town last week. I knew this was my chance! We decided to make a day of it including meditation gardens, my favorite beach and a delicious dinner.
Union Kitchen and Tap
1108 S Coast Hwy 101, Encinitas, CA, 92024
www.localunion101.com
I'll stop rambling and get to the good stuff! We started with the cocktail list…a very good place to start. The list is organized by liquor type and included the flavor profile of each cocktail. I often have a hard time choosing, so I loved this attention to detail. I was immediately drawn to the agave portion of the menu. I chose the Fleetwood which combined serrano-pineapple infused Blanco, dry Curacao, and lime. The cocktail list described it as "charred, tropical and tart". It arrived looking beautiful and tasted just as delicious as it was described. I might have been heard saying it was the best cocktail I'd ever had AND it was even named after my favorite band! Paul opted for the Agatha with Belvedere vodka, watermelon, cilantro and lime. Described as refreshing, sweet, and bright, this was a great choice for our hot summer day and it was exactly those three things!
For starters, we shared a salad and a flatbread, rather than a traditional appetizer. I stalked the menu before arriving and my heart was set on trying the Mediterranean Flatbread with artichokes, arugula, roasted red peppers, red onion, kalamata olives, feta, sea salt, and roasted garlic crème fraiche. If you took all of my favorite things to eat and you put them on a dish, this is what you'd get. It was a perfect iteration of pizza I've ever found and I am in love with it.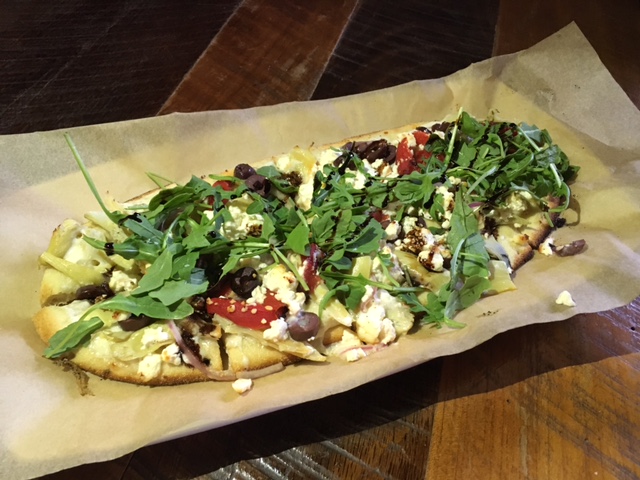 The Baby Kale Salad with organic kale, toasted quinoa, mustard frill, peppadews, pickled bing cherries, avocado, spiced pepitas, bourbon whole-grain mustard vinaigrette and shaved parmesan. Can we just stop for a minute and look at that list of ingredients? I mean get out of here! It was a incredible salad with so many unique and special ingredients. After just these two dishes, it was crystal clear to us that great care and thought went into this menu. We came the realization this was not just another neighborhood bar and grill, but truly something special and not to be missed. We could not wait to order entrees!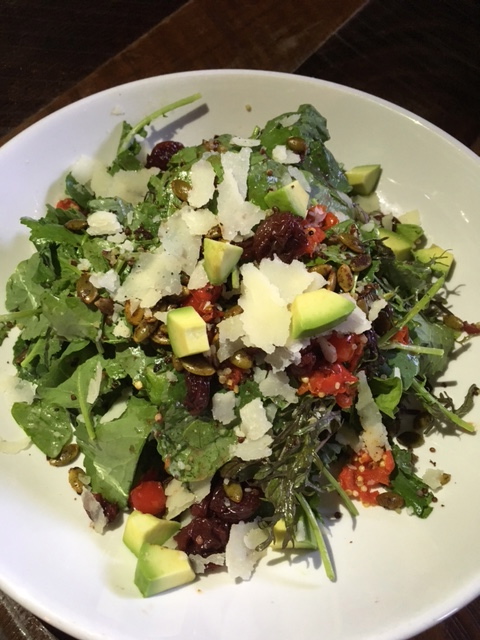 From my menu stalking earlier in the day, I had landed on the Pan-Roasted Scottish Salmon with favetta, romanesco, purple kale, heirloom tomatoes, fava beans, and citronette sauce. I'm usually not a huge fan of salmon, but this dish caught my eye. I knew I would like it. Luckily, I was not disappointed. The salmon had crispy skin and was cooked so perfectly, paired nicely with the sides. The plating was so beautiful I couldn't deal with it.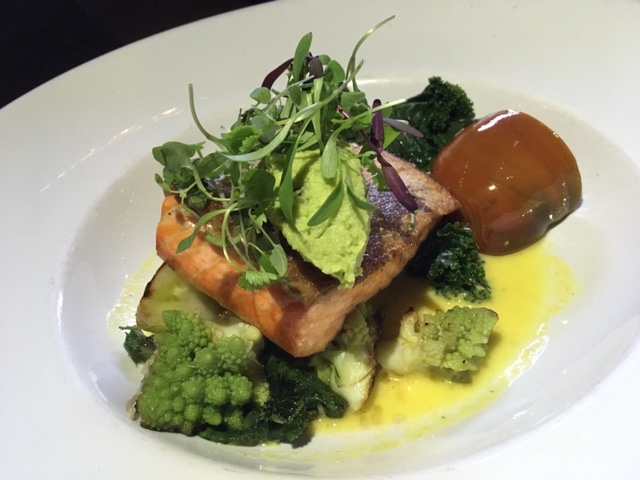 Paul had a hard time choosing, but with my encouragement he chose the Wild Mushroom Ravioli with winter black truffles, wild bing cherry, shaved boschetto and truffle cream. Our server let us know this was going to be on the richer side, but I was more than willing to help him eat it!  Another stunning plate arrived with the most sumptuous and delicious mushroom ravioli on it. I loved my salmon, but I have to admit this dish made me a little jealous.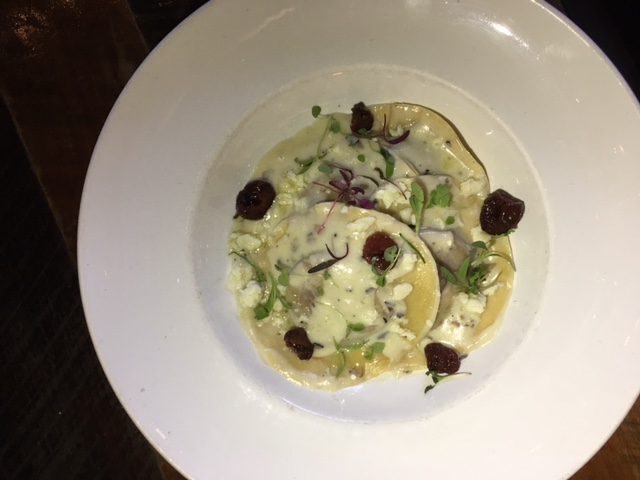 At this point we were completely stuffed and satisfied. We decided to just take a peek at the dessert menu. Well, our peek turned into a decision the second we saw the words "Carrot Cake". We were informed by our server this wasn't a traditional carrot cake. We still knew we had to try it. Oh my gosh am I glad we did! This is carrot cake was insane. That's honestly the only word I have; more savory than you'd expect, but still sweet and topped with roasted white chocolate mascarpone, candied baby carrots, and a carrot ginger puree. Take my word and trust me on this one, you will not be disappointed.
Union Kitchen & Tap blew me away. This neighborhood spot is changing the classic American menu game. Every dish was unique, bursting with flavor, and plated beautifully. The staff and servers were so kind and knowledgeable. I know where I will be stopping the next time I'm in Encinitas. I highly suggest you add this to your list as well.
Thank you to Alternative Strategies for setting up this tasting at Union Kitchen & Tap!