---
UPDATE, 1/28/2021: 
Sadly, The Kit Kat Italian Bar and Grill is reported as closed. 
There are not many things in my life that would label me as a creature of habit. But every year for our wedding anniversary, we make the trek to Toronto and hit up our favourite restaurant.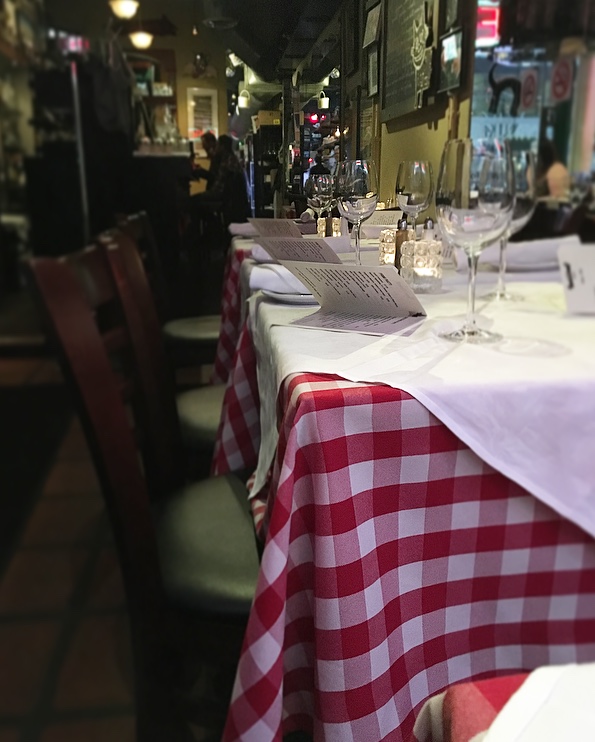 The Kit Kat is in the heart of Toronto, in walking distance to theatres and concert venues, sports stadiums and all the major hotels. It's been a busy restaurant for almost 30 years. I remember being a little kid, walking downtown and seeing the Kit Kat sign lit brightly above this tiny venue and of course, I made sure as an adult, that this would become my regular spot.
The Kit Kat Italian Bar and Grill
297 King St. W., Toronto, ON, M5V 1J5
http://www.kitkattoronto.com/
As one would expect from a classic Italian eatery, you're greeted with traditional red and white checkered linens, energetic pictures of everyone and anyone along the walls, and there is a tree that grows through it in the kitchen. It is a hustle and bustle kind of spot, with athletes, actors, theatre goers and locals indulging in their Italian feasts. It goes from quiet and romantic to a full packed place in 2.5 seconds.
Like any good Italian girl, I started my meal with a glass of Merlot and the Seafood Antipasto. Now while I'm no stranger to seafood platters and appetizers, this one was quite unique. It consisted of fresh bread, delicious grilled calamari, a scallop shrimp salad and the best smoked salmon I've ever had. Which says a lot, because I was anti-smoked salmon until this dish. Which actually made my decision for my entree super easy.
For my main dish I went with the Fettuccine Zarina. Which is a simple vodka cream sauce with smoked salmon. I didn't know pasta could melt in my mouth, but it really did. It was buttery, rich, decadent, unbelievably delicious. I would eat it over and over and over again without question. I was almost completely full but had to go the extra mile for dessert.
For dessert, I kept it old school and went for the Tiramisu. It was a perfect size for sharing. Surprisingly light, fresh, not too sweet, and just a great ending to an amazing meal.
I can't express enough how much I look forward to going to the Kit Kat every year. I've always been completely satisfied with great food, amazing service and of course, the best company any girl could ask for. If you're looking for a traditional Italian eatery in a superb location of Toronto, full of exquisite food and a fun atmosphere, the Kit Kat is the place to be.