Do you consider yourself a burger lover?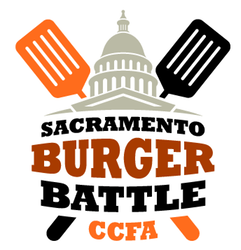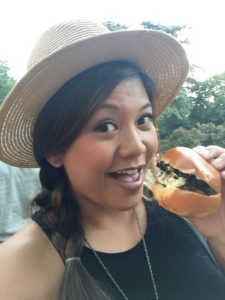 Then you must know about the Sacramento Burger Battle! 15 burgers from some of the top restaurants in Sacramento! Sounds easy to handle to the novice, as was I. I'd heard over and over, there is strategy involved. There is a method to follow. Don't eat with your eyes; your stomach won't follow suit. Needless to say, I made multiple rookie mistakes, yet had the best (bloated) time ever.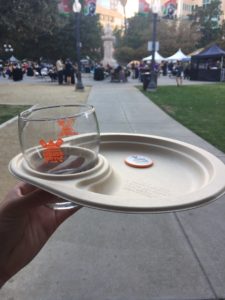 In what world do you eat fifteen different burgers from some of your favorite burger spots in your favorite city? Oh, you don't, then you better get over to Sacramento once a year to grub at the Sacramento Burger Battle!
My endorsement means nothing to this charity event for Crohn's and Colitis Foundation of America. It sells out EVERY year; this year was no different. The ticket comes in at a hefty price, but the craftsmanship, quality, and quantity of burgers you devour are worth every dollar spent. You must experience it to believe it, but I can see the skepticism. You might get so bloated that you feel the need to contact a personal injury lawyer like GJEL Sacramento, but I guarantee it's worth the suffering. It's so very very worth it.
They sell two tickets to this event, a regular entrance ticket, and a VIP ticket. The VIP ticket gets you in an hour early, paid parking across the street from the event, and an extra special VIP cocktail during the VIP hour. I was lucky enough to call myself VIP for this event and got in an hour early, which might have been to my stomachs detriment.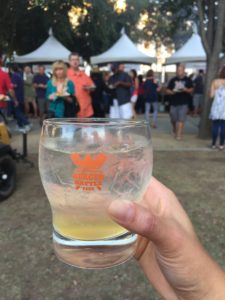 Here was the line-up from this year:
Pangaea Cafe – Enjoy Yo Self, Certified Angus Patty, Cheddar, Applewood Bacon, Greenleaf Lettuce, Tomato, Onion, House Pickles, Special Sauce on a Brioche Bun.
de Vere's Irish Pub – B.M. F., Two 3oz Beef Patties (chuck, short rib, & brisket), Peppered Bacon, Tillamook Cheddar, Butter Lettuce Red Onions, House Habanero Pickle May
Dawson's (at the Hyatt) – Steakhouse Burger, Duckfat Mushrooms, Sunfeed Beef Patty, Truffled Brie Cheese, Shallot Jam, Arugula.
Putah Creek Cafe & Bakery – Tuscan Burger, Blend of Certified Angus Beef, Ground Italian Sausage, Pancetta Bacon, Basil, Kalamata Olives, Sun-Dried Tomatoes, Garnished w/ Heirloom Tomatoes, Arugula, Prosciutto, Fontal cheese, Red Onion + Basil Aioli.
Tank House BBQ & Bar – Tank Burger, 100% Ground Brisket 80/20 w/ Smoked Sharp Cheddar, Horseradish Sauce, Sauteed Red Onion, Mushrooms Kale + Garlic on a Village Bakery Brioche Bun.
Flaming Grill Cafe – Flaming Grill Burger, Ribeye New York Bacon, Peanut Butter + Jelly w/ Duck Bacon Burger
Willie's Burgers – Chili Burger (on Freeport Bakery buns)
Cecil's Taste – Sactown Street Burger, 80/20 Ground Chuck Blend Seasoned w/ "Red Stuff," Smack Yo Marmalade (Bacon + Cheese infused Marmalade), Melted Muenster Cheese, Wasted Sauce (Track 7 3x IPA Reduced Mixed into a Dijonaise), Sliced Red Onions + Artisan Lettuce on a Soft Pretzel Bun.
Localis – The Jerk, Jerk Crusted Grassfed Patty, Habanero Cheddar, Pineapple-Jalapeno Chutney, Walla Walla Onions on a Ciabatta Bun.
LowBrau – The Lou Burger, 7oz Creekstone Chuck/Brisket Patty, Thick Cut House Bacon, Pretzel Bun, White American Cheese, Spicy Sauce, Grilled Red Onions, House Pickle + Shredded Hearts of Romaine.
Iron Steaks – The Walburg, Chuck + Brisket 80/20, Dijon Roasted Walnuts, Point Reyes Blue Cheese, Sweet Peppered Bacon, Pickled Apples + Garlic Aioli on a Caramelized Onion Brioche Bun.
Capitol Garage – Capital Garage Burger, Bacon Black Bean Burger w/ Aioli, Heirloom Tomatoes, Mixed Greens, Cheddar, Pickled Onions + Pickles on a Brioche Bun.
Bacon & Butter – The French Onion Burger – Storm Hill Beef Ground w/ Caramelize Onions + Bacon, Melted "French" Onions, Gruyere, Black Garlic Aioli + Lardon on a Bella Bru Onion Bun
Broderick Restaurant & Bar – The Broderick Brewky Burger of Dreams, Special 5 Dot Ranch Blend Beef, House made Track 7 Panic IPA Cheese, Yolo Brewery Orange Blossom Blonde Catsup w/Watanabe Farms Heirloom Tomatoes, Bike Dog Mosaic Pale Ale Mustard, New Helvetia Homeland Stout Brown Sugar Bacon, Jack Rabbit Order of the Rabbit Belgian Dubbel Pickles + Watanabe Onion Micro greens.
AJ's Sandwiches – Pineapple Express, 1/2 lb of All Natural Niman Ranch Ground Beef, Grilled Onions, Jalapenos, Pineapple + Melted Provolone Cheese infused w/Barbecue + Boss Sauce
If you aren't salivating after seeing the pics and reading their ingredients, then I'm at a loss for words. I love, love, love how many of the restaurants highlighted other local breweries and farms from where they sourced their ingredients. Sacramento is all about supporting local and the 'Farm to Fork' movement.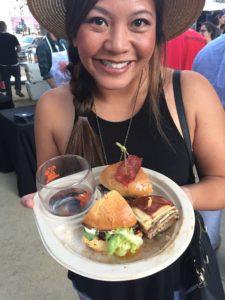 Please don't ask me my favorite! However, everyone got a token to vote for their favorite burger to win the Peoples Choice Award. I'll keep my vote to myself. It was a hard decision; I liked so many of them. They are all so different; they are kind of hard to compare! Also, there was a panel of fancy judges there to award top 3 burgers.
1st Place: Pangaea Cafe
2nd Place: Cecil's Taste
3rd Place: LowBrau
People's Choice: LowBrau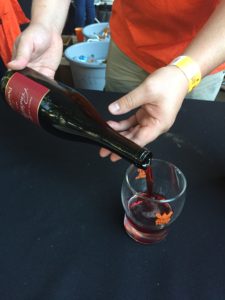 The Burger Battle wouldn't be complete if you couldn't wash good burgers down with adult libations. Tastings of beer, wine, and non-alcoholic beverages were from the following spots:
Revolution Wines // Carvalho Family Winery // Laguintas Brewing Company // Yolo Brewing Company // Bike Dog Brewing Company // New Glory Craft Brewery // Knee Deep Brewing Company // Hoppy Brewing // Two Rivers Cider // Dry Diggings Distillery // Amador Distillery // Barsotti Family Juice Company // Silk Road Soda //Burly Beverages // H2Ops
All the sodium means our bodies were craving all the sweets. Luckily for us, the drink tent also shared space with Baker's Donuts, Puskins Bakery (Gluten & Dairy Free only), and Milk & Cookies Sacramento. Of course, I tried one (or maybe more) of each item. They were a sweet treat after soaking my insides with burger goodness.
Not only was the burger, drink, and dessert game on point, but they also had other small touches that made it memorable. They had napkins at every burger booth and wet wipes at all of the tables. It may seem like a minor detail, but they saved the day. Burger juice was in abundance and probably landed on more clothes than preferred, but our hands stayed somewhat clean thanks to the BB team. Also, they had live music playing on the stage the entire evening. At one point they even had a young man playing his accordion on a unicycle, now if that isn't talent, I don't know what is. The BB team shirts were awesome, they were a full image, taking over the whole shirt, of a cheeseburger with a number and their name on the back. I want to work next year's event to snag one of those.
I'm ashamed to say it's taken me four years to get my burger lovin' butt to this event, but I'm a changed woman. I had 15 different burgers at my fingertips and even though I didn't manage my intake like a pro, I still enjoyed every bite I devoured at the Sacramento Burger Battle. Burger Battle 2017 is going to be different. I'm going with a strategic plan and a partner in crime to execute my burger eating strategy. If you think I'm exaggerating, you are sorely mistaken — all this goodness should not be missed due to a full stomach, it's too good NOT to eat!
Proud of my fellow Sacramentens, raising money through bellies. That's how we roll!