Recently, food halls have been popping up all over the country. When I heard Raleigh was getting not one, but two, my immediate reaction was "great, a glorified mall food court" because really, when was the last time you felt cool eating at the food court, amiright? But there are a couple huge differences at play here, so put your worries aside!
First, food courts are so often chains and standard fare. Morgan Street Food Hall & Market is, for the most part, neither. Rolled ice cream anyone? Poke bowls, empanadas, and ramen were the first things to catch my eye. Cousins Maine Lobster (the only option I would consider a chain) is slightly more accessible here, and with a lot more seating options! The line is still out the door but with a beer in hand and a bustling crowd, a far cry from the hot food truck rodeo lines you're usually waiting in! Last time I tried that, I was "red as a lobster" by the time I ordered my Connecticut lobster roll!
When you first walk into Morgan Street Food Hall, you'll see a bustling crowd and tons of seating options, from picnic tables to couches and arm chairs, and finally, 4 top tables with chairs. There are indoor and outdoor seating options, with a couple bars to frequent as thirst arises. There are 18 dining options, ranging from southern to Mediterranean to Asian; comfort food and hangover food and on to desserts and bubble tea. For our family, this is the perfect place for all of our meals out: we have 2 picky preschoolers who think the margarita pizza at Bella's Wood Fired Pizza and Tapas is out of this world (and less than $10, thank you!).
For me, I get the "adventurous" foods I can't talk the whole family into – ramen and poke bowls, while hubby gets to fill up on empanadas, which he loves! We have an Italian au pair living with us this year, and she has enjoyed working her way through the options Morgan Street has at her disposal. Currently, her heart resides in Raleigh.
I've now eaten at Morgan Street 3 times. Hubs and I met a group of friends here one night before an Umphrey's McGee concert downtown. There were a lot of empanadas and some curry plates, a kick ass looking pizza, a whole lot of beer, and my amazing delicious tuna poke bowl, with fresh tuna on their California bowl (from The Bowls), loaded with amazingness and topped with avocado! It was incredible, and I couldn't wait to go back!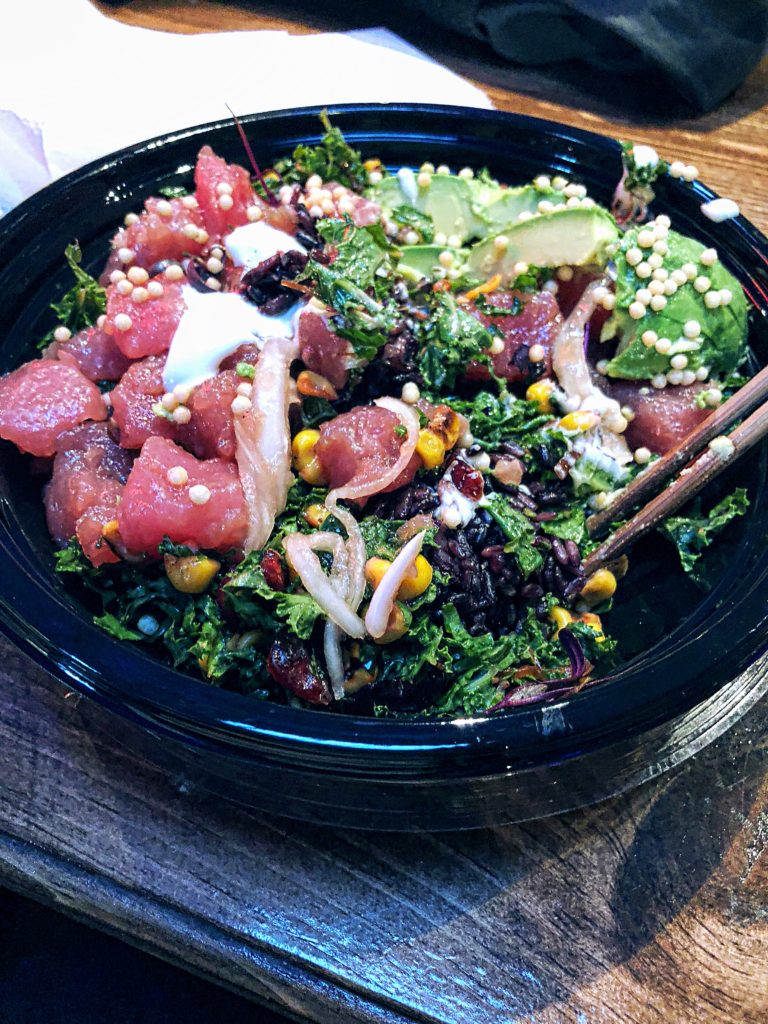 So the next weekend, a girlfriend and I met up there, and she got ramen and I went back to The Bowls for round 2 – this time trying their spicy tuna on the Malibu bowl, which has spicy seaweed salad in it. The biggest difference was that the tuna was chopped up instead of chunks, so I would probably go regular tuna in the future.
We also ventured over to the bar, and I tried the Deep River Brewing Company's (out of Clayton, NC) pumpkin pie porter, which was oh, so good and also very seasonal! It was delicious after a long afternoon of shopping and enjoying the suddenly cooler temps here in NC! Finally (maybe the first finally), we waited in line at Cocoa Forte Desserts for chocolate dipped cheesecake, which we were saving for when we got home, and then I talked my friend into trying out Raleigh Rolls, the rolled ice cream place! It's a little bit Coldstone Ceamery (you get to choose 3 flavors that go into your ice cream, and then 3 flavors for the toppings) meets a sushi roll (because in the end, they hand you a bowl with 6 rolls of ice cream). So good news – you can sub flavors – I subbed in coffee flavoring for the graham cracker in my s'mores ice cream, and it was the.best.thing.ever! Little man ate way too much but also thinks I'm the coolest mom ever for sharing my ice cream with him, ha! (Verdict on cheesecake – its on a stick, so go ahead and eat it immediately. I waited a few hours to eat mine, and it fell apart really fast. Pretty sure it was user error though).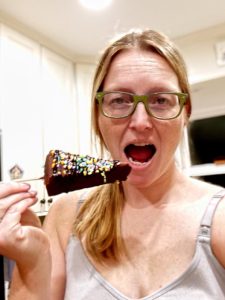 So the next day, my hubs was still out of town (he went on Phish tour last weekend), and I needed to provide food for my little ones for the 4th day in a row. So…I started thinking about that pizza, and the fact that cow burger has hot dogs. Surely they could find something to eat…
Here's the deal – I was nervous to bring a 5 year old and a 3 year old and a 5 month old into such a busy place. But…they loved it! My son is begging to go back, my daughter can't stop talking about the ice cream, and the baby slept thru the thing. We also found an awesome place for our family photos in 2 weeks. So all in all, a great trip. I will send you all day every day to Bella's pizza – it was incredible, and the kids ate every bite of that pizza. I loved the portion size of the burgers (I got the classic cheeseburger) and I'd heard great things about it, but I would definitely trust your gut on that place. First, the line took F O R E V E R which I'm not really into, and wouldn't have waited in it but our au pair and I both wanted a burger so we stuck with it. Second, we waited F O R E V E R for our buzzer to ring. Like it took the entire time the pizza cooked to wait in the line and order. Then the kids ate the whole pizza. And I took them back over to Raleigh rolls and waited for someone to turn melted ice cream into frozen ice cream rolls, and then the buzzer sounded as I was paying for them. So the burgers were delicious, great bun to burger ratio, and overall very satisfying, but with so many faster options, I'm not sure I would wait for it again.
Also, pro tip – if you have a picky child who only eats vanilla ice cream (I know, I know, its super weird but what I'm dealing with right now), there is another small ice cream scoop place in the food hall. Don't waste your $7 on plain vanilla with a tiny sprinkling of rainbow sprinkles. Spend that money on the whole experience and all the toppings, and get Sir Picky something from the cheaper place!
So final verdict – run, don't walk, to the Morgan Street Food Hall if you're in Raleigh. Bring an appetite. Check out the unusual places, especially the bowls, the broth, and curry in a hurry, and take the time to wait in line for Raleigh Rolls! I'm looking forward to heading down there again next weekend after the International Festival to try out some new places!