If you're in the South Bay part of Los Angeles and planning an at home family night or even a daytime playground picnic, you've got to check out Piccini Italian Takeout in Torrance, CA.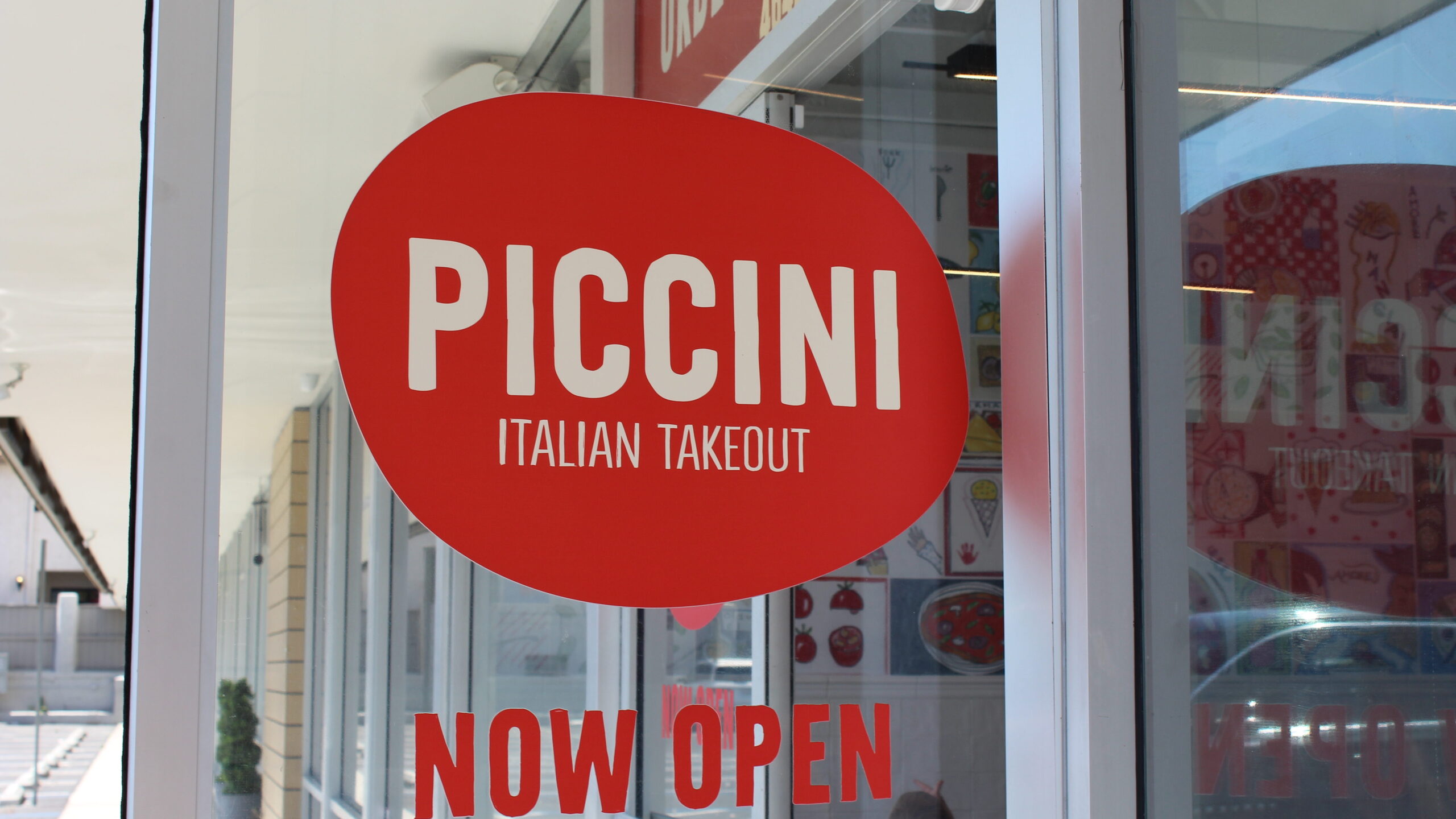 Owners Vince and Giordana Guilano invited my daughter Marie and I over for a pizza-making party and a behind the scenes tour of their restaurant, along with their sons Luca and Nico.
This was Marie's first time joining me for a professional kitchen tour and she won't stop talking about.
Check out the Instagram Reel below.
Marie made her pizza with no sauce, lots of cheese, red bell peppers, mushrooms and pepperoni. Although I feel she should've added a little marinara (I feel bad criticizing a tiny chef but…) I am impressed with the sit-down restaurant quality of the pizza. Vince also owns Gaetano's Restaurant, a local Italian restaurant in Torrance, since 1993 with his family, so he brought a solid knowledge of ingredient sourcing to Piccini.
All the toppings were fresh and full of flavor, but having a thick crust was refreshing. Thinner pizzas seem to rule the Culver City area where I live and I realized how much I missed a doughier but still crisp slice. For those of you who love to dip your pizza crust in marinara, salad dressings or melted butter, this pizza is a must-taste for you.
Piccini is set up for take-away and deliveries, so Marie and I went to a nearby playground and split some bites of the Zucchini Cacio e Pepe, spaghetti with roasted zucchini, a parm sauce and black pepper. I love that it was a little lighter on the black pepper, this way Marie could enjoy a bite. My take-away order came with a coloring pack and crayons too, so if you are ordering for the family, make sure to request that.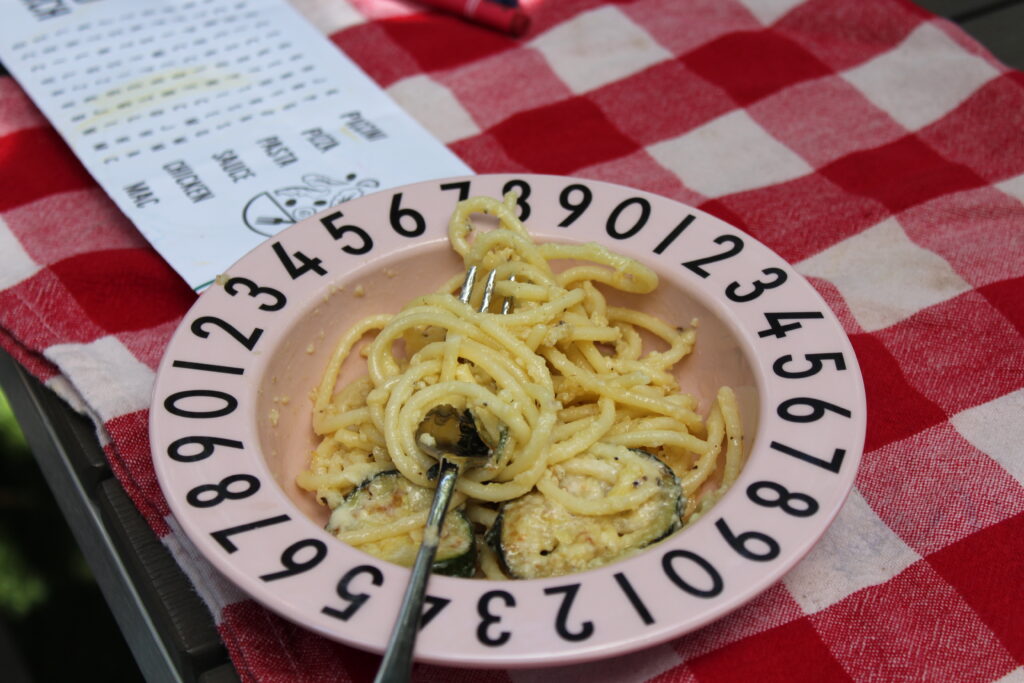 I also took home the Fettuccini Brasado, fettuccini pasta with a 6 hour braised beef and crimini mushrooms in a pink sauce. I love any pasta dishes with pink sauce and a tender beef, so this totally hit the spot.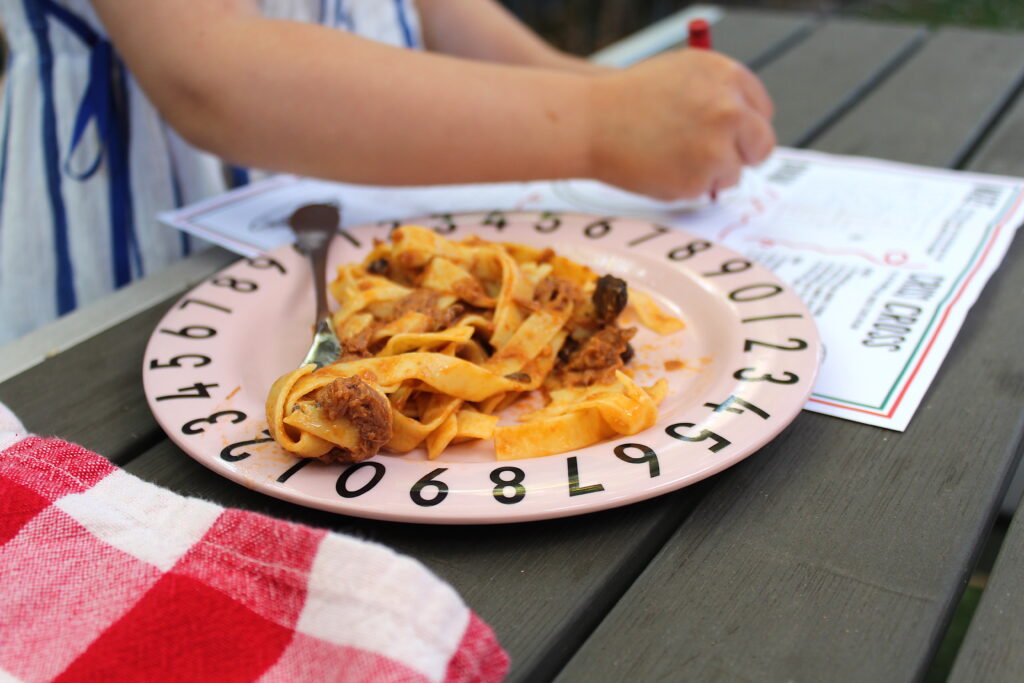 Whether you're having a family pizza night in or a pasta picnic in the park, Piccini has you and the kiddos covered.
If you stop by, please comment on this post and let me know what you thought!