Firehouse Subs
8390 Tamarack Village, Woodbury, MN 55123
http://www.firehousesubs.com/
I attended a media dinner at Firehouse Subs in Woodbury, Minnesota. However, this was no typical media dinner. Nope, this was a warm, get to know you, learn about the organization, and it's commitment to the community, and of course, eat great food media dinner! I am not one to turn down an opportunity to eat a great sub sandwich. In fact, I spend a while looking for hot subs near me, because a good sub is just a perfect meal. I also have a background in non-profit, so great food and a commitment to giving back speaks to my heart as well as my stomach.
I walked in and was greeted so warmly, with a "Welcome to Firehouse." Each and every customer that walks in gets the same welcome. It is like being invited into your aunt's house for a holiday dinner. You feel the warmth immediately. This welcome has a purpose; it goes right back to each location's core value of building and giving back to the community.
There is a lot going on at a Firehouse Subs location much of which I did not know before. For example, they have a hot sauce bar! Did you know this? I like my spice and my hot sauces; I could just sample each and every one! Their signature sauce, Captain Sorensen's is named after the founders' father. It is smokey and full of flavor from those Datil Peppers; a tiny bit of heat hits you at the end.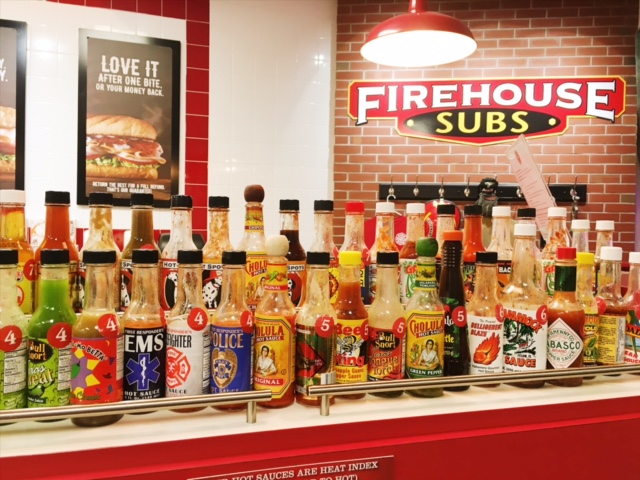 You can pair those hot sauces with any "Fully Involved" sandwich on the menu. Fully Involved means loaded completely with mayo, deli mustard, lettuce, tomato, onion, and a kosher dill pickle on the side.
To start, I dug into the Hook & Ladder, their signature sub with smoked turkey breast, Virginia honey ham, and melted Monterey Jack cheese. I can totally tell why this is their signature: you taste the freshness of the veggies (which are sourced locally!), the steaming process of the meat and cheese and the fact that this thing is stuffed to the brim. The sweetness of that honey ham just got me… I hope no one noticed me demolishing that sub.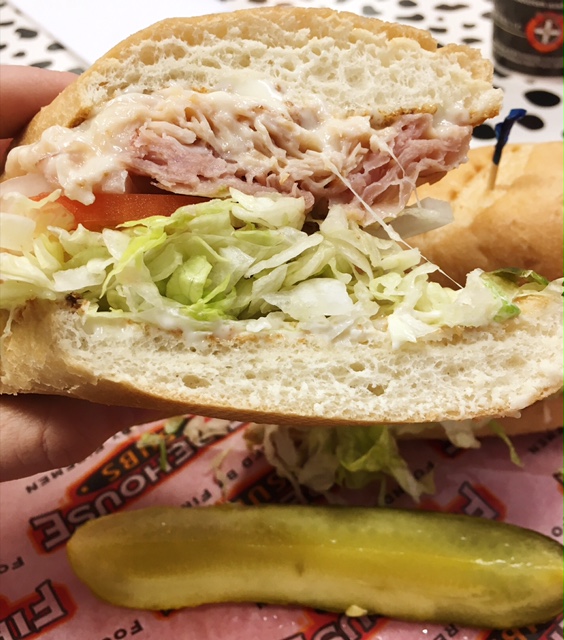 Next, I tried the Italian with Genoa salami, pepperoni, Virginia honey ham, melted provolone, Italian dressing, and oregano. The sweetness of that honey ham makes this stand out from any other Italian sub out there. (I'm really sold on that ham!)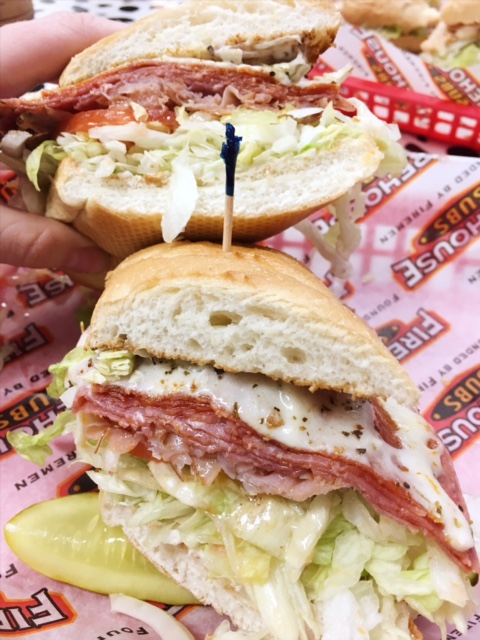 Finally, I topped it all of with The Firehouse Meatball sub. Just look at that melty cheese…. Italian meatballs, melted provolone, zesty marinara, and Italian seasonings. It is truly the perfect sub for a Minnesota winter night.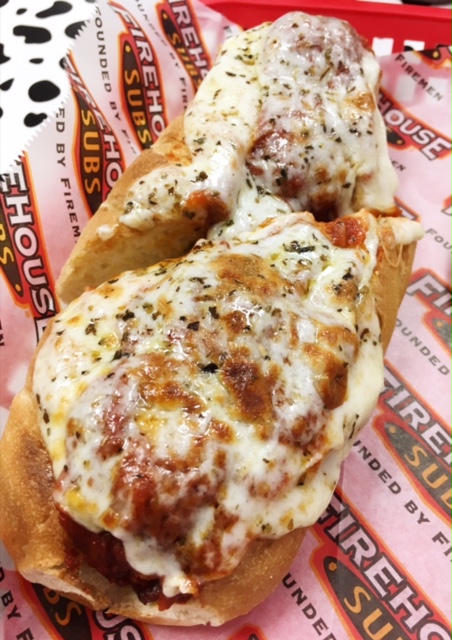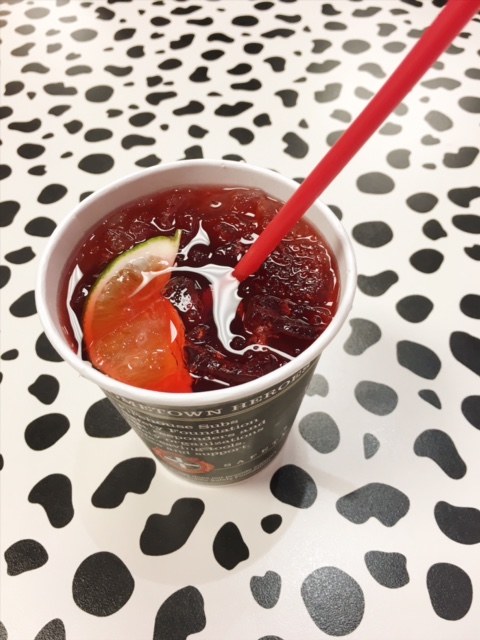 (Try their signature cherry limeade, yum!)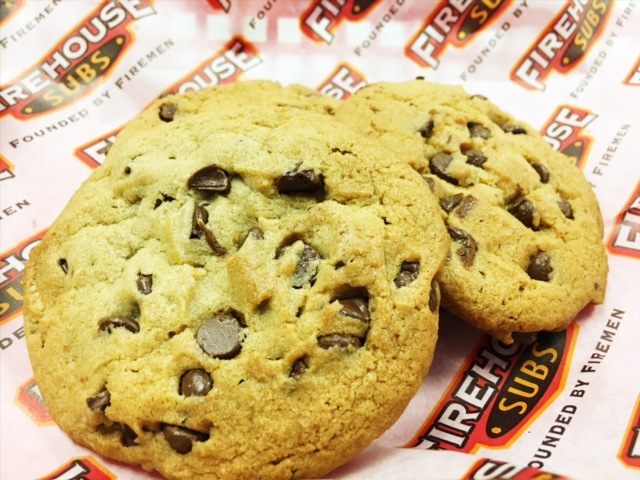 (Don't forget to grab a warm cookie!)
Not only did I enjoy three great subs, I learned a ton about Firehouse Subs as an organization and foundation. Firehouse Subs Public Safety Foundation founded in 2005 in the aftermath of Hurricane Katrina. Firehouse Subs co-founders, Chris Sorensen and Robin Sorensen, traveled to Mississippi where they fed first responders as well as survivors. Now the Foundation provides life-saving equipment, prevention education, disaster relief, military support and scholarships for education.
Like I said, there is a lot going on here. Hot sauces, subs and a portion of your purchase goes to the foundation! Oh, and each location has a mural customized to the local community. Such a nice touch.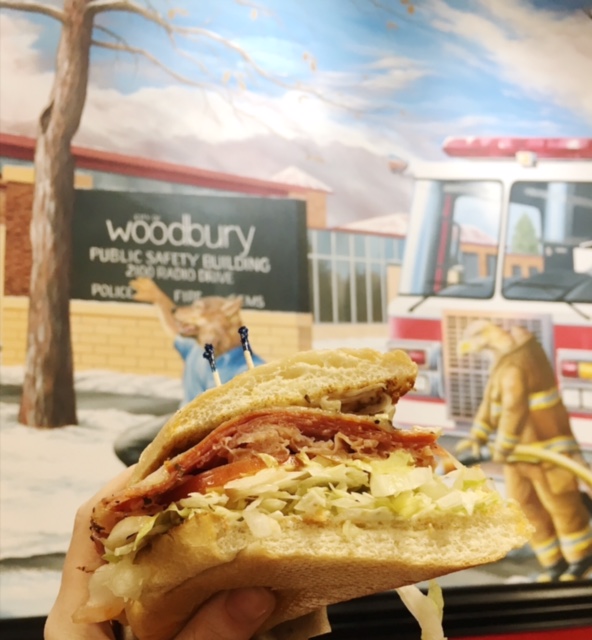 My night here ended on such a high note. Getting to know the Woodbury location owners Steve and Patsy was such a treat. Their stories about the community and the impact their store has had tugged at my heartstrings. When a little girl comes in for a meal and to personally thank you for the donations that allowed her first responder father some new protective gear… you know you've done some good!
Get yourself to a Firehouse subs for a great sub and a welcoming community!