Soi Thai Street Food
651 College St, Toronto, ON M6G 1B7
https://soithaito.com/
www.instagram.com/soithaito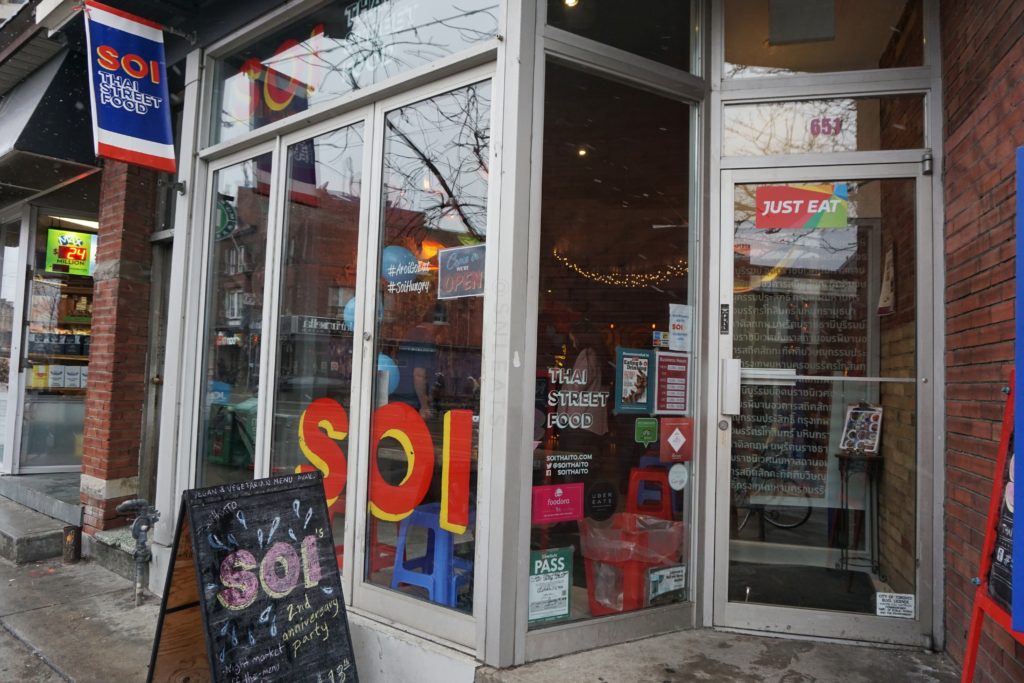 I was given the opportunity to attend a media event hosted by #jojoinstameets to preview the celebrations for Soi Thai's 2nd Anniversary and Songkran (Thai New Year) which will occur on Thursday, April 13. Songkran is the biggest and most memorable water festival in Thailand! Traditionally, Thais pour water over friends and family to symbolically wash off the misfortunes from the old year and to welcome the new year with a fresh start.
We were invited to try a few dishes that Soi Thai will serve at its event honoring both celebrations. Even though the event is now sold out, you're in luck – some of these new dishes will be served on a daily basis!
Located in Little Italy, this Thai spot is a definite gem within its surroundings. Chef and owner Sherry created the restaurant intending to serve Thai street food that wasn't yet available in Toronto. She felt that a city like Toronto needs this type of cuisine, and I can definitely agree on that! Soi Thai translates to "street Thai," and its atmosphere imitates the feeling of eating on the side of the street in Bangkok.
Before I get to showing you the new menu items, I want to showcase a current – and my favourite! – menu item.
That's right, I'm talking cha yen AKA Thai Iced Tea. This may not seem that special to some of you guys but here in Toronto, it is difficult to find great Thai Iced Tea and readily available! So when I get my hands on one, I definitely enjoy it to the last drop. Now, on to the food!
NEW MENU ITEMS
Soi Thai does not serve the typical Thai foods you would like at any Thai restaurant or fast food joint; therefore, they usually don't sell your common dishes like Pad Thai. Luckily, Sherry's customers and friends have enticed her to sell her delicious Pad Thai but she only creates it on Sunday and Monday! In its place is Sherry's healthy and modern take – Zucchini Pad Thai Slaw, which is vegetarian and gluten-free. This slaw is a much lighter and refreshing take on Pad Thai but still has the full flavours in the sauce.
Who doesn't love a cheese pull?! This dish is definitely a hybrid of Thai and Western flavours. We've got fried mozzarella topped with a Thai sauce that is just a great mix of hot, sour and sweet. Put a squeeze of a lime and enjoy with the sweet shrimp that just add another texture element and protein.
BEST. FISH. EVER. This fried fish is just as amazing as it sounds and looks. It may look really spicy but this fish has a great balance with sweet and spicy that makes you just want to keep eating it up. Although it is fried, it does not feel heavy or greasy like you may think; the fish is very tender and soft and holds up well to the thicker sauce.
ANNIVERSARY SPECIAL DISHES
This pink dish is so light that you can find me eating forkful after forkful of these noodles like there's no tomorrow! Such a simple dish that your tastebuds cannot give it up. I also managed to get some of this to-go and had a chance to eat it at work the next day; just can't get enough.
The Kanom Jeen Nam Ngiaw was definitely the star dish of the night. Filled with rice noodles, pickles, vegetables, various condiments and lots of pork in the stew, this dish was the most hearty of the evening and everyone just felt so homey consuming this. The pork stew alone is hearty, a bit spicy and has a perfect tang that brings lots of flavours with the rest of the dish. To be honest, you can probably find me somewhere just enjoying the stew alone!
Who doesn't love fried meat?! Consume with perfect sticky rice, and you have THE perfect meal! The Thai crispy fried pork is traditionally eaten along with some sticky rice. The fried pork was thin, easy to eat, and simply fried while the sticky rice definitely was the best sticky rice I've had in a long time. The sticky rice did not go hard and stayed its proper texture even though it had been sitting out for at an hour. Now those chicken wings, DAMN. Similar to the Tom Yum Goong with the fried mozzarella, the Tom Yum glaze provided the same sweet, sour and spicy sauce to amazingly prepared chicken wings.
Why not wrap up all the savoury with a little bit of sweet! Fried plantains with caramel and chocolate sauce, it does not get any more simpler or sweet. The plantains are not greasy and the sauces help to bring out the sweetness a little bit more. Definitely a great transition to the next item.
This punch may not look like much but it tastes like a Thai Mimosa! Using a lychee-based liquor and fresh strawberries and mango, this punch is fruity and refreshing, just in time for spring!
Whether or not you were able to score tickets to their Anniversary/Songkran event, be sure to drop by this Thai gem to see what other new dishes that Sherry will bring out! A special thank you to the duo behind #jojoinstameets for the invitation to this media event and to Sherry for being so kind, generous and hospitable with the food and environment. Can't wait to see what's in store for Soi Thai Street Food!