As you all know by now, I am notorious for planning all of my vacations around food. Before I even made flight or hotel reservations for Madrid, I checked to see what Michelin star restaurants were in the area. Imagine my excitement when I discovered that there were 14 different restaurants with Michelin star rankings, and that doesn't even include the World's 50 Best list! Seeing how Diver XO and Alinea recently collaborated, it was one of the first places to research. Months in advance of my trip, I reached out to Diver XO inquiring about reservations. Imagine my disappointment when I learned that they don't accommodate parties with less than two guests. Dammit. Rather than brooding over the fact that I would not be able to experience the culinary creations of the mohawked, Michelin star chef, David Muñoz, I decided I would check out the next best thing, Street XO. And so the journey begins.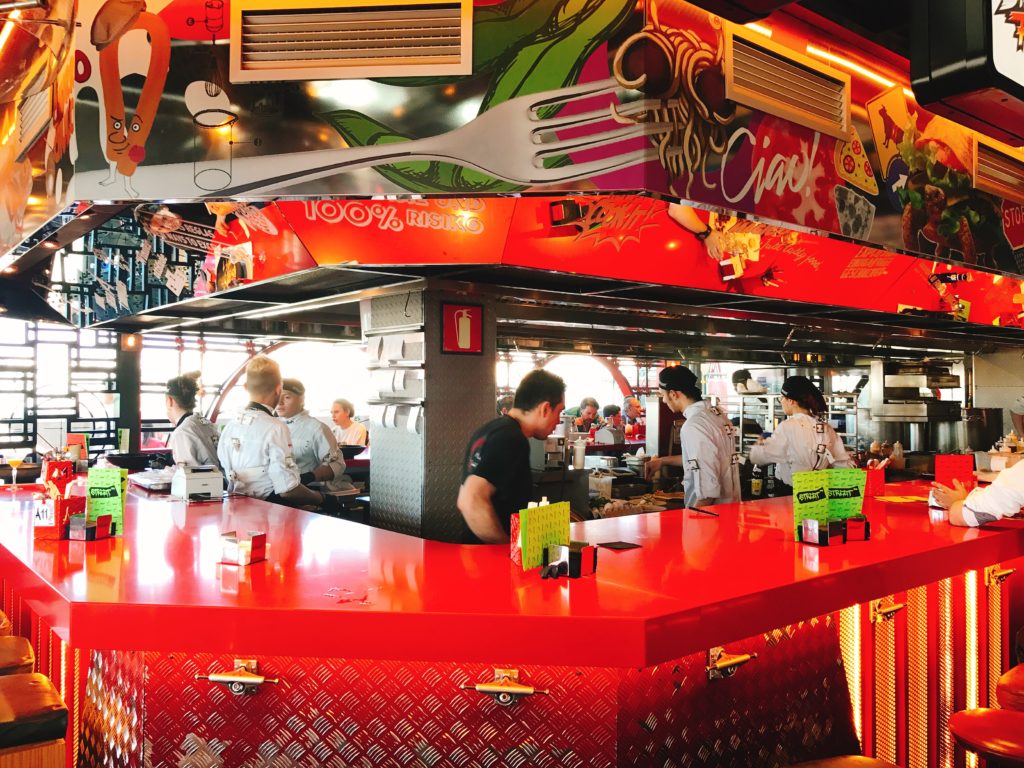 Street XO
Calle de Serrano, 52, 28001 Madrid, Spain
Website
Planning my itinerary, I decided that Monday would be the ideal day to visit as I had read numerous articles talking about the wait. I grabbed my things from the hotel and off I went. Starting my day with a quick bite at Arzabal, I then spent a few hours wandering through the Reina Sophia and then decided to make my way to Street XO. I grabbed my phone and input the address. I was a little over a mile away and would arrive as soon as they opened. Perfect timing, right? As I made my way down Calle de Serrano, I kept looking for building 52. 60, 56, 48, where the hell was 52? Trying to avoid being the typical American tourist, I popped into a few stores asking if anyone knew where it was and all I received were blank stares until the last store where the kind gentleman told me it was located in El Corte Ingles. I had only walked past that place at least 6 times during my search.
I saw the restaurant was in the Gourmet Experience section which encompassed the top two floors of the building. I made my way to the top floor only to find a line of people winding down two flights of stairs. Keep in mind, the restaurant had only been open five, ten minute at the most. As if there was a decision to be made. I made my way down the stairs and grabbed my place at the end of the line. Look at it this way, there was A/C and WIFI, what more could a girl want, other than some mind blowing food. I will spare you the grueling details of the two and a half hour wait or the new friendships forged while waiting in said line and skip to the good stuff.
Seeing as I had more than enough time to read multiple reviews, I noticed a couple of dishes that were continually on repeat. I made a few mental notes so I could ask about those specifically. As the gentleman came to fetch me from the line, I was brimming with excitement. As I walked through the plastic strip doors, it was immediate sensory overload.
It felt as if I was entering a Vegas night club. The thumping electronic dance music was reverberating off the walls, the brilliant red counter tops were almost blinding and the final straw-the chefs and servers were all dressed in straight jackets. It was then that I knew I made the right decision to wait. I loved this restaurant before I even had a bite of food and it's not often I can say that.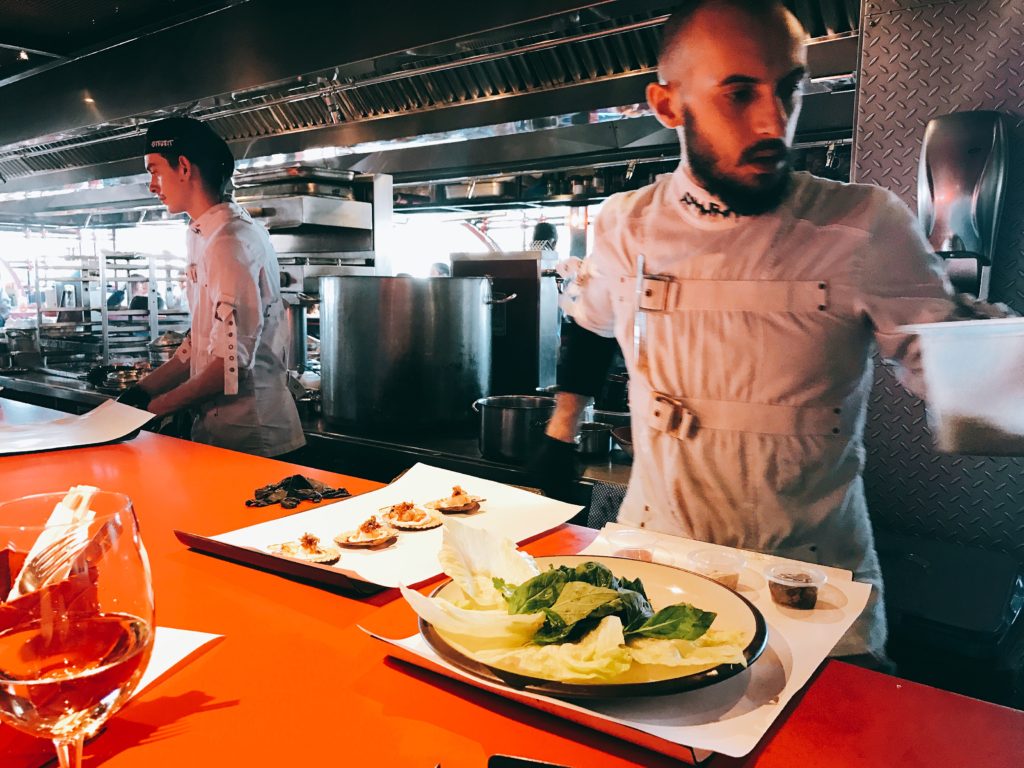 I picked up the menu and wanted one of everything, but time nor my stomach would allow such craziness. I decided to hell with it; I'd ask my amazing chef/server, Catarina (you can meet her here), to bring out her favorites. I traversed the globe for this meal and didn't want to be stifled by my own preconceived notions of what I thought may or may not be delicious.
I was parched and the first thing I wanted was a cocktail.  While Street XO has a lovely menu outlining their dishes, their drinks are left to the servers. One cocktail that was mentioned multiple times was the Smokers USA. I inquired about this cocktail and Catarina smiled. "Excellent choice, you have done your research!" I wanted to say, hell yes I have… I've only had two and a half hours to wait for this. Instead, I smiled and soaking in as much of Street XO as I possibly could.
Before I knew it this smoked filled glass was approaching and I noticed Catarina had a bottle wrapped up in a brown paper bag in her hand.  As she placed the glass in front of me, she opened up this rum cola concoction. Instructed to eat the bite of bacon first, she then removed the top of the glass and began pouring. Was I ever amazed? It was ridiculously good. Composed of aged rum, lime juice, cola, cranberry juice, mandarin tea and ginger, I was more than tempted to order another, but Caterina insisted on something else. Quite the thirst quencher.
First out of the kitchen, was the Pekinese Dumplings which are served with crunchy pig's ear, strawberry hoisin, aioli and gherkins. My jaw literally dropped. This wasn't a lunch dish, it was a work of art, reminiscent of a Jackson Pollock painting. While I admired the dish, I was hungry and took my first bite. If all of the other dishes were this fantastic, I knew I would close the place down. Crunchy pig's ears are something that we see in Nashville quite often, so I enjoyed seeing these incorporated with an Asian twist. The strawberry hoisin sauce provided that small bit of added flavor that made the dish pop.
Catarina created a pairing for my next course. To drink: Japo Jerez to nosh: Korean Lasagna. When she brought over the Japo Jerez, I assumed it was some sort of sangria, but then I noticed something on a stick.  As it was placed in front of me, I realized it was a shrimp! WTH! The culinary team combined smoked pea soda, shiso, miso, yuzu, sake and palo cortado to create a fascinating cocktail with some street flare. After you eat the bite of miso soaked shrimp, you are then instructed to suck the head of the shrimp and then stir your cocktail with it. Not sure about you, but this was the first time I've ever had a cocktail of that nature. It was light and refreshing and paired perfectly with the Korean Lasagna.
Admittedly, I was not shocked when the Korean Lasagna looked nothing like what I expected. It is Street XO after all, expect the unexpected. The chef used wonton wrappers and filled them with old galician beef (aged for 45 days), shiitake mushrooms, spicy marinated tomatoes and goat milk. As if that wasn't sinful enough, the dish was drizzled with a cardamom bechamel sauce and topped with crispy wontons. This was by far my favorite dish of the meal. Each bite was filled with robust flavors and the beef almost melted in my mouth. I loved the juxtaposition of the soft wontons holding the dish together and the crispy wontons sprinkled on top. Such a fun and playful approach to a common dish. Make this a must order when you make your way to Street XO.
Even though I was satiated, I couldn't help it; I wanted one more course. Closing down the restaurant, Catarina brought over my final pairing: To drink: Acidulados to nosh: Crispy BurgerXO. The drink was stunning and a lovely way to finish off my meal.  While I don't have all of the exact ingredients, it was sweet in flavor (almost strawberry tasting) with little pop rocks of chocolate placed on top. It reminded almost of a chocolate covered strawberry. The acidity paired perfectly with the dish.
I had no idea what to expect when she brought over the Crispy BurgerXo, but thank goodness it was bite sized. A soft-shelled crab was placed on the smallest bun, allowing the legs to dangle over the side. What burger is served without a side of fries? While this one was served with something fried, it wasn't potatoes but rather fried chicken skin. The burger was to die for but to be honest, I wasn't a huge fan of the chicken skin. In theory, it's a fun idea, but probably my least favorite bite of the day.
So was it worth the 2.5 hour wait? Abso-freaking-lutely.  While I may have been turned down for being a party of one at Diver XO, Street XO treated me like a queen. Catarina provided world class service and was more than willing to answer any questions. Their playful, unexpected approach towards food is one that I admire and seek out often.  I have no regrets that I traded in a Spanish tapas for Asian fusion.
Tariff: 13€-17€/dish; Cocktails:11€-13€
Can't Miss: Korean Lasagna and any of the cocktails
Potential Pass: Crispy BurgerXo
Until next time!