Every year, Taste America brings the James Beard Foundation dinners and programs to exciting culinary destinations to their annual LA benefit dinner. This year's LA event, Friday, October 12, 2018 at SLS Hotel, Beverly Hills, starts with a 6 PM cocktail and tasting reception followed by a seated dinner and dessert reception at 7 PM. I am so excited to cover this year's event since last year's was so incredible.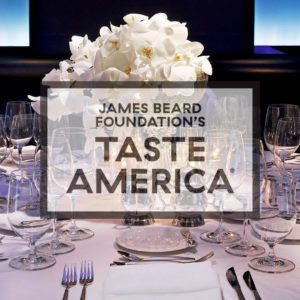 This year's event will include many tastings, including Holly Jivin of The Bazaar by Jose Andres and Tres, Raphael Francois of Tesse, Margarita Manzke of République and Mei Lin, of the highly anticipated upcoming spot Nightshade, which is set to open this Fall. 
Born in China, Mei Lin and her family immigrated to the US when she was only 3 months old. Mei started her work in the industry at her father's restaurant in Dearborn, Michigan which took her on a path to a line cook position at Wolfgang Puck's Spago in Vegas. Then she  worked up in the ranks to a junior sous chef.
Mei burst onto the LA scene as a part of the opening team at Michael Voltaggio's ink. where she earned the sous chef position. She most recently won season 12 of Bravo's cooking competition show Top Chef and after hosting many of her own pop-ups, I'm feeling confident in Nightshade becoming LA's next top restaurant. Check out my interview with her below.  
GOF: Any advice for aspiring chefs working their way up?
ML: One of the key components to me becoming a sous chef within 6 months, is a no holds barred attitude. Just get your work done and learn to take criticism.
GOF: What inspired the concept behind Nightshade?
ML: Nightshade is inspired by my childhood, previous work experience and travels around the world. From helping my parents in their Chinese restaurant as a kid in Detroit to my previous restaurant jobs with stalwarts such as Michael Symons, Wolfgang Puck and Michael Voltaggio, and lastly to my extensive travels around the world. I wanted Nightshade to be the culmination of my culinary history.
GOF: I read that when you were testing out recipes for Nightshade, you opened up your test kitchen and asked for honest feedback. Which items had the best feedback and was there one item that had regrettable feedback?   
ML: The Mapo Tofu Lasagna has been the dish that has gotten the most praise so far. Surprisingly I've gotten feedback that the Szechuan Hot Fried Quail wasn't spicy enough.
GOF:  What can we expect aesthetically with Nightshade's design?
ML: The dining room is going to be light and airy with emerald green accents lined with brass. The kitchen is semi-exposed behind a marble bar counter that will be reserved for walk-ins.  
GOF: Is there one food item you wish had more hype to it?
ML: Shirataki miracle noodles.
GOF: Any foods you wish Instagram would calm down on?
ML: Rainbow colored foods.
GOF: Which JBF Taste America chef are you most excited participate alongside with?
ML: It's a pretty exciting lineup all around but I'm particularly excited to see Holly, we've been friends for a long time and she is a really talented chef.
GOF:  Why is the James Beard Foundation important to you?
ML: The James Beard Foundation is important to me because it's creating more awareness around food culture as well as honoring talented chefs that work hard to create good food ultimately helping to bring people together.  
There are still tickets available for the Taste America LA event, click here for info.