The Girls on Food inaugural fundraiser with Industrious Century City and some of LA's finest food and beverage vendors raised over $2,300 for the L.A. Kitchen.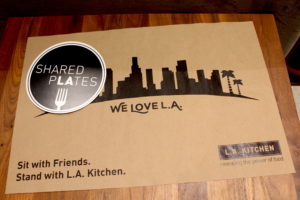 Host Julianne Gabert (Girls on Food) hosted the event on Friday, October 5, 2018 at Industrious Century City. This ticketed event was in affiliation with L.A. Kitchen's Shared Plates fundraiser, a city-wide weekend of gatherings October 5-7, 2018 to celebrate the power of food in Los Angeles. 100% of all ticket sales and any additional funds raised were donated to L.A. Kitchen.
Despite the L.A. Kitchen's significant impact and outpouring of support, they have had to acknowledge that their combined philanthropic and earned income has not been able to fully sustain their work and meet the requirements of the loan they took out to build their beautiful facility. This required them to temporarily pause their culinary training and meal distribution programs.
Although they are not going anywhere, this year's Shared Plates was more important than ever. All money raised through Shared Plates was matched as part of their goal to reach $600K by the end of the year. Although this event raised a total $1,167, through donation matching, this event raised $2,334 total!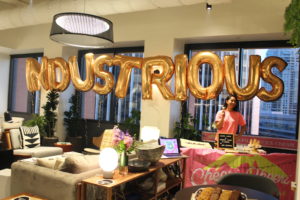 Industrious Century City, a co-working space that also celebrated it's grand opening 2 night before this event, generously donated the space. Attendees were allowed to explore the upscale Century City offices, which make up the entire 17th floor of the Watt Plaza, freely as they participated in the event.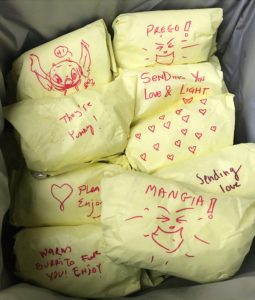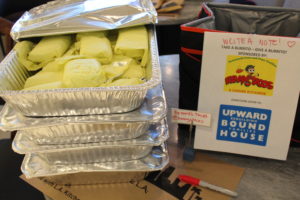 Attendees participated in a "take one, give one" burrito station, sponsored by Benny Borsakian, the owner of Benny's Tacos. At this station, guests took half a burrito to eat at the event and donated the other half. Burritos and additional leftovers from this event were delivered to non-profit organization Upward Bound House, and distributed to local food insecure.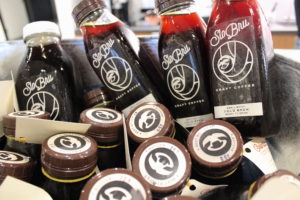 Slo Bru Craft Coffee owner Eric Raschka provided guests with bottles of his new decaf cold brew coffee. He also donated his new product, Bru Packs, a line of brew-it-yourself cold brew packs for the raffle.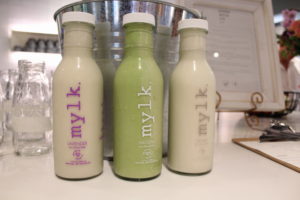 Lauren Zeiher of the mylk team, supplied guests with servings of their honey, lavender and matcha almond milks. Many guests fell in love with these local plant-based mylks.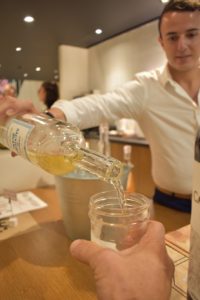 Gérard Bertrand brand ambassador Mathias Icard poured the brand's Rosé, Sauvignon Blanc and their 90 point Cap Insula Red Blend into mason jars, which guests were encouraged to take home.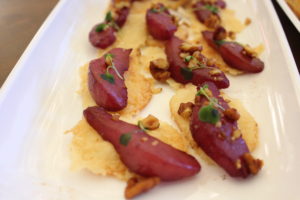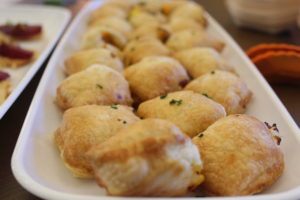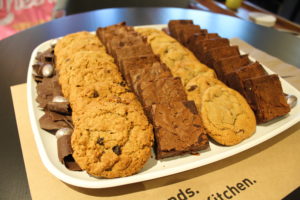 Wolfgang Puck Catering provided hor d'oeuvres including Butternut Squash Tarts with Caramelized Onions and Crispy Sage, Poached Pear Parmesan Crisps as well as an array of desserts like cookies and brownies.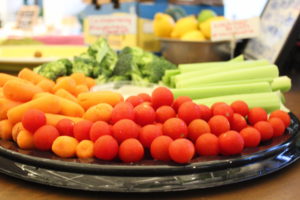 Co-Opportunity Market and Deli, who's locations include Culver City and Santa Monica, contributed a full crudités plate and a generous $100 gift card for the raffle.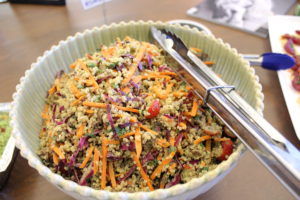 A Chile Mushroom Quinoa Salad was provided by Beaming Century City. This dish was a perfect side for guests keeping it vegan.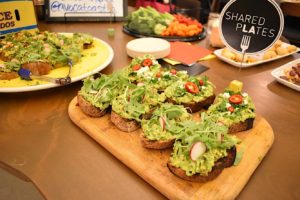 The avocado toast station, provided by AvocaToast by Lizzy with bread by Bread Lounge (special thanks to the team at Kitchen Table app for arranging) was one of the most interactive stations. Caterer Lizzy Cooper has a special connection to L.A. Kitchen having volunteered there several times helping them prep food.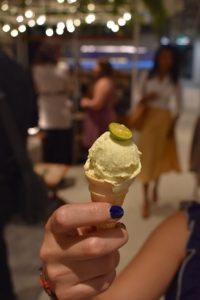 Cheeri Cheeri, an artisanal and vegan Filipino ice cream, were scooped by owner Christy Cunanan on site as well, and ended up being the Instagram image hit of the night.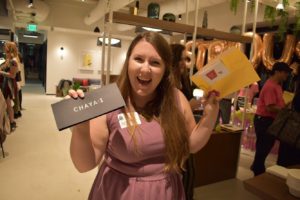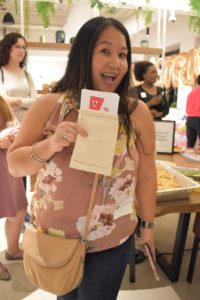 Additional prizes awarded from the raffle included CHAYA Modern Izakaya, Mee And Greet, TŪMBI, Osteria Mamma, and Food Stirs.
Stay tuned for information on any upcoming events here at Girls on Food! 
For more information on L.A. Kitchen, visit https://www.lakitchen.org/.