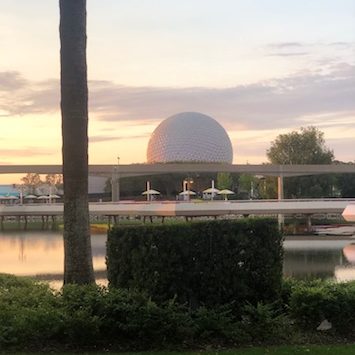 If you're a Disnerd, drinking around the world is something that we're all familiar with.
We start by crafting your strategy:
Do you start out in Canada or Mexico?
Do you jump around?
When do you switch from liquor to beer?
The list goes on, but diehard Disney fans know that drinking around the world is one of the biggest and wildest tests on your liver and constitution.
We took on this wild endeavor the last week and face masks were still required outside, and the weather was a blistering 95 degrees but myself and my travel companion, Robert Graham, were determined and knew that there was no challenge too big, no task too hard, and we were going to claim the title of Drinking Around the World.
Join us on our journey through the world showcase and the eleven countries where we downed some liquid courage. Also, don't forget to follow my Clubhouse, DIStractions, which is a place for Disney lovers to talk shop.
MEXICO, Country #1
Given COVID restrictions, only a certain number of travelers can be allowed in the majestic Mexican pavilion at once. Known for its ambiance and air conditioning, this serene night scene also houses one of the best places to start your drinking around the world journey, La Cava de Tequila. This cozy establishment boasts more than 200 types of authentic tequilas, ranging from simple to rare.
I normally take a load off after a morning of running around to attractions and grab some chips and guac and their signature avocado margarita for my drink #1 to refuel before my journey around the world showcase. However, as soon as Robert and I saw a line we hightailed it over to the kiosk for our first bevy.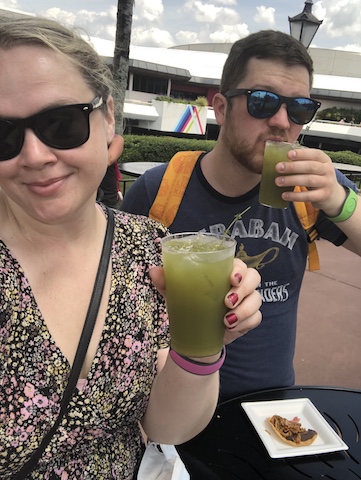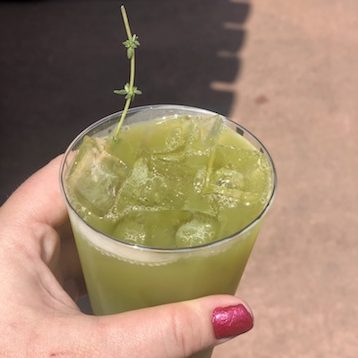 Jardin de Fiestas
Here you can see Robert and I expertly holding our Garden Margaritas. This breezy cocktail had Chile Verde Liqueur, Lime Juice, Gracias a Dios Agave Gin, and a Sprig of Thyme. ($12.50)
The supporting guest star featured in the photo is the snack Tostada de Cochinita, braised pork on a crispy corn tortilla with black beans topped with pickled onions, mango-habanero relish, and oregano. ($7.00)
As we were in the House of Mouse during the Flower & Garden Festival 2021, I can't in good conscience go without sharing some of beautiful topiary's witnessed on our journey. I like to title this one: Me, After We Drink Around The World Today…..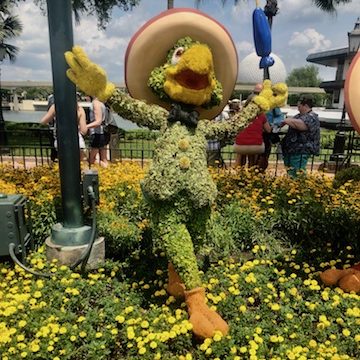 NORWAY, Country #2
Hei, Hei from the land of the Vikings and the fictional city where Frozen is set. For our second drinks of the day, we channeled my Viking ancestor's endurance and downed drink #2.
Please enjoy this pictorial representation of how overheated I am while being stared down by a Norseman. He's judging me.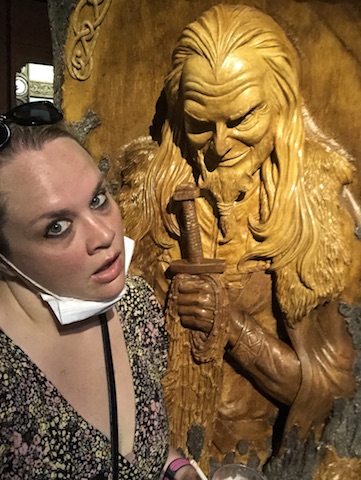 Scandinavian Drink Stand
As part of my Scandavian journey I indulged in drink #2, the Troll Krem ($18.00) which was poured in a souvenir glass that I really tried to hold on to, but I will be honest, by the time I reached The American Adventure, this plastic symbol of my heritage was tossed in a trash can. Don't worry, I gave it a proper Viking funeral.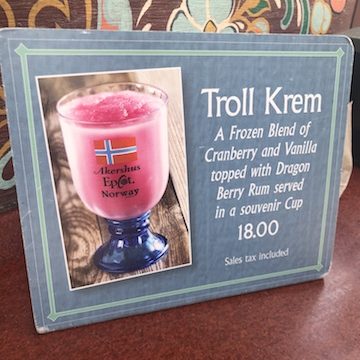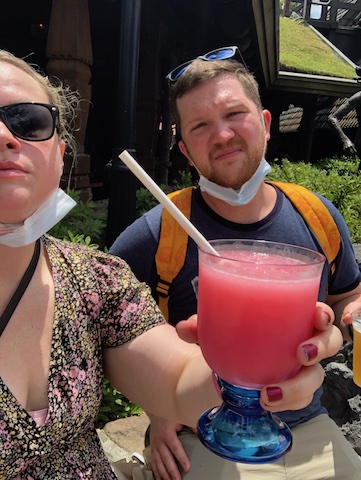 A frozen blend of cranberry and vanilla, it was a welcome addition to my drink list given the blistering sun. Please also note our steadfast enthusiasm in the Florida rays.
AFRICAN OUTPOST, Country #3
The African outpost doesn't get enough love, I think this is a sticking point on which we can all agree. Many argue Animal Kingdom fills that void with their African food and drink offerings, but I say GIVE US MORE AFRICAN OUTPOST. There, I have officially made my letter to the editor clear.
Currently, The African outpost is mainly a shopping kiosk and snack stand. For our third drinks we transitioned to beer knowing that our reservation at the Biergarten was on the horizon.
I got myself a Tampa Bay Old Elephant Foot IPA draft ($9.75). I will neither confirm nor deny that at this point we are starting to look a wee bit tipsy.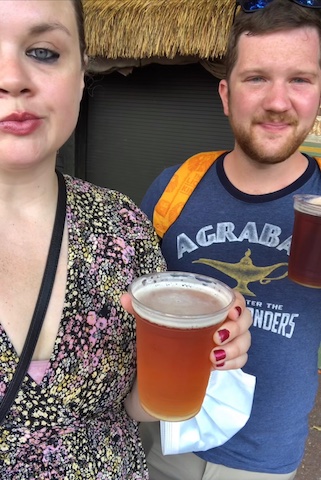 GERMANY, Country #4
Hallo, Wie Geht's from Deutschland!
We finally had some time to stop, recharge, and do what the good Lord prescribes…. listen to some epic Oooom Pah music.
Beirgarten Restaurant
The marquis says it all. Due to COVID, the Biergarten which is normally a German buffet with a show has become a family style affair. The wait staff brings samplings of salads, German entrees, and one of their finest features-the pretzel breads.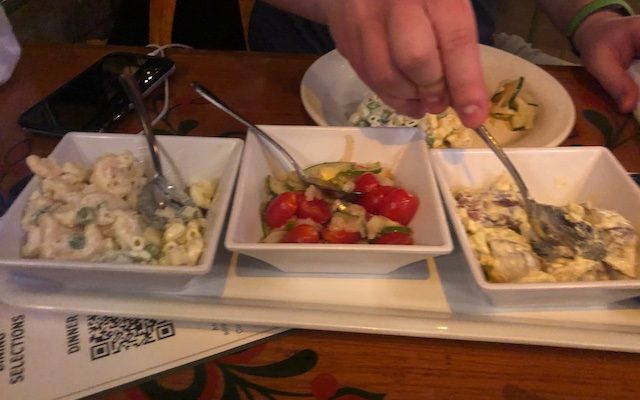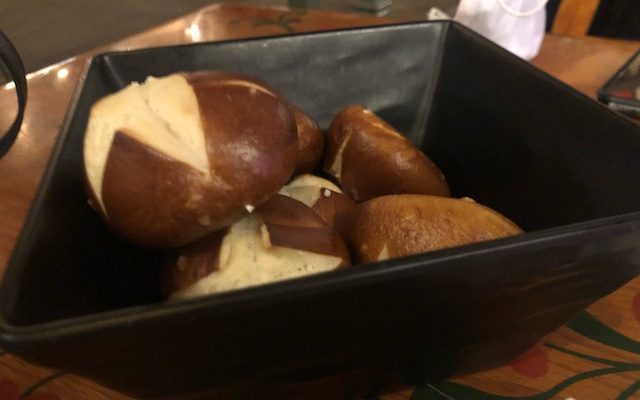 Take a good peek at this sausage porn and tray of desserts. But truly, I know what you really want to know-what was drink #4?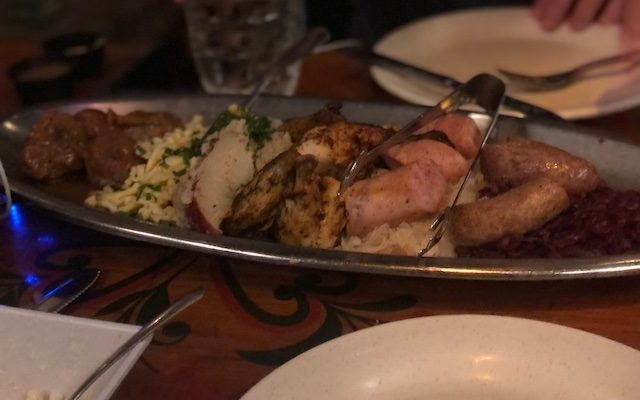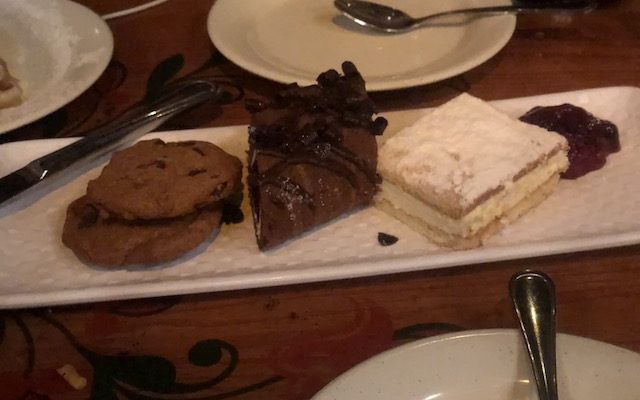 Why, I sipped on a classic of the pavilion, the Schofferhofer Pink Grapefruit Hefeweizen ($16.00) and Robert enjoyed the Warsteiner Dunkel ($16.00).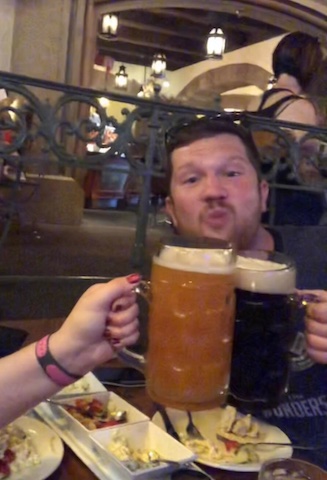 With food in our bellies and air conditioning on our skin we were ready to head to our next adventure in Italia.
ITALY, Country #5
We decided to go back to something fruity this go round and chose the white sangria ($11.00). We were also able to angle the camera well enough to perfectly align Spaceship Earth between our heads. Success all around!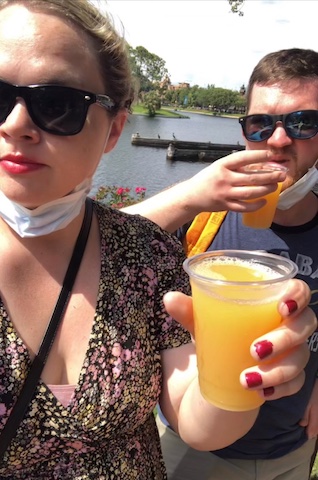 AMERICA, Country #6
There's nothing quite so postmodern as visiting America while in America, but here we are, two wayward American adventurers on the search for our sixth drink.
Regal Eagle Smokehouse
This new BBQ joint at the heart of The American Adventure has been getting some great reviews, even Sam Eagle himself would approve.
Robert and I decided to get our next beverage here, with their glorious list of craft drafts it was a no brainer. We chose the Bell's Oberon Wheat Ale ($9.25) it was a light addition to our growing list of imbibed alcohol.
Since we had full stomachs from our journey through Germany, we didn't try the BBQ but have heard nothing but the best reviews on their food offerings.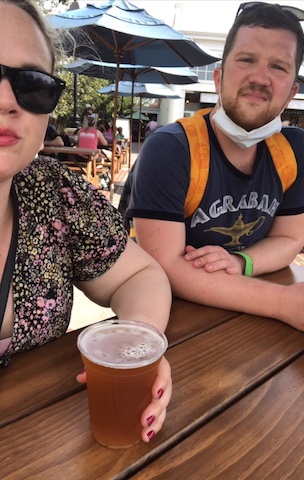 This is our best: Let's go take a nap in the American Adventure face.
JAPAN, Country #7
At this point, all bets are off, so we decided to steer away from beer and try something sweet. The plum wine ($6.00) that you can find at kiosks in Japan and China was a nice small break from our towering beers in America.
MOROCCO, Country #8
Sticking on the cocktail train, we opted to go with a refreshing Frozen Mint Tea served with Bombay Sapphire Gin ($14.00).
As you can tell, my day of drinking has left my poses looking like bemused extras from Top Gun. "I feel the need…for water, seriously, get this pair some water."
FRANCE, Country #9
Viva la France Pavilion. With its genteel walkways and poster art, you feel like you're sashaying down a French side street. Robert raced to get his favorite snack in all the world showcase, a fresh baguette while I enjoyed the fountains. We topped our Parisian excursion off with a glass of Champagne Malard ($15.00).
UNITED KINGDOM, Country #10
Pip, pip, cheerio, and all that. Has one even dared to drink around the world if they haven't had a Snake Bite Imperial Pint ($10.00) from Rose & Crown? We also did the obligatory check us out in the British phone booth pose. Aren't we absolutely smashing? Next stop, Hell Hall.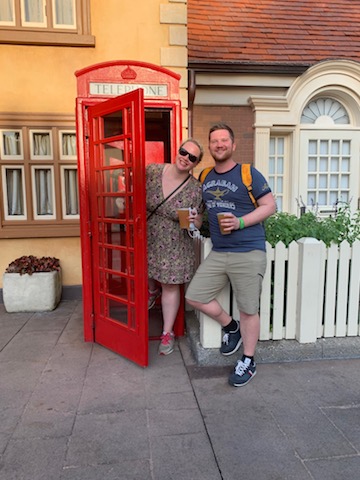 CANADA, Country #11
Oh, Canada, the land of my grandmother and the final country on our drinking tour. I know what you're thinking, they skipped China and you know what, I'll admit it-we did but we stopped and had a small drink at The International Garden Festival Tent, and doesn't that count for something?
The sun has set on our adventure as we grasp our final beer, we bid you adieu.
After sweating, eating, and occasionally napping during attractions we managed to stay somewhat sober but don't trust my account, a picture is worth a thousand words, but a video doesn't need words because it just shows what happened.
Please enjoy our blooper reel of highlights from our day.
Robert and I would like to thank the academy, the world showcase, Disney World, and most importantly our airtight constitutions that allowed us to make it through this alcoholic gauntlet. Please look forward to future episodes!