Ever since that fateful Friday the 13th (March 13th, 2020 to be exact) when the city of Los Angeles began the lockdown, unless you had the patience/time/bravery to make a grocery store run or a farmer's market visit, you have likely struggled getting seasonal/organic produce.
However, the produce has just been granted a fresh start. Our Instagram feeds have been flooded with unboxings of beautiful, fresh produce being delivered to the doorsteps of influencers, foodies and even your friends. These boxes are properly called CSA boxes, standing for Community Supported Agriculture. The CSA boxes delivered to Los Angeles have been packed with produce, pantry items and other groceries you'd find at farmer's markets. These boxes are (usually) sourced from the farms directly and many restaurants have them available for retail.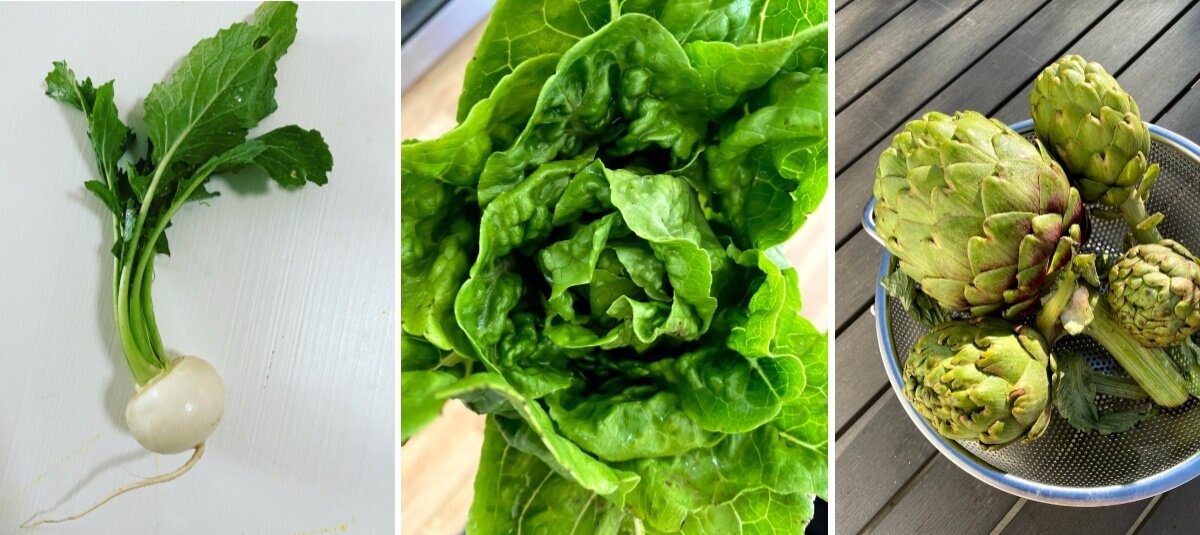 For those of us too scared to go to a grocery store, the produce box delivery system became a convenient way to feed families fresh produce without having to go to a store. I've become so attached to this new wave that I actually hope they continue.
Since 3/13/20, I have ordered 6 different boxes and I wanted to share with MiLOWE what I've learned over the past nearly 2 months.
Disclaimer: Moms, you do what's best for you and your family! I only write this out of my own personal experiences and preferences. YOU DO YOU!
You can meal plan around boxes in advanced
Most of the box systems are communicating with customers on what is in the CSA box on social media. For example, Thao Family Farms informs customers of what will be in their boxes on their Instagram stories ahead of time. Kong Thao also reposts a lot of Instastories from his customers when they show what they're cooking. Perfect, if you get a veggie and you're stumped on what to do with it. I got a kohlrabi that I was stumped what to do with, so when I saw in his feed people shaving it, using it in salsas and just eating with a hummus dip, it totally expanded my mind on kohlrabi. Isn't it crazy how social media can connect us to farmers in a way we'd never predicted?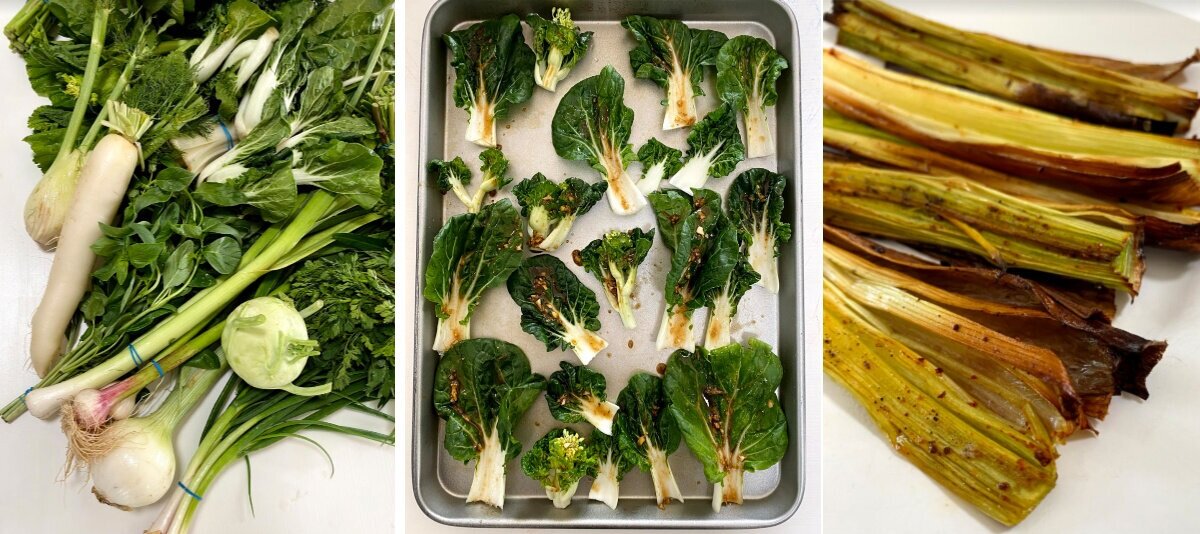 There have been a couple of times where 1 item was substituted for something else, like substituting arugula for mixed greens. That may frustrate some readers but I recommend being flexible. Have an arugula salad or wilt it in the oven with salmon. The world won't fall apart, I promise!
Determine what "supporting local" means to you
Not all of the CSA boxes delivered to LA are necessarily "local farmers". Farm Fresh To You, a very popular CSA box delivery system brings their products all the way from Capay, up in Yolo County, close to Sacramento. While I respect this business and have ordered from them (I have receipts!), I acknowledge I'm not really supporting farmers closer to LA when I buy from them. That being said, the produce they deliver is still fresh when arrives and it's a great brand.
If supporting closer to home is very important to you, I recommend finding your favorite farmers market vendors and ordering directly on their website to deliver. Underwood Family Farms, a farm within 50 miles of Los Angeles, offers shippable produce boxes. They're a favorite of mine, so be sure to check them out.
I've also noticed a trend in restaurants offering grocery boxes. If you're particular about where the produce is coming from, to get a box stuffed with major grocery store brands like Dole and Driscoll's will probably disappoint. Now, if you're content with supermarket brands and just want to focus on budget and ease, this is a zero-judgement zone. And if that's the case, Tender Greens has multiple locations all over LA and they have general supermarket boxes that are affordable and easy to obtain through Postmates. By all means, go for it!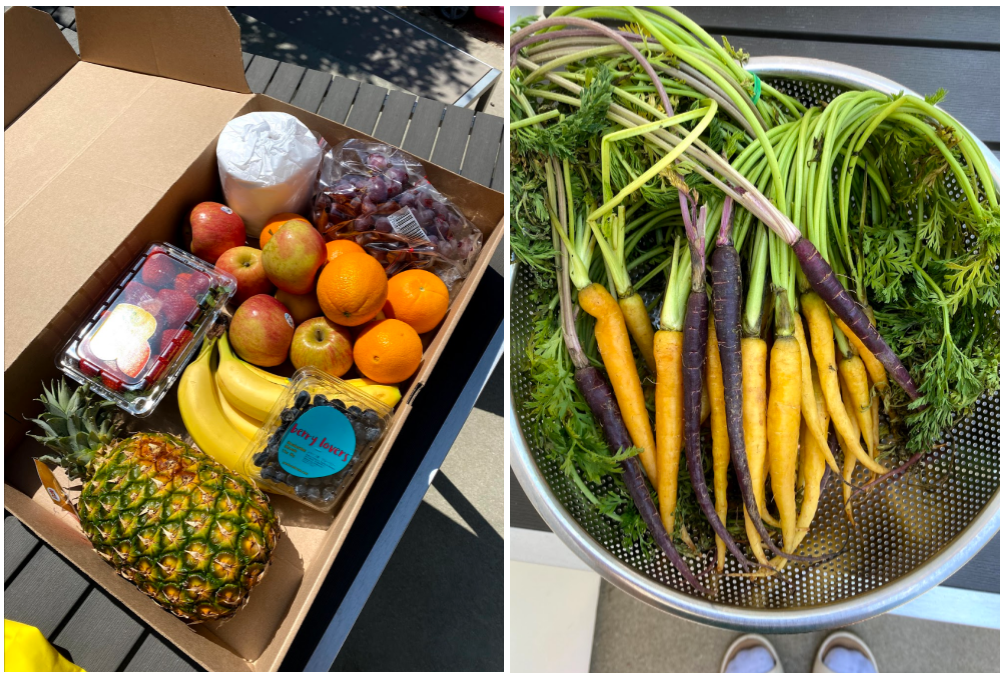 Have Patience, This is a New Frontier
I found myself very frustrated with one box, who had a typo in her emails to everyone on what the delivery date would be. Annoying.
But keep in mind, this is so new for everyone, including the farmers and organizers. So be patient, cause if you're like me, all is forgiven once delicious produce arrives and I can cook.
Be Sure to Disinfect!
When boxes are delivered (delivery better have a mask and gloves!) I, wearing gloves myself, discard the box and place all produce in a strainer to be cleaned in the sink immediately. The box doesn't enter my house, nor does any packaging. After produce is cleaned, I transfer to a reusable bag (I use Russbe) and refrigerate. Then wash for 20 seconds and sanitize.
Bugs!
It's a farm. You're bound to find some critters. Deal with it.
Don't throw out anything!
If I've learned anything from the pandemic, it's that I did not make proper use of a full plant before tossing and that sucks. Cause nothing should be wasted. Here are some ways I've transformed into a more zero-waste kitchen:
When it comes to tops, odds and ends that you don't think you'll be eating, save them in a bag in the fridge, cause once the scraps build up, you can use them for vegetable stock! My soup game come Fall 2020 is going to be off the chain cause I have sooooooo much stock in the freezer. It's ridiculous.
Not sure on what to do with citrus skins? Before you toss, grate it and use the zest for salads, dessert topping or meat marinades.
Grow new veggies! I save the roots of green onions and leeks and they grew back! I keep them in a mason jar, by my window for sunlight. This is a fun way for kids to learn about regrowth too.
When it comes to root vegetable tops, like beets, turnips and radishes, slice and sautee. I have also used turnip tops in place of collard greens, for a Southern inspired side dish. They're actually fantastic and I may not have discovered this without the County Line Harvest box delivery.
Freeze your herbs and don't be embarrassed! I know it's hard to accept that you're not a power-homecook and that freezing makes them look less awesome on Instagram, but I promise you they taste fine after they're thawed!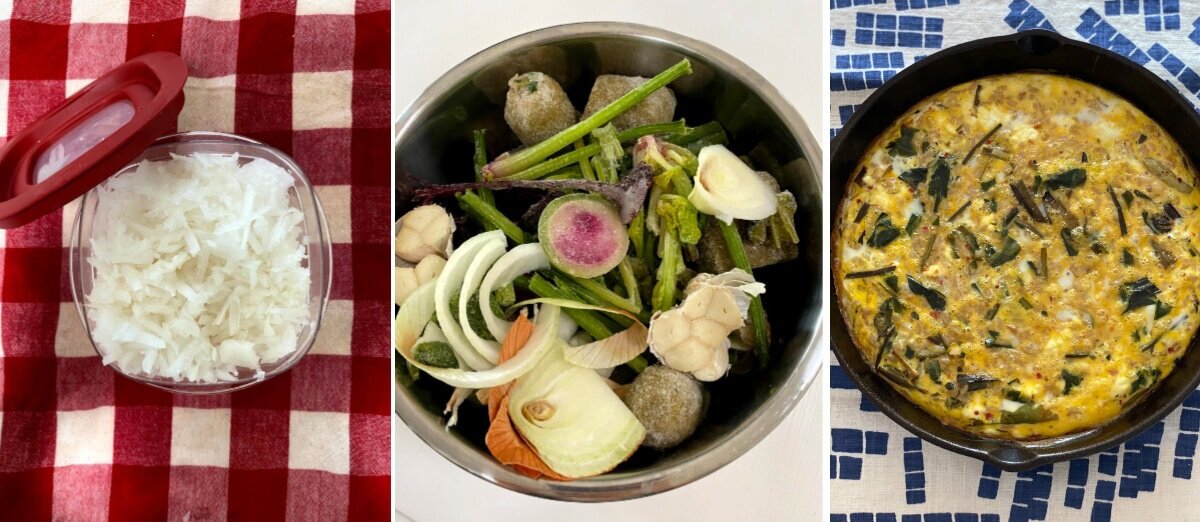 So now that I've got this system down, I really hope the CSA boxes stick around for the rest of the year. After all, there's a chance this could bounce back on us come next flu season. It's always good to be prepared!
– Julianne AKA Highchair LA