FOR LA PARENTS, WINE IS AN ESSENTIAL!
By day, you may know me as @momonfoodblog on Instagram but on Friday nights after 8:30 PM (when my daughter goes to sleep) I become Mom Somm on my Insta-stories. I took on this persona through a love of trying new wines and sharing my adventures in wine tasting with my followers.
As tough as the shelter-in-place orders have been, I love that many restaurants and wine shops are providing either curbsides, delivery or shipping deals.
Below are my favorite Los Angeles-based options that have been vetted by either myself or close personal friends. And if you try any of these out, please slip into my DMs and let me know how it went!
Best All-Around Wine Program in the Time of COVID
I feel like a major slacker when I only learned about Esters Wine Shop & Bar through finding the podcast The Long Finish on iTunes last Winter. This podcast is hosted by Esters owners Kathryn Weil and Tug Coker and follows their adventures in parenting, the restaurant industry and features a wine tasting. I've been hooked on this podcast, I feel like it not only helps me with growing my wine knowledge but they're also going through a lot of the same things I'm growing through as a parent. Plus, there's no wine snobbery here, unlike some other wine podcasters, who's names I won't mention…
Here's why Esters has been my favorite overall:
All bottles are 25% OFF ALL WINE!
The podcast adds a fun element of "I'll have what they're having". I've ordered wine, like Gota Wines' 'Prunas' Tinto based off listening to them taste it.
They're so approachable! Whenever I want something specific (even if I don't quite know what I'm talking about) I can just call or email them what I think I want and they're able to match me with a bottle that works. I've even thrown in "I want to keep it under X price" and they totally accommodated.
There is free curbside pick-up but there's also free delivery on orders $100, as long as you're within a 5 mile radius. I have been taking advantage of that and stocking up for the year.
I joined the wine club back in December and I've had no duds. I've tried a lot of wine clubs and I can tell you, I've had to leave some cause I felt like the clubs were just making selections from wines that they couldn't sell or something was just off. The wine club wine bottles also come with a cool little cheat sheet with info on what you're drinking and to pair it with. I love little details!
Kids Menu and Wine To-Go Please!
Hey, I'm not @highchairLA if I'm not talking about kid-friendly spots, right? LA classic, Philippe the Original, offers fantastic natural wine options along with their delicious, meaty sandwiches. My pick would be a beef sandwich for the parents, a PBJ Sandwiches for little ones and a bottle Glou Glou, Las Jaras for the adults to pair. Glou Glou is a red blend, Carignan-dominant and light enough to serve chilled.
Best Delivery Discount for Los Angeles County
I'm so sad that we have to miss out on wineLA's fantastic wine tastings and dinners. In the meantime, we can support their alcohol licensed partner, Merchant of Wine, who is currently offering free delivery on order $50 or more within 25 miles of 90012. Merchant of Wine has a great variety of wines and over 50 bottles are 50% off. You can keep it under $15 with a Layer Cake Cab Sauvignon or you can also splurge on a Screaming Eagle Cabernet Sauvignon for $3,695 at discount.
For the Family Celebrating Cinco
I'm sad thinking about how quiet this upcoming Cinco is going to be, but that doesn't mean you can't have your own festive at home family party! Pez Cantina, a DTLA favorite, is offering a curbside/delivery family meals including mains with roasted whole chickens, taco stations options, ceviches and, of course, packaged margaritas and sangrias.
If I were to pick out a Cinco meal of my dreams, it would be their Chili Verde Carnitas taco station, with Pozole Verde, Chips and Guac, Vanilla Tres Leches (my little one's fave dessert) and I'd have to get a Red Sangria kit… I'm really making myself hungry/thirsty over here.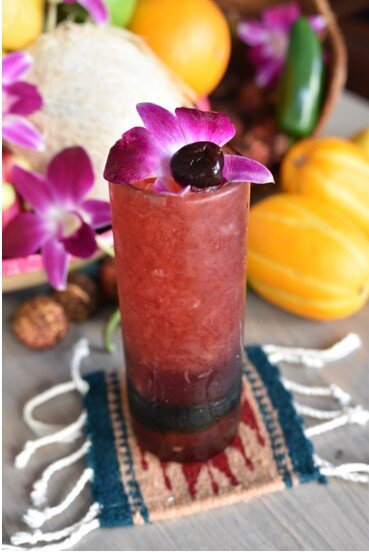 A Little Something Extra
Sorry Not Sorry, a playful Rosé themed bar in West LA, is offering 16 oz mason jars filled with your choice of rosé, white or red for delivery through Grub Hub. This is perfect for the girl's nights on Zoom! There's also plenty of food options to pair the jars with: I'd order the Grilled Caeser with a jar of rosé.
Sorry Not Sorry is having a MAJOR sale, through this Saturday, 5/2, 4 PM – 8 PM.
$9 32-oz draft beers, $14 wine bottles, and $19 32 oz cocktails!
Sale prices on takeout orders only – go to Sorry Not Sorry to order.
Most Impressive Online Selection
If you have a night to yourself and you love shopping online for wine, Stanley's Wet Goods has the kind of site I could stay all night on. You can search over 400 wines by type, price, region, bottle size, etc. You want to find a wine from Slovania and priced under $25? I found it there. How about a bottle of Tannat from Uruguay? It's there. Stanley's is also offering free curbside pickup and free delivery on orders $150 +.
For the Parents Who Miss Date Nights
Severance, a beloved wine bar in LA, is offering Date Night pack on Tock, to pick up. The Date Night pack includes a French bread and butter, and arugula salad, a Gruyere- Emmentaler fondue kit, a charcuterie board and a triple chocolate brownie for $39 per person. Severance also sells their wines retail (I recommend pairing the Date Night with a bottle of Champagne Brut Taittinger).
A Killer Monthly Bundle
First off, if you've never had a proper wine tasting at helen's, a little shop within both Jon & Vinny's locations, add it your list of "things to do once we open back up." It's so much fun to schedule a tasting then pound an LA Woman pizza.
But more importantly, helen's is offering a monthly 6 pack of wine for $150 (not including shipping fees). This 6 pack is selected based of the season and based off personal experience with helen's, all the wines will be fantastic natural picks. This is a great way to stock up on wines in that sweet spot of $25 each.
If You're a Pasadena Parent Who Needs a Little Liquor… and Maybe a Beer Too
Check out Everson Royce, a wine, beer and liquor shop catering the Pasadena area with curbside and free local contactless delivery. I love that they're currently selling The Spirit Guild's hand sanitizer in addition to their gin and vodka.
Orange is the New Rosé
Vin on Rose, a natural wine shop running curbside in Venice, has a wide selection of orange wine bottles on the shelves. In addition to dope wines, you can also order groceries for pick up. They have an online ordering system for pick up, so you can cover food to pair orange wines with. My favorite pairing is orange wine with some feta and some pita chips, I'm drooling just thinking about it! The staff is also very knowledgeable on orange wine, so you can call for recommendations.
Le Francophile Parentes
For the parents who are binging on Criterion Collection when their kids go to sleep, Garcons de Café, in DTLA is offering curbside and free delivery on purchases over $150. Snuggling up with a bottle of champagne and watching Masculin féminin sounds tres magnifique.
Happy drinking!
– Julianne
Please note, this article originally aired on MiLOWE