A few of us are fans of #HackTheMenu, so we decided to try some of the Secret Menu items from America's beloved fast food chains. For those of you who don't know, Secret Menu items are items that are not on the menu, so they're unofficial. Sometimes these were created by employees, or created by the customers and developed a word-of-mouth following. A great example of this going Animal Style on fries and/or burgers at In-N-Out. At Girls on Food, we usually prefer to keep posts limited to local/smaller businesses in the restaurant industry… But we just couldn't resist sneaking a little fast food in there. It's all in moderation, right?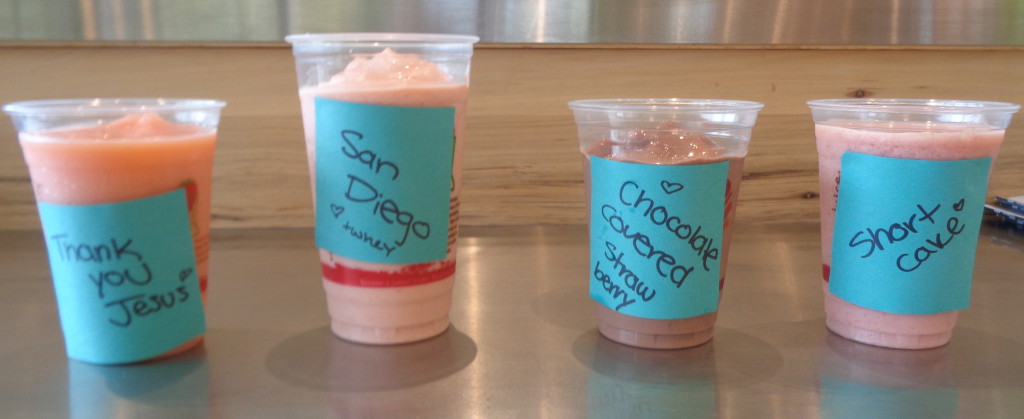 Annie 
Jamba Juice

The secret menu at Jamba Juice is has items that you would never think of as smoothies yet make complete and total sense. The menu is filled with candy themed creations like Now N Later, Sour Patch Kids, Skittles and Reese's Pieces along with other fruity combinations such as Orange Dream Machine, Sunny Delight and my personal favorite the San Diego.
When I asked about the secret menu she was more than happy to share her enthusiasm with me. She said that she and fellow Jamba workers love to do stuff of the secret menu, especially since it is currently still such a secret, like something out of a James Bond movie or something… "Your smoothie will self-destruct (or be devoured) in 5 seconds!!!" My Jamba smoothie maker laughed when I ordered the Dirty Orgasm (peachy and orangey combo) and the Thank You Jesus (a sour, citrus smoothie). After sharing a laugh I finally decided on four different smoothies for myself and my friends: strawberry cheesecake (strawberry/soymilk/white grapefruit juice); chocolate covered strawberry (chocolate mood/strawberries/yogurt); thank you Jesus (lemonade/strawberries/lime sorbet/ pineapple sorbet) and the San Deigo (orange juice/lemonade/lime and lemon sorbet).
Overall the items I have had off of Jamba's secret menu have been delicious and I'm excited to go back and try more!
Julianne 
Mc Donald's 
I may come off like a bit of a food snob but I'm not a McDonald's hater. I grew up eating it as a kid at least once a week. My Dad and I would always get Quarter Pounders with cheese, super size fries and a Coke. I have a soft spot in my heart for the golden arches and I usually eat one meal a year there.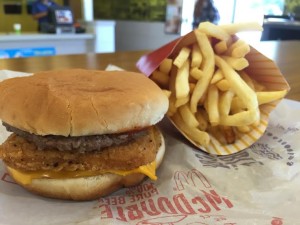 I had heard about the infamous Secret Menu item called the "McGangbang" (oh my!) years ago and was always very curious about it. I finally braved up and ordered. I ordered it the way it's instructed to on #HackTheMenu (McDouble and McChicken, put McChicken in between patties of McDouble) and even showed them the picture on the site. The employees just didn't get it. A little frustrating, but I knew going into it not all restaurants on #HackTheMenu participate in Secret Menus and something like this could happen.
My McGangbang arrived… and it clearly wasn't the same burger on the menu. Bummer.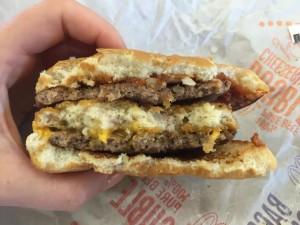 I posted the above image on my Facebook page and a buddy (who's a former McDonald's employee) pointed out that what I got was called an "Unprotected McGangbang", so it was a Secret Menu item, the employees just didn't know it.
I'd also say that going unprotected is a lot more daring on my end. Ewwww…. what did I get myself into?
Katie
Chipotle 
I'll admit it­– I've never been that big a fan of Chipotle. I've never seen much appeal in paying an exorbitant amount of money for a meat, cheese and tortilla mammoth I could quite frankly make several meals out of at home. I know, for a 22 year old in California, this opinion is clearly blasphemy– but I still wouldn't say I dislike Chipotle. Dining there I know what I'm getting myself into– the big sloppy explosion, the overpriced yet very yummy guacamole and the ensuing food coma. Knowing this, I decided to try something different and take on the "Quesarito."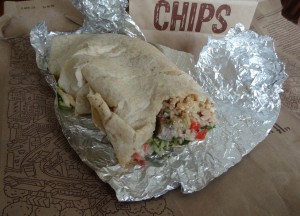 Simply put, the quesarito is a standard burrito wrapped in a quesadilla shell. In theory, it is a beautiful idea, but if you're a newbie like me, you'll end up paying the same $3.50 fee for them to essentially melt a side of cheese on the inside of the tortilla. If you do decide to order it, MAKE SURE to tell them you want the extra shell. I filled it with brown rice, no beans, steak, lots of cilantro and pico de gallo, guacamole and just a little bit of sour cream. I found out that taking it to-go was a bad idea as the cheese had already made the tortilla soggy by the time I got home ten minutes later, but I was a bit more encouraged when I took the first bite and found the cheesy layer to make a yummy and gooey addition to the meal.
Sadly, the first few bites were really the only good ones and the rest of the quesarito was just… okay. The meat was overcooked and the tortilla became increasingly mushy, a problem that might have been fixed with the other tortilla to separate the melted cheese from the burrito filling. Overall I would say if 'Chipotle is your life', then dish out the extra cash and try the quesarito for a new experience. If you're more like me and don't go out of your way to eat Chipotle very often, don't worry, you're not missing out on anything special.
Reno Tastebuds 
Dunkin' Donuts
Editor note: DD is not actually on the #HackTheMenu site, but they do have Secret Items.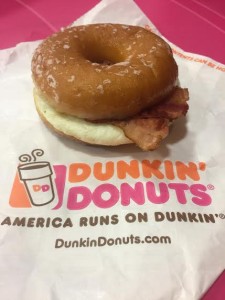 Everyone loves a juicy secret! Today, Dunkin' Donuts in Sparks, NV revealed to me one of their secret menu items and it definitely sent me off satisfied!
Eric, a very friendly employee, is known for his "Donut Sandwiches". He made me a bacon and egg sammy on a warmed glazed donut and it was surprisingly tasty! It was sweet, salty and savory.
Thanks for the hook up Eric and putting Sparks/Reno on the map for a "Juicy Secret" bigger than a Harlequin Romance novel could provide!