Happy Galentine's Day from Girls on Food!
Welcome to our first official Galentine's Day Party Guide 2018! Although it's not technically an official holiday, we at Girls on Food can't help but indulge in this very special day to celebrate our favorite ladies!
With Galentine's Day approaching us on Tuesday, February 13th, and Valentine's Day following the next day, we wanted to provide you with a few of our favorite party items and ideas to help you plan the ultimate Galentine's Day celebration- the kind Leslie Knope would be impressed with. There are lots of different directions you can go for a Galentine's Day celebration. You could have a night of baking, or watch a good movie, or play drinking games after finding a list of 50 never have i ever ideas! There are so many possibilities and it's up to you to choose your fave!
There are many exclusive promo codes and deals in this party guide, so you can try many of these products at discounted prices! You can find more coupons at PromoCodeWatch.com as well! Be sure to keep an eye for them and any notes on expiration dates.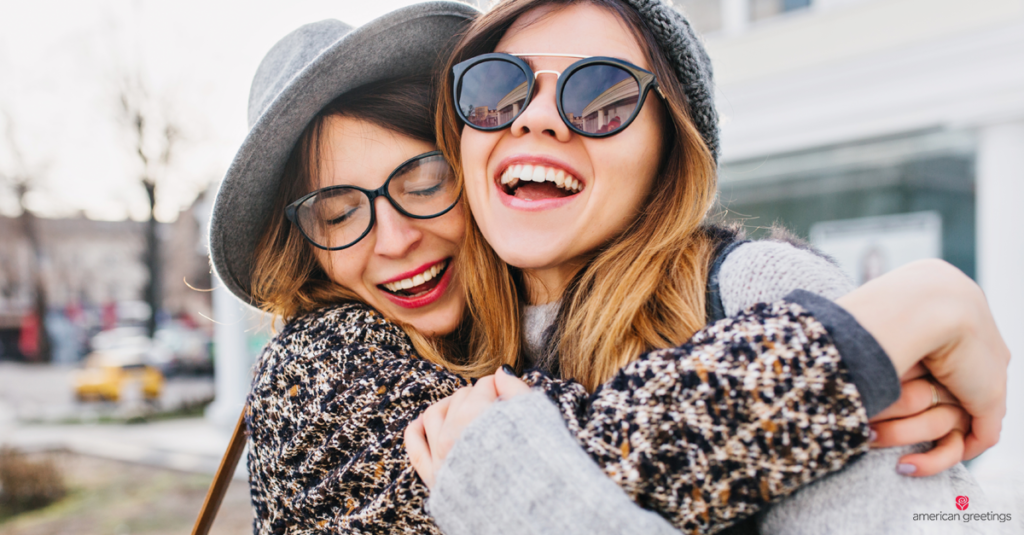 The party invites have already gone out, your guest list is set and it's the morning of Tuesday, February 13th. What better way to get your friends pumped for the party that night by sending them an American Greetings e-card?
Forget sappy, snail mail greeting cards of the past, American Greetings has an array of options that will make your galpals chuckle. Our favorites are the Smooth Hamster and the Michael Bolton e-cards.

The best part of American Greetings e-cards is that they have a monthly membership option, and you can send unlimited e-cards, no matter what the occasion is. It covers all your bases, letting someone special know you're thinking about them and in a way that's so much easier, creative and doesn't leave an ecological footprint.
Use this link to receive a FREE 7-Day Trial Subscription at AmericanGreetings.com!
Then: Plan The Party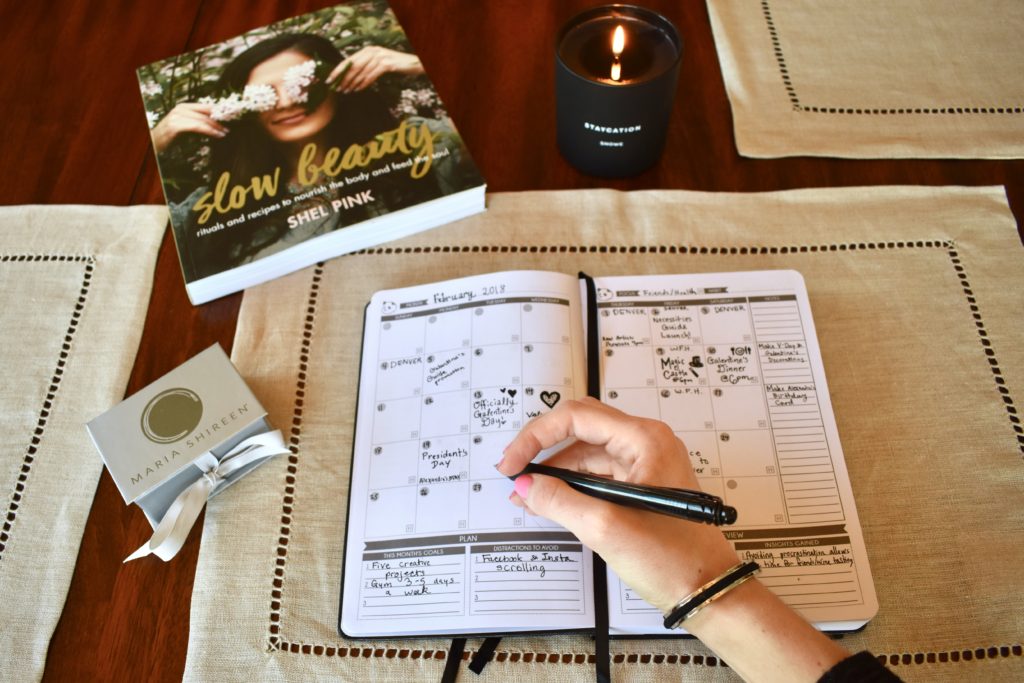 A better version of the little black book from 27 Dresses, the Panda Planner is a necessity for having a stress-free life and a perfectly organized Galentine's dinner party. Combine that with a Maria Shireen bracelet to dress up your hair ties and a modern Snowe candle for ambiance and you're in perfect party-planning mode! Want your own? Use the code MSxGOF for 15% off qualified bracelets, and GOFPANDA for 10% off your own planner, February 2nd through March 2nd!
Get That Kitchen Organized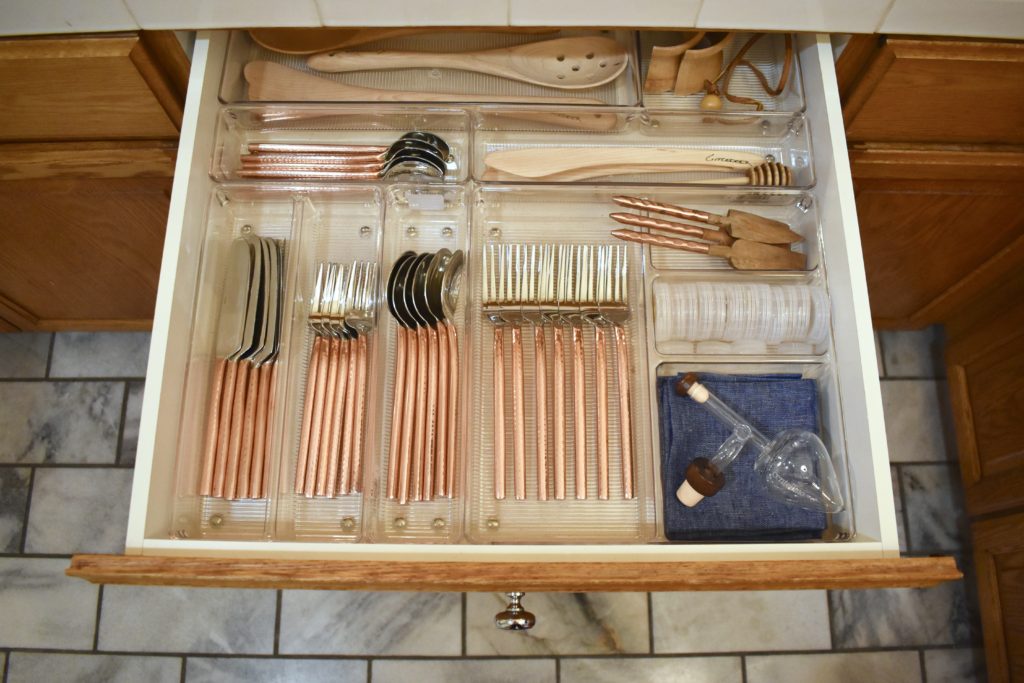 Take a trip to your happy place, the Container Store, to get your home extra organized! We recommend customizing your drawer organizer (or using their starter kit) to avoid any embarrassment when your dinner guests go through your drawers for an extra piece of silverware. Go one step further by installing drawer liners that repel dirt and water, prevent sliding and add an extra layer to the design! I used the InterDesign Linus drawer organizer starter kit to organize my Littledeer wooden utensils, Centellino wine decanter, Chemex handles, chambray cocktail napkins, and Pottery Barn copper handled flatware.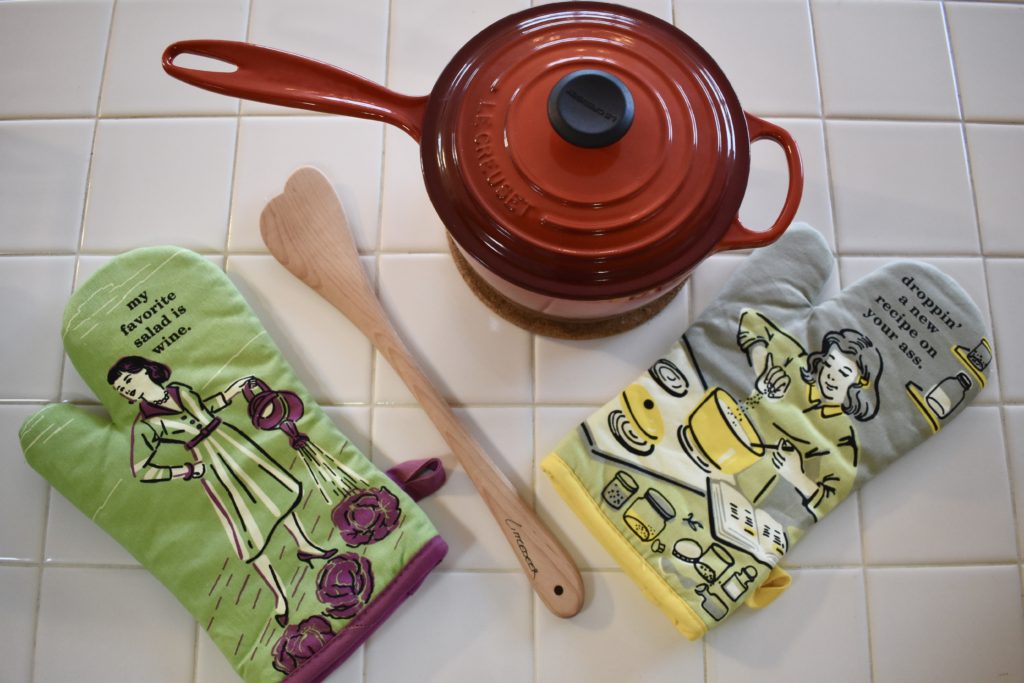 You'll need oven mitts that match your sassy attitude and are still functional when handling that hot stuff. Blue Q's Oven Mitts are super-insulated 100% cotton and a percentage of their sales are donated to hunger relief programs throughout the world. Elevate your kitchen accessory game even further by pairing a Le Creuset Cerise Red Signature Saucepan with Littledeer's Hand-Made Heart Paddle for love in the kitchen, and you're ready to begin cooking!
Prepare Your Floral Arrangements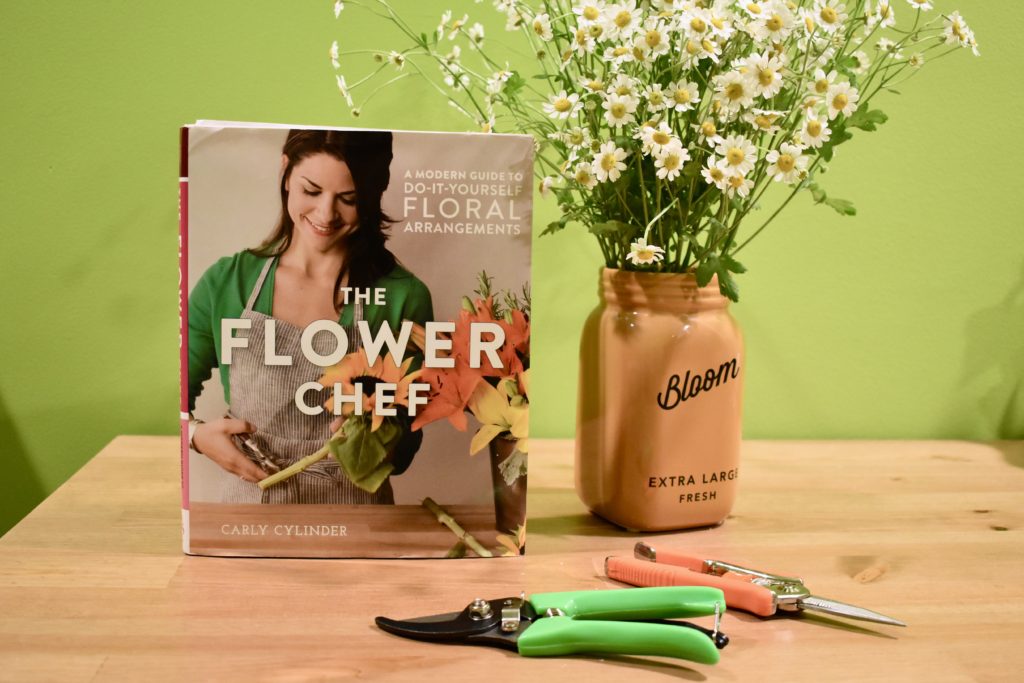 As can be assumed for any Galentine's/Valentine's Day event, flowers are a MUST! The Flower Chef by Carly Cylinder is a modern guide to do-it-yourself floral arrangements. With plenty of imagery and easy to follow instructions, you'll be a pro florist just in time!
Set The Table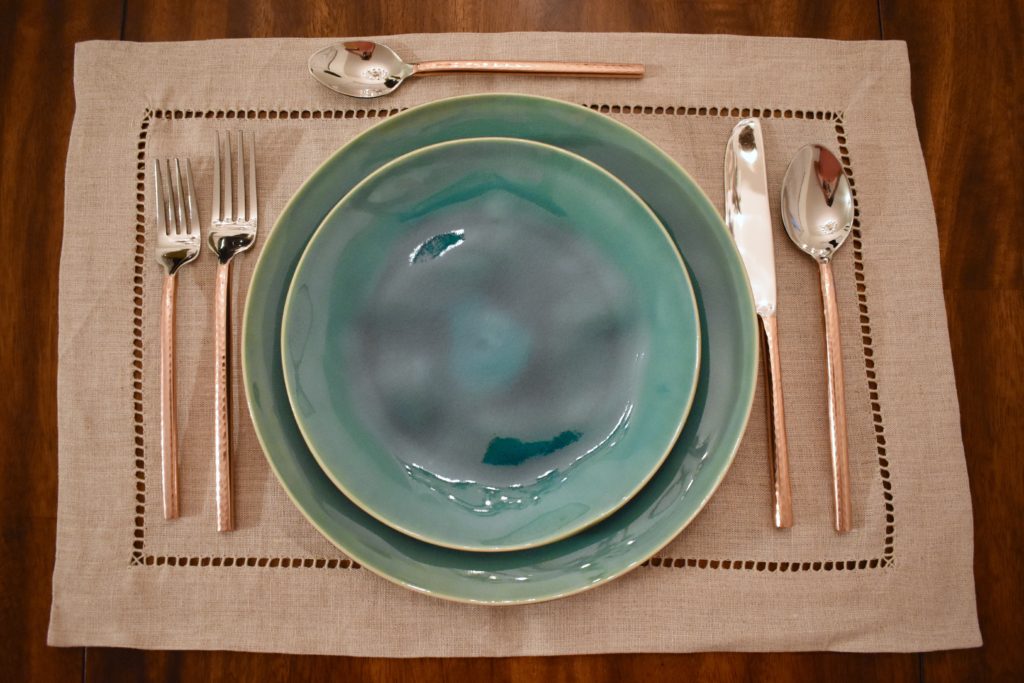 Here are some of the basics for setting a table:
Place utensils in order of use, from the outside in (salad forks are left of dinner forks, and spoons are to the right of dinner knifes)

Forks go on the left of the plate, and knives and spoons go to the right

Only include utensils that are needed based on the menu you're serving (if you're not serving soup, don't put out the soup spoon).
My favorite themed flatware, that can also be used throughout the year, is the copper handled flatware set from Pottery Barn, which enhances your Galentine's Day dinner with the handcrafted copper-plated stainless steel. Linen Hemstitch embroidered placements are far more practical than paper lace hearts, and are versatile for formal and casual occasions alike. My favorite ceramic salad and dinner plates are from the Costa Nova Riviera Collection They are safe for the dishwasher, freezer, microwave, and oven! In addition to the impressive craftsmanship, they're great for everyday use, being that they're extremely durable, chip-resistant, and thermal-shock resistant.
Host a Bake-Off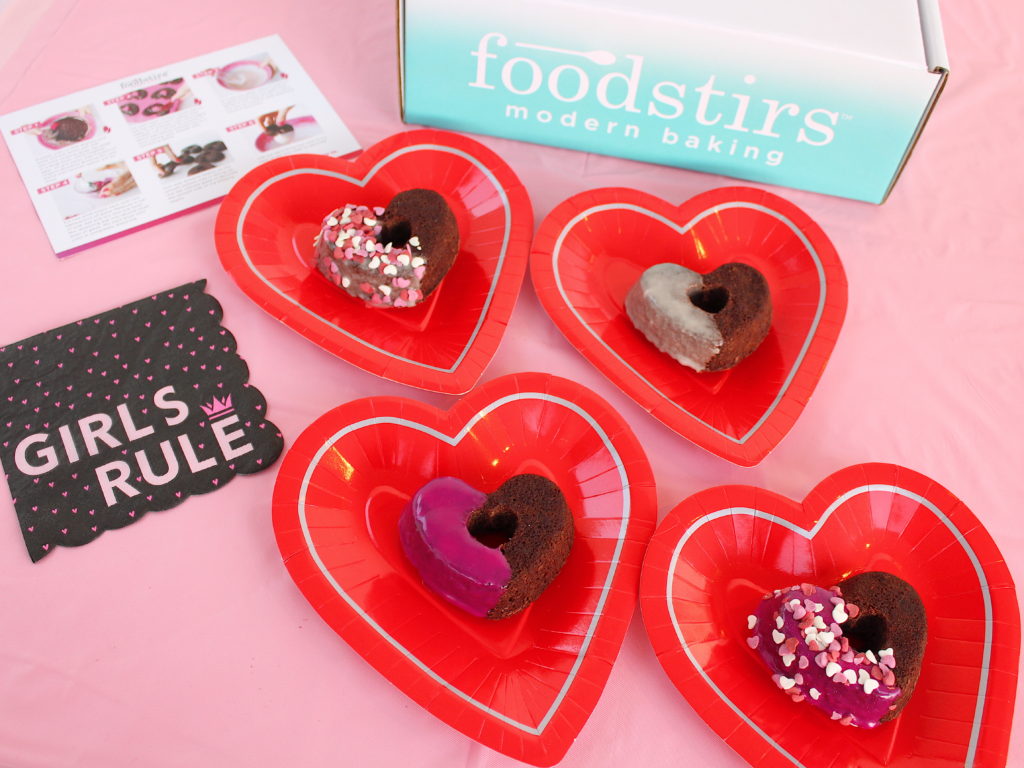 One fun way to bond in the kitchen with your girlfriends is to have a bake off! Foodstirs modern baking (Sarah Michelle Gellar is a co-founder) delivers non-perishable, organic dry ingredients, all natural decorations, and chemical-free dyes to make tasty treats. Their Baker's Club is a bi-monthly subscription that features fun kits like the Sweetheart Brownies (seen in image). You can also purchase fun individual baking kits such as Rainbow Cake Pops and Out of This World Donuts. Making these brownies was so easy and I cannot wait to try their other kits! These kits are also very fun to inspire little ones to get in the kitchen. Use promo code GIRLSONFOOD for 20% off your first purchase on their site.
A Stranger Galentine's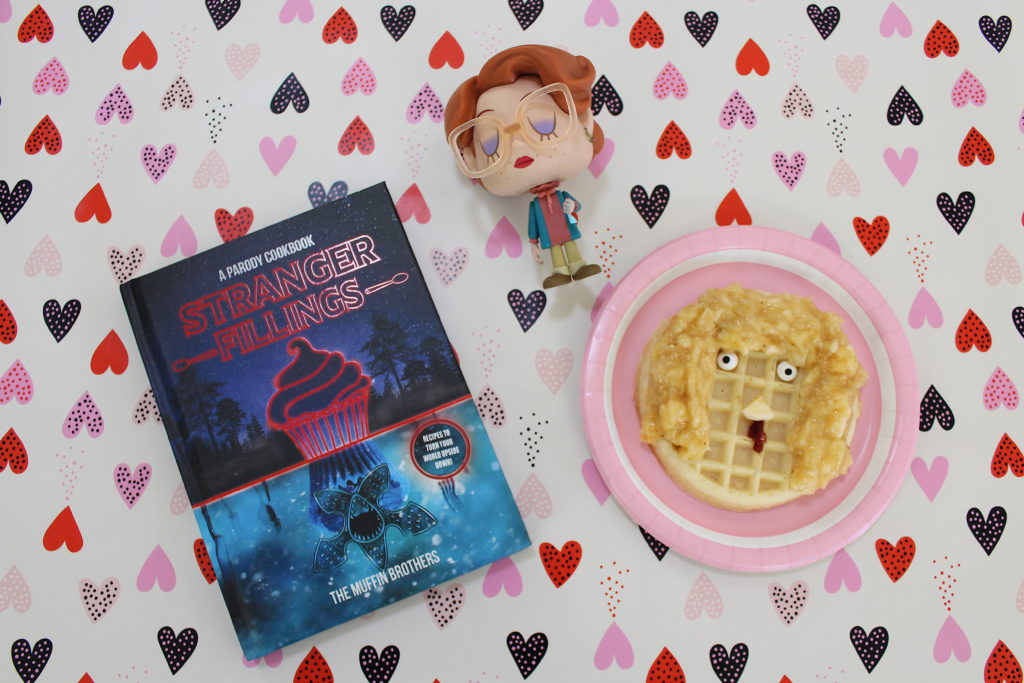 For those of you who cannot get enough of this throwback thriller, why not enter the Upside Down for a theme? Stranger Things inspired costumes, Christmas lights and a round of D & D are musts for this idea. For sweet baked treats, we recommend picking up a copy of Stranger Fillings by the Muffin Brothers (a parody cookbook) for inspiration. We couldn't resist testing out the book with a banana-blonde wig version of Eleven's Eggo's. WARNING: According to a study conducted by Hawkins National Laboratory, the more advanced recipes such as the Demogorgonzola Tartlets, Friends Don't Li(m)e Pie and The Upside Down Cake could leave guests with telekinetic powers. Collectible figurines by Funko are also fun and are perfect for any fan-girl still mourning the loss of Barb.
Vino Vixens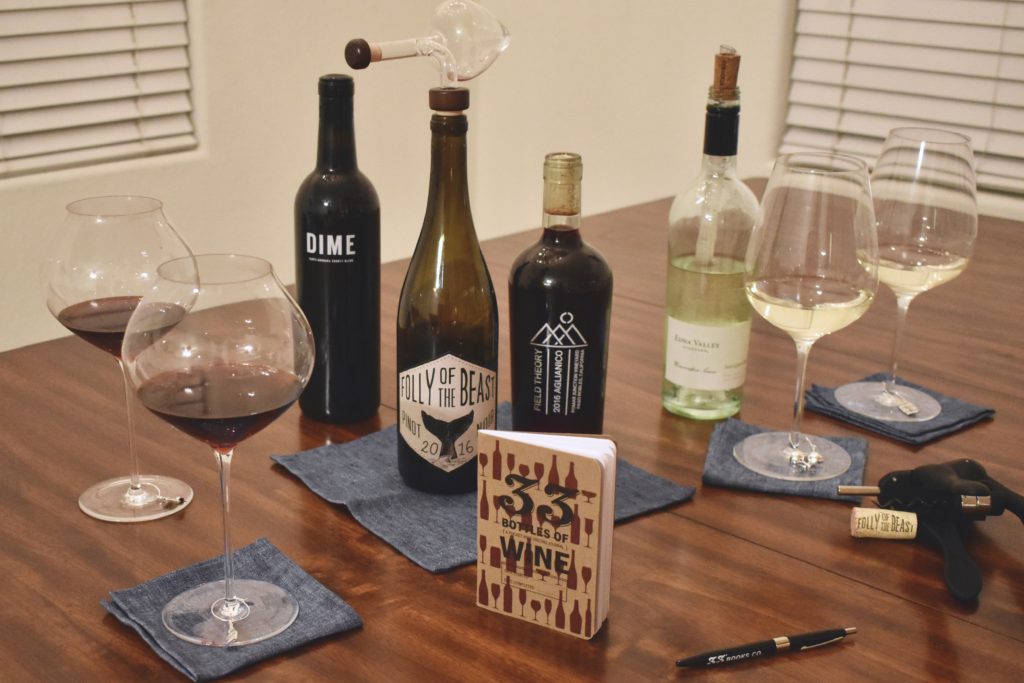 You're going to need all of the essentials for a wine-centric night:
1) For aerating and chilling your whites and roses to the perfect temperature, the icicle-looking Corkcicle Air is inserted directly into the bottle after being in the freezer for 90 minutes. Use the code GIRLSONFOOD for 20% off products on the Corkcicle site, now through March 31st!
2) To avoid the guesswork for your wine purchasing, order from Winc to have 4 bottles shipped to your doorstep based on the flavor profiles you know you love. For a limited time only, use the code GIRLSONFOOD for $25.00 off your first order of Winc!
3) The online store Wine Enthusiast carries all of the best wine glassware lines, including Zafferano and Fusion. The Zafferano Red Wine Glasses are uniquely shaped and remarkably lightweight and perfectly suited for bold and aged reds with the narrow opening of the mouth maximizing aroma and a generous bowl promotes oxidation for the wines to breathe. The handblown crystal Fusion Air Wine Glasses are also exceptionally lightweight with a large bowl, while also being dishwasher safe and remarkably break-resistant (if you break it, they'll replace it for free up with a 10-year guarantee)!
4) To help guests keep track of their wine glass, the uniquely shaped Palm City wine charms are both fun and functional, with fun themed designs such as Beachy and Wine Lovers! Use code GIRLSONFOOD for free shipping and 15% off your entire Palm City order, now through March 2nd!
5) To avoid wasting any time opening a bottle of wine, the Original Rabbit Corkscrew pulls a cork in 3 seconds and then automatically releases the cork making it the most efficient opener in your collection! 6) Why not make the wine the entertainment too? You could try these wine making kits and become wine connoisseur. Who knows, you could really enjoy it!
Brew Up Some Fun!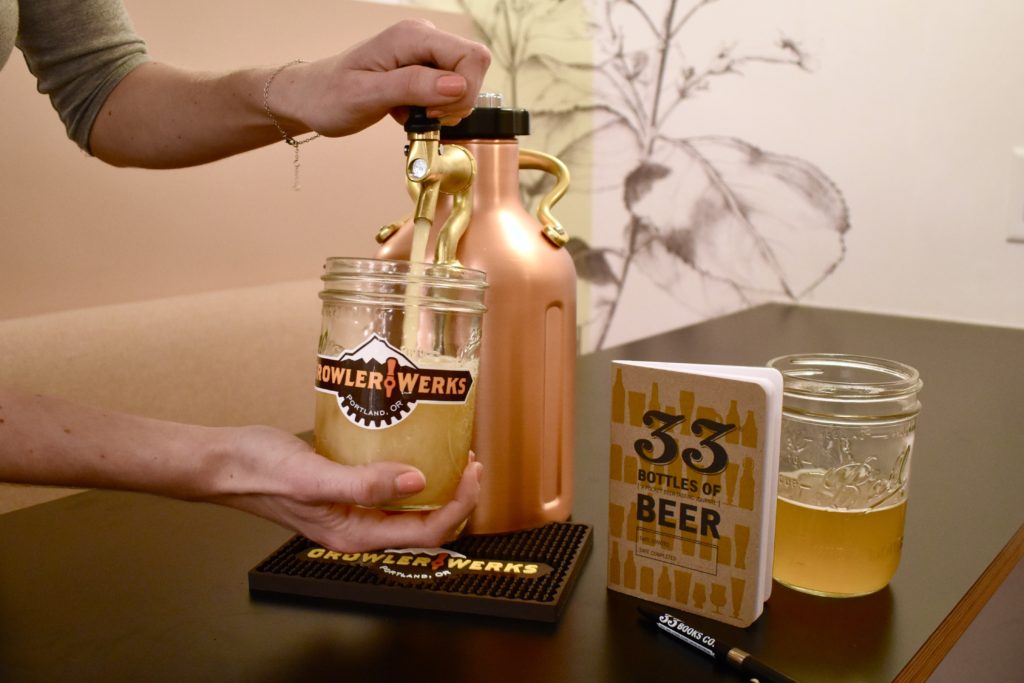 You're about to start enjoying your craft beers and carbonated beverages in a whole new way. Become a bartender wherever you go. Unlike traditional growlers, the pressurized GrowlerWerks uKeg uses a CO2 canister to keep your beers fresh for up to two weeks after your first pour. Pro tip: Make sure to have your 33 Bottles of Beer tasting book handy for notes on the contents of each uKeg! For your own copper plated keg, use code uGIRLSONFOOD for free shipping via U.S. Ground; expires at midnight on March 2nd.
Tea Time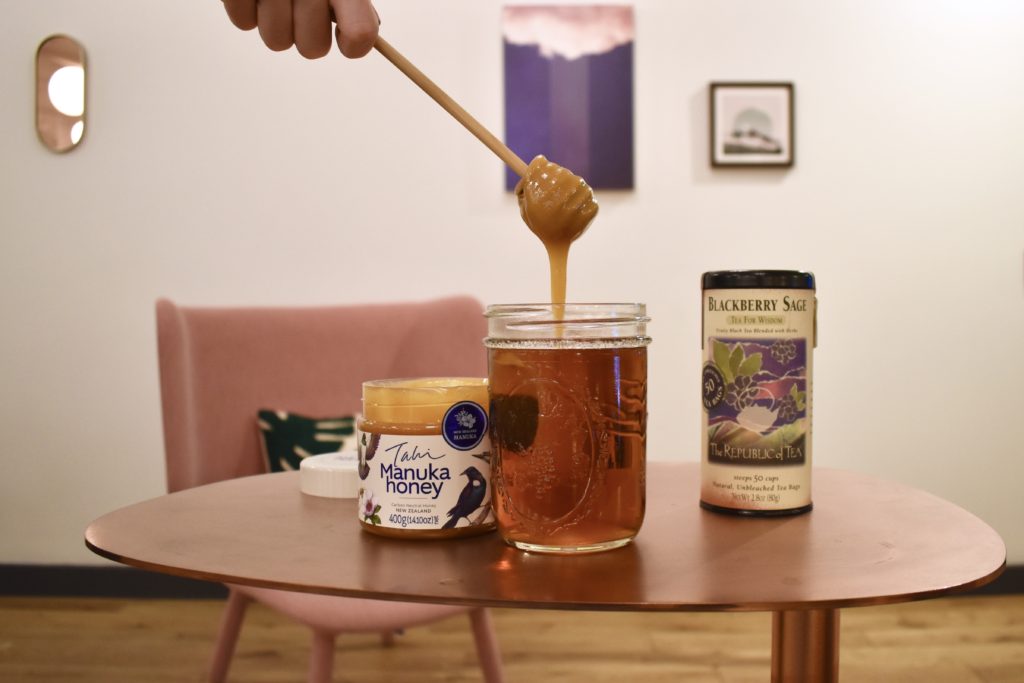 Being realistic, following the wine you're going to want to wind down with a nice cup of tea and honey. One of my personal favorites is the Blackberry Sage by the Republic of Tea, which pairs perfectly with the elegantly packaged healing Manuka Honey from Kiwi Importer (raw honey made from bees that feed on the Manuka tree). Note, if you create an account with Kiwi Importer, you receive $5 off your first purchase!
Cool Beans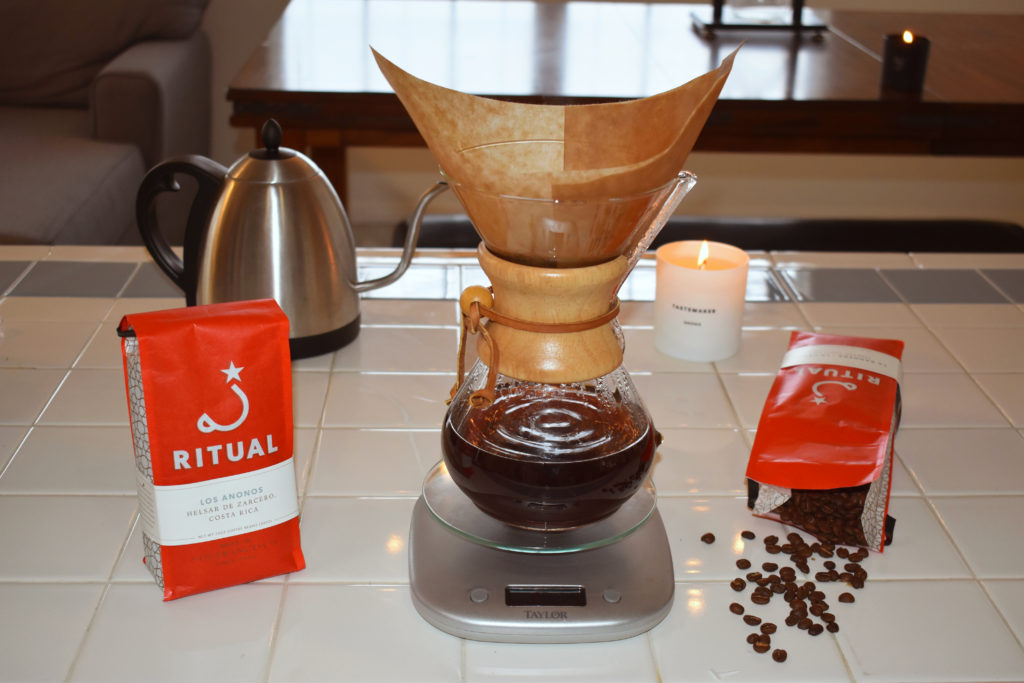 With dessert (or with clean up the morning after) you're going to want to serve delicious, quality coffee. And now that specialty coffee shops ship their beans nationwide, you can pre-order your single origin just in time for your event! I personally love Ritual Coffee, based in San Francisco, for their bright red packaging and seasonal beans that make for perfect drip coffee in a Chemex.
Time For Desserts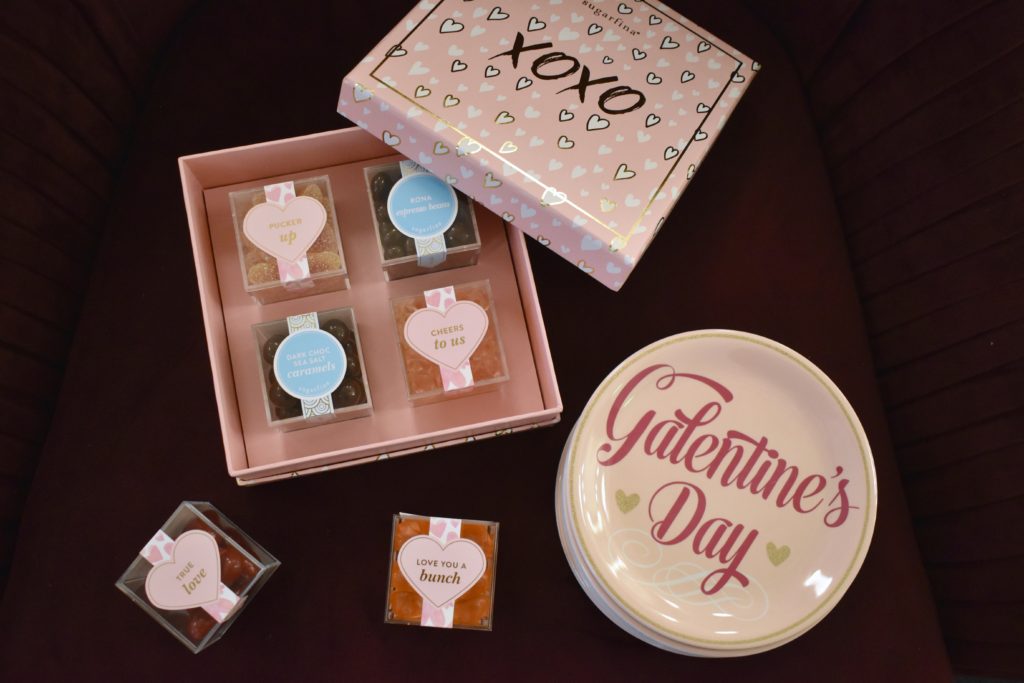 Treat your gals to sweets on themed Galentine's Day dessert plates by Nicole Miller Home, sold exclusively at T.J.Maxx. Don't forget to elevate your candy game and have a few of your favorite Sugarfina boxes on hand for snacking! After all, Valentine's Day and Galentine's Day are times to indulge; with delicious and unique flavors such as "Cheers To Us" Champagne Bears and "Love You a Bunch" But First, Rosé Roses, who could resist?
An Option For The Health-Nut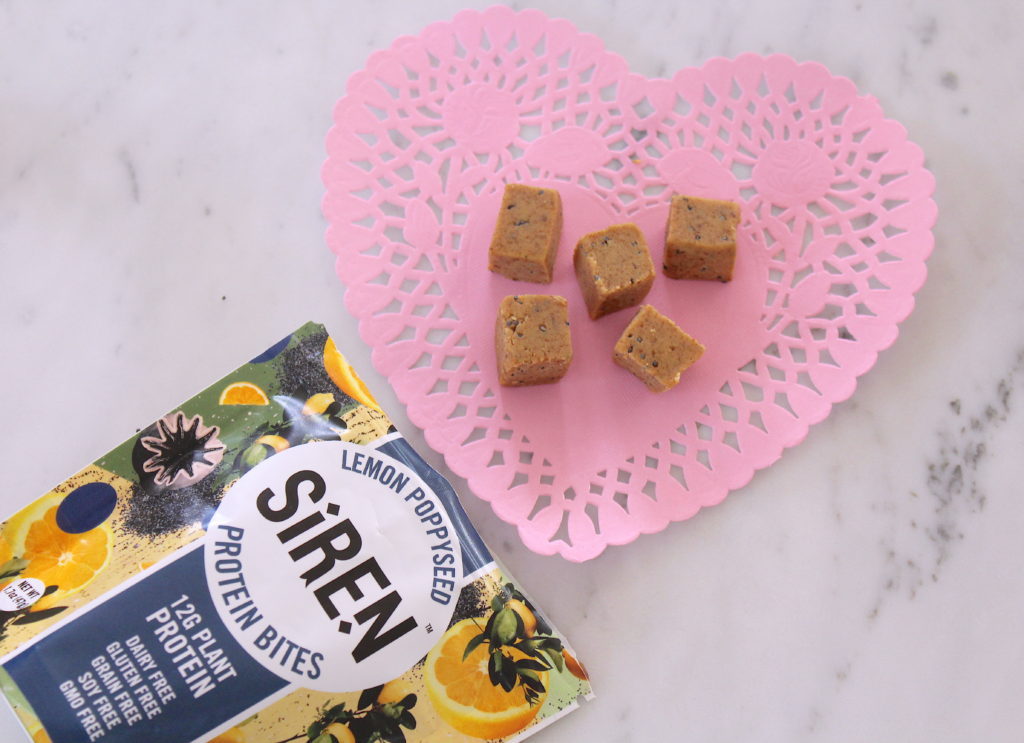 We all have that one gal-pal who insists on following her diet throughout Valentine's Day. While we may not have the same willpower as she does, we can try to let her clean-eating influence us a little. Serving an array of Siren Snacks at your party will keep her happy and allows you to indulge in a tasty guilt-free treat. These plant-based protein bites (12 grams per serving) are dairy-free, gluten-free, GMO-free and soy-free and contain no artificial colors or sweeteners. This is also a girl-powered company, founded by sisters Elizabeth and Abigail Giannuzzi from San Francisco. There's plenty of variety in flavors with Dark Chocolate Brownie, Cookie Dough and Snickerdoodle, but our favorite flavor is the Lemon Poppyseed; a sweet and zesty break from the traditional protein bars. Use promo code GIRLSONFOOD for 20% off your first purchase on their site.
Keeping It Clean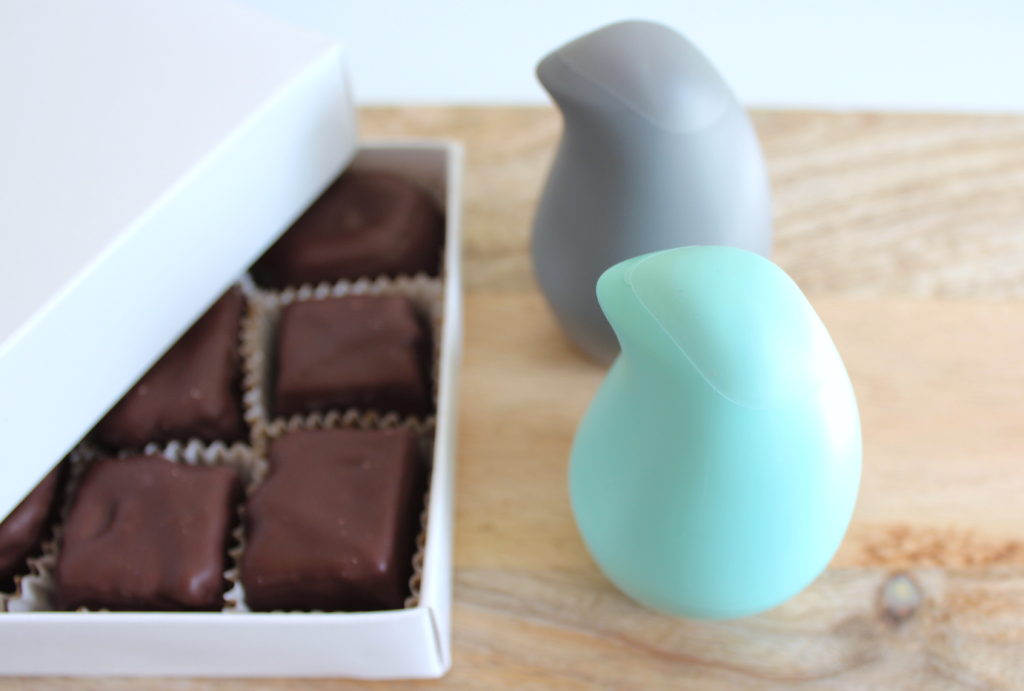 If you're hosting a party, you must be sure guests have the option to use hand sanitizers before digging into their favorite finger foods, but don't you hate it when those ugly anti-bac bottles are on the table? Enter: OLIKA 2-in-1 hand sanitizers. These adorable little "Birdies" keep your mitts clean with a hand sanitizing spray that is a push spray at top half of the bird and hands wipes at the base of the bird. Use promo code: GIRLSONFOOD for 10% off OLIKA purchase ($15 minimum) on their site.
Got a friend with a major sweet tooth? Be sure to check out Double D's Truffles & Treats for an assortment of handmade chocolates. Ten dollars will get you a 15 piece gift-wrapped box and you get to customize the flavors in the box. Plus – this chocolatier, is able to create flavors by request and have them shipped to your door.
A "Happy Ending" 😉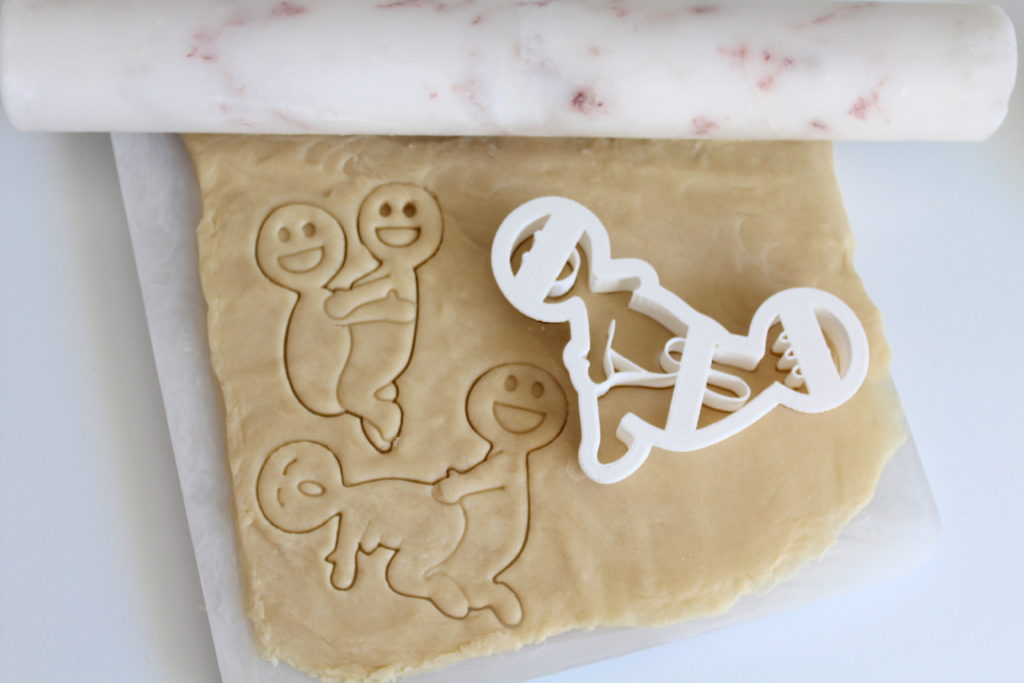 Have you checked out Sugary Charm's Kama Sutra Collection? Known for their more PG-rated cookie cutters, they have recently expanded into a naughtier line of cookie cutters. Unlike standard metal cookie cutters, these are made with food safe materials (PLA- a biodegradable, plant-based plastic, FDA-approved) and, even better, they imprint the dough perfectly. Check out their site for options and use promo code GIRLSONFOOD for 25% off your Kama Sutra cookie cutters purchase.
This post is sponsored by American Greetings on behalf of PepperJam Networks; all opinions expressed are our own.