It's October, so it's inevitable that our feeds on Facebook are clogged with images of the Pumpkin Spice Latte from Starbucks. However, the great pumpkin spice trend is not limited to the famous coffee drink. We dish and discuss our favorite pumpkin spice foodie items below:
Julianne – The Cinnamon Crumb Doughnut Fried Chicken Burger
Chomp Eatery, 1612 Santa Monica Blvd, Santa Monica, CA http://chompeatery.com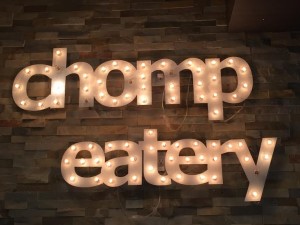 Chomp Eatery believes you shouldn't have to sacrifice flavor to eat healthfully. Their menu varies from burgers to salads, hearty breakfast to cold pressed juices. It's a little bit of everything and everything I've had their has been phenom. When I heard they were creating a "Pumpkin Spice Burger" for the month of October, I was actually expecting something more health conscious. Me and my waistline were so wrong.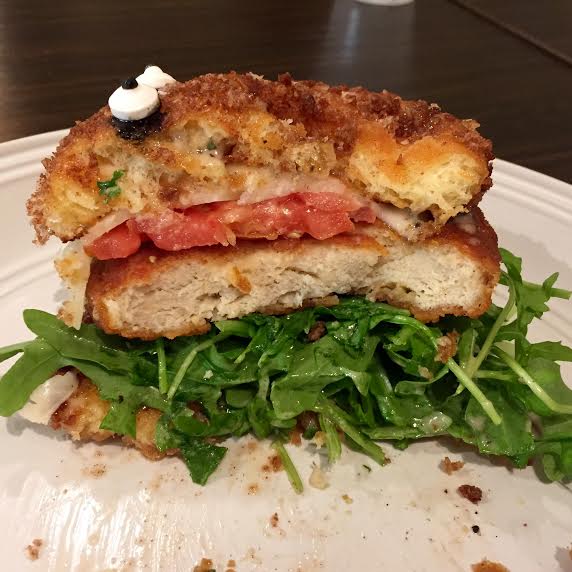 The Pumpkin Spice Burger starts with two cinnamon and sugar tossed donuts, which is sandwiched with a fried chicken breast patty, a heaping handful of fresh arugula, a sliced tomato, provolone cheese and drizzled with a spicy pumpkin chipotle aioli. It's as ridiculous as in sounds and in the tastiest way. All of these flavors compliment each other, I was most surprised by how well the nuttiness of the arugula and cinnamon sugar blend work together. The aioli gives it an extra spicy punch that doesn't leave you feeling like you ate huge dessert. But this burger pays a perfect tribute to the famous latte.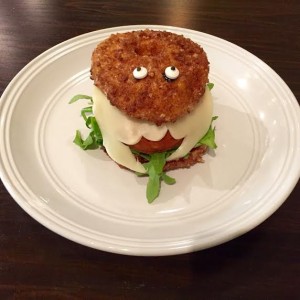 I was asked if I would like this burger served "Halloween style" (edible eyes and cheese shaped like teeth) and since I love the spooky holiday, I couldn't resist. It may not have the most refined appearance, but lovers of horror will appreciate it. I was never known for taking food too seriously anyways.
Katie– Pumpkin Pie with Pralines and Cream
I Like Pie, 175 N. Indian Hill Blvd #102b, Claremont, CA http://ilikepiebakeshop.com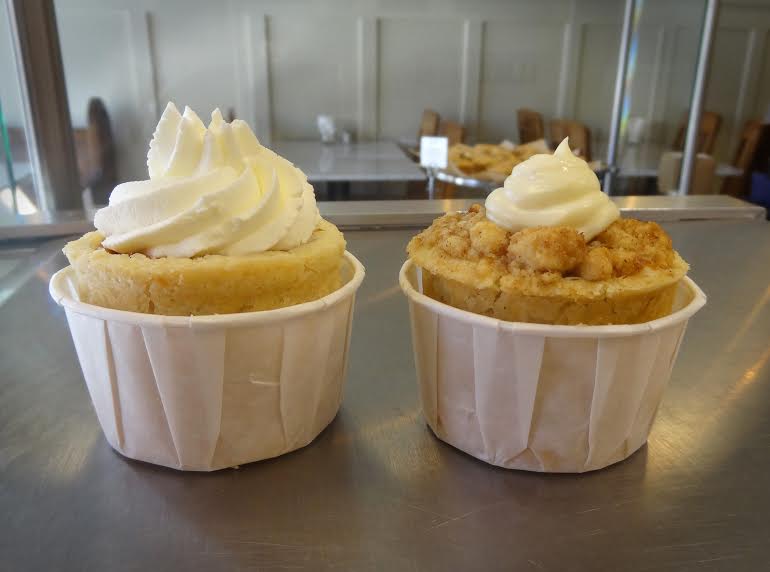 Pumpkin pie is certainly a staple during Fall, but if you want to try a new take on the delicious dessert, you have to taste the Pumpkin Pie with pralines and cream at I Like Pie Bakeshop in Claremont, CA.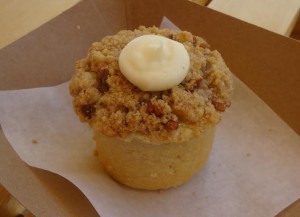 I got the small jelly jar size and it was perfect for one. Topped with a baby dollop of super yummy cream cheese, the pecan and brown sugar praline instantly provided just the right amount of sweet crunch that led into a smooth and velvety pumpkin and cream cheese center. Held together by a perfectly crispy crust, the confection was a like a Fall festival in my mouth. This pie is a must try this Fall season!
I Like Pie offers various sizes including a full size pie and a gluten free option. They also have a traditional style pumpkin pie for those who like to stick to the tried and true holiday favorite!
Reno Tastebuds– Pumpkin Margarita
Husson's Cantina in Silver Legacy Hotel and Casino,

407 N. Virgina St., Reno, NV 89501

http://hussongsreno.com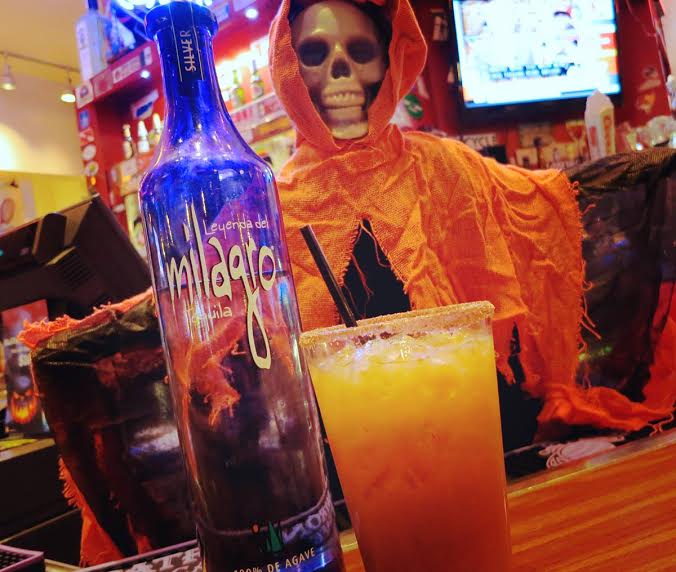 It's that time of year again where pumpkin makes it's big debut and presents itself in the form of, well, everything. I have seen everything from pumpkin lattes to pumpkin bagels this season and find it quite amusing. Personally, I am a pumpkin fan and look forward to the day when I can wipe my ass with pumpkin scented toilet paper.
While searching for more crazy pumpkin shenanigans, I discovered and indulged in a Pumpkin Margarita at Hussong's Cantina. I know, it sounds scary and unimaginable, but it sent my taste buds soaring into pumpkiny fall bliss. It wasn't sweet, sugary and fake tasting (I hate fake anything flavor). It was savory and offered all the fall spices like nutmeg and cinnamon while complimenting the 100% blue agave tequila that typically punches you in the gut on the back end. Not this time though. The pumpkin, spices and tequila all worked together smoothly. The cinnamon sugar rimmed glass really put the final touches on the tasty libation and left my smackers sticky and yummy. I am definitely a fan and will find myself sitting at the Hussong's bar quite often after work enjoying my pumpkin margarita while it is still around!
Stephanie– Blue Diamond Pumpkin Spice Almonds 

Http://bluediamond.com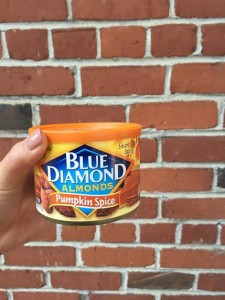 I can't even write this without telling you I cannot stand pumpkin, anything. Trust me, I've tried, especially hard over the last five years or so. I tried to see what all the jazz is about, but it's not for me. I blame the nutmeg, but it could be the whole thing. That being said, I thought I'd share one of the pumpkin craze products I've seen lately – Pumpkin Spice Almonds. They circle around every year during this time, so they must be doing something right. But add these and the newest Sriracha almonds on the list that will never make it in my mouth. At least if you're going to indulge in your fave fall flavor, you now have a slightly healthier alternative. I've tried to like pumpkin, I really have…enjoy them for me!
Megan – Oh my, Pumpkin Pie Frozen Yogurt 
16 Handles, 153 2nd ave, New York, NY, 10003
http://16handles.com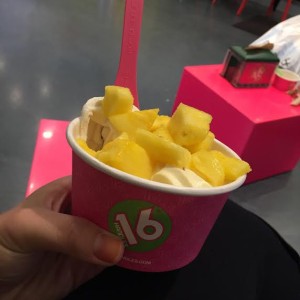 Just because summer's over doesn't mean you can't cool down in the humid October NYC rain with some seasonally inappropriate fro-yo. 16 Handles is sliding into the pumpkin craze with their creamy frozen ode to gourd. Instead of fork cutting your crust spoon some of this tasty treat during the next couple of months.  You'll close your eyes and envision the tropics as you pull the lip of your fall jacket closer to your neck. Even try it with some pineapple. It's a total a game changer.
Did we forget something? Let us know in the comments below! Don't forget to follow us on Instagram and Twitter @girlsonfoodblog