With the new arena opening, there is going to be a massive influx of people towards the South end of the Las Vegas Strip. Tourists and locals alike are going to be bombarded with SO MANY choices for places to eat. But ladies (and gents), let me help you make the decision!
In honor of #buffetbitch on our Instagram (a little hashtag we started), I've decided to highlight an underrated buffet.
The Buffet at Aria
3730 S Las Vegas Blvd, Las Vegas, NV 89109
http://aria.com
Compared to other hotels, it's not as crowded and not as expensive. Walking in, you would notice that most, if not all, the buffet guests are either locals or guests of the hotel which is not necessarily a bad thing either!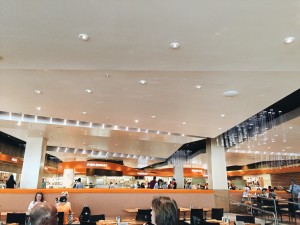 They offer the typical buffet go-to's which include:
Salad: there are plenty of options for greens, toppings, and dressings
Bread and Cheese: aesthetic AND delicious
Meat: their wish is your command
Seafood: cold or hot, you have your pick
Dessert: sugar, sugar-free, they have it all
They also offer some unique features as well:
Rotating gelato freezer: it seems that the flavors vary each visit, but you are guaranteed to find one you like
DIY Street Taco: what's better than a street taco? A DIY taco!
The Buffet at Aria differentiates itself by consistently maintaining the quality of the food. Since Aria is one of the nicer hotels, their buffet clearly reflects that as well. I noticed the respective chefs of each station were always checking the temperature of the food, as well as wiping any spills caused by the guests.
$25.99 for lunch, I would say that's a pretty good deal! Go ahead and give it a shot.