Table 13
4812 Belt Line Road, Addison, TX 75254
http://www.table13addison.com/
Enter the doors of Table 13 and you enter another era. In the style of early 1960s Vegas, it is elegant. It is classy. It is upscale. Totally Rat Pack and Sinatra. We were greeted by a Marlon Brando, Cary Grant, Doris Day, Marilyn Monroe and many, many more celebrities…well, their framed black and white photos anyway.
The decor is spot on. Sleek tufted black leather booths with silver buttons. Tables dressed in white starched tablecloths. Clean white and black decor punctuated with industrial brick and pops of color here and there. Oh, and the pin-ups! Tastefully framed pinups with seductive quotes like the one over the bar, "I really do appreciate the new negligee, darling, but I know that later you'll just try to talk me out of it." Nice touch!
No detail is left to chance. Check out the black and white painting of old blue-eyes himself with the blue accents. I swear he watched me all night. 
First up was cocktails….a margarita and a cosmopolitan. Both tasty with little mermaid hanging off the sides of the glasses. Again with the special touches. 
For appetizers, we chose the calamari. The calamari was just as good. At first glance, I thought they had forgotten the dipping sauce. These babies did not need sauce. The calamari was not alone. The chef added artichokes, cherry peppers, tomato and fried pickles. All of this in a herb butter. Scrumptious.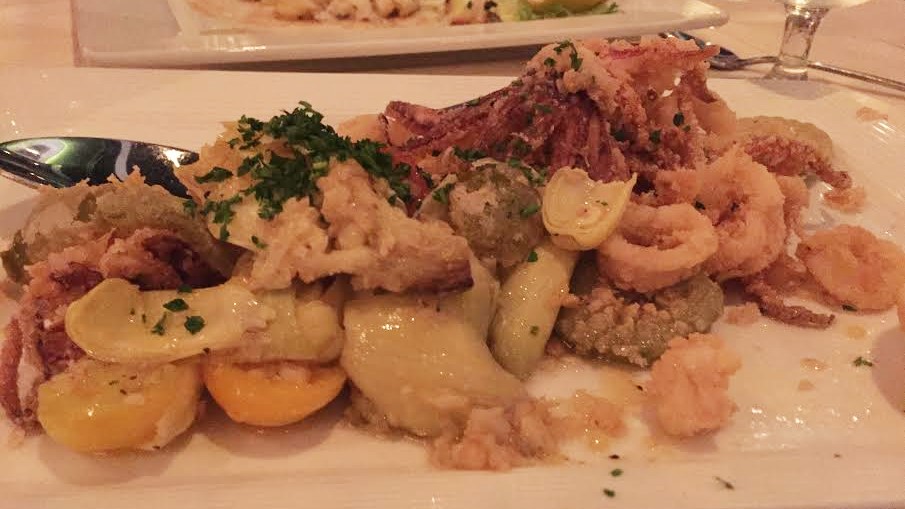 For a salad, we picked the classic wedge salad. It did not disappoint. The iceberg lettuce was crisp and topped with a Roquefort dressing. The dressing had a hint of smokiness. The salad was topped with pancetta, egg, blue cheese, tomato and pickled red onions. Prepare for an extreme close up!
On to the main event. How about a little surf and turf? Of course. It was enough for an army. Perfectly cooked, rare steak served on fluffy, garlic mashed potatoes and a buttery, tender lobster tail. Decadent. 
The sea bass was coated with seasoned potato flakes and served on leek fondue. The creamy fondue was a buttery compliment to the sea bass. The sea bass was flaky and moist. 
The Salmon Meunier was impeccable. The rustic sauce of brown butter and lemon was added a nice acidity to the richness of the fish. It was served over green beans amandine. The beans were crisp and fresh. 
Table 13 has live music every night. We were serenaded with swingin' tunes like "The Girl From Ipanema", "Luck Be a Lady" and "The Best is Yet to Come". The service was attentive but not pushy. No rush to turn a table here.
I've got "high hopes" Table 13 is here to stay!