Ahh! I LOVE BBQ! Smoke Daddy is located in Wicker Park, and, just as with every great BBQ joint, I can definitely smell my upcoming happiness before I can see it! They have two outdoor eating spaces, live music every night, and smoke all of their meats and vegetables in-house daily. They are also dog-friendly, with water bowls for your pooch and even smoked Pig Ear chews available for sale! Does anyone have a dog I can borrow for next time? Haha.
The Smoke Daddy
1804 W Division St, Chicago IL 60622
www.thesmokedaddy.com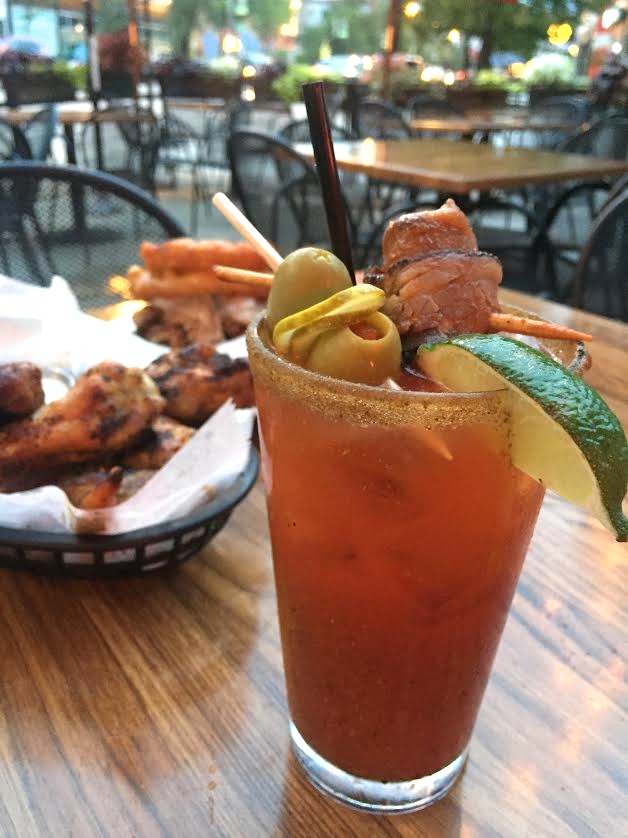 I started off with one of the Bloody Marys. In my observation, most people either love Bloody Marys or hate them. I fall into the first category, and so I am happy to see three different options to choose. It comes with olives, pickles, and wrapped brisket. It's delicious, especially after I squeeze in some lime juice. It also comes with a pony bottle of beer, which goes great with BBQ. I bet the other options are just as great.
First up is The Daddy-O sandwich and small plate of the KC Style Burnt Ends. I try the Burnt Ends first, and it turns out to be my favorite of the night! The pieces melt in your mouth, with a nice, slightly crispy texture to the meat. I loved it. Seriously, you need to get this when you go! My favorite part of the Daddy-O was the onion rings. I have a soft spot in my heart for onion rings, and these were super good! They use a Sam Adams Angry Orchard beer batter, and the taste shines. The onion rings complimented the brisket and smoked provolone cheese in the sandwich perfectly. The sliced brisket is delicious, soft and holds up to the sauces I smother on very well.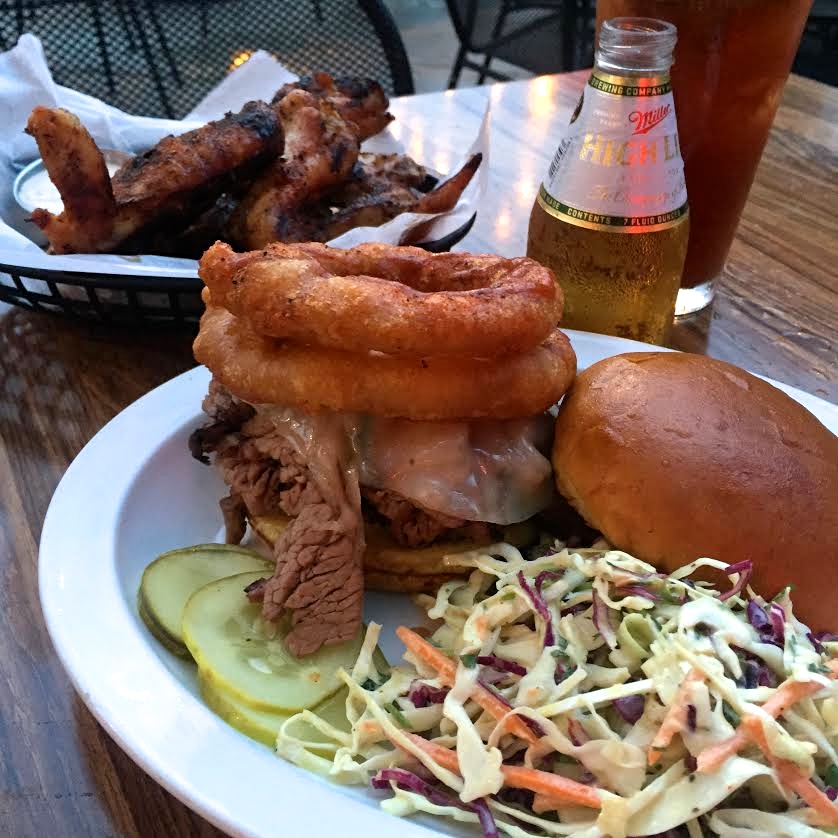 Smoke Daddy has a few BBQ sauces and one house made, spicy sauce. Original is an apple cider vinegar base which gives it a definite tangy kick, while Mustard has a Carolina mustard base with a nice, strong mustard flavor. The Sweet 'n' Smoky is molasses sweet, and the most popular flavor. It was also my personal favorite, and I ended up pouring it onto everything, even some of the collards just because I liked it so much!
The in-house, chipotle pepper based hot sauce has a feisty kick, it's spicy! I love spicy things, so I also put this on almost everything.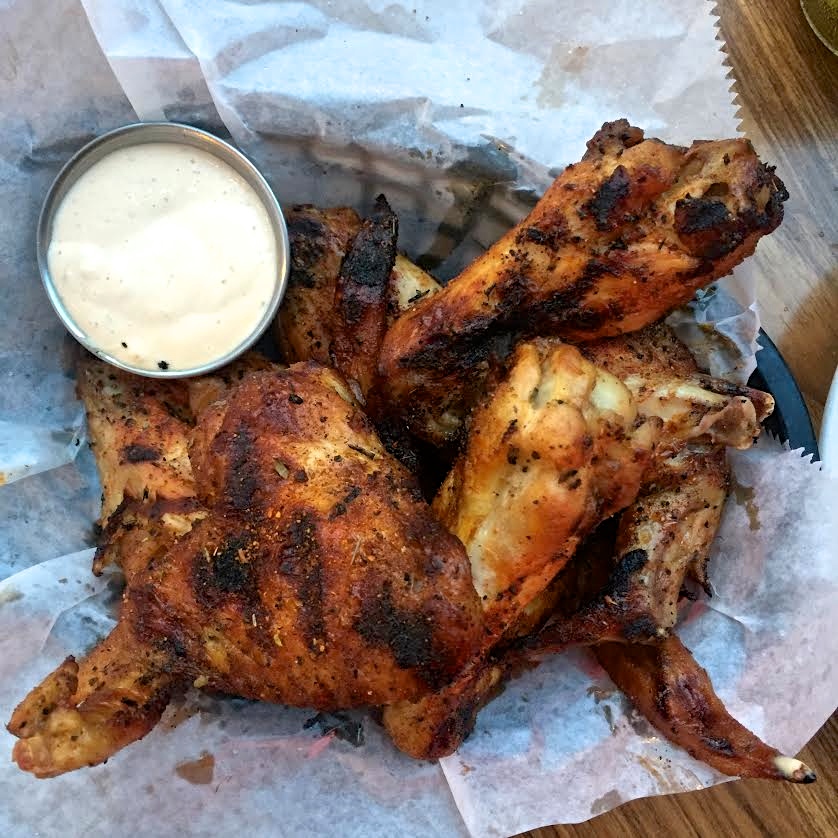 Next up were smoked BBQ wings. These are marinated in a teriyaki base overnight, then slowly smoked for about 1.5 hours and then grilled. The smoke gives them a richer mouthfeel and even though I like the sweeter sauce best, I think these go well with the tangy, apple-cider-based original. They do come with a dipping sauce, but I preferred the BBQ 🙂
Next up was the Chicken + Ribs platter. Heaven! So, so good. The ribs were perfect, full of flavor with the meat coming easily off the bone. In fact, my mouth is drooling as I write this a day later! When it comes to BBQ, I feel that good ribs are simply good ribs, and these fit the bill. The chicken was also amazing, with the same delicious smoked flavor, juicy and tender.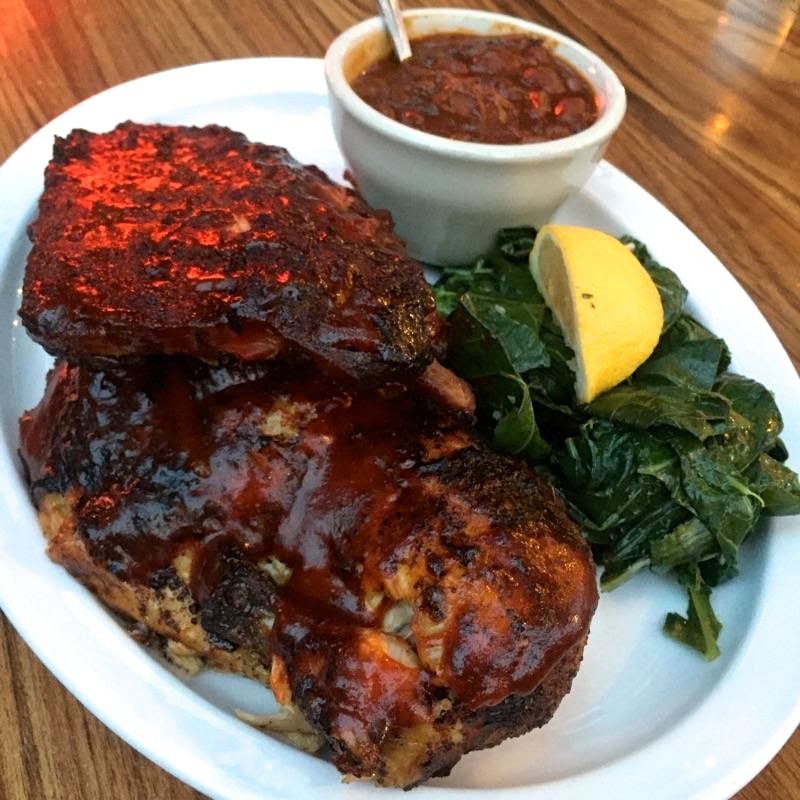 The wings/ribs also came with Collard Greens and Smoked Pit Beans. I am a huge vegetable lover, and so I was happy to see the same attention to their meats applied to the vegetables. I think the beans here might be the best I've ever had: smokey, sweet, and rich. They are not shy in adding in pieces of meat to the beans, and my tablemate and I fought for the last bite. Interestingly there is no pork or meat added to the collards, just garlic. With your first taste, the garlic hits you immediately, and I squeezed in a little bit of lemon juice to balance the flavor. I ended up eating the whole portion.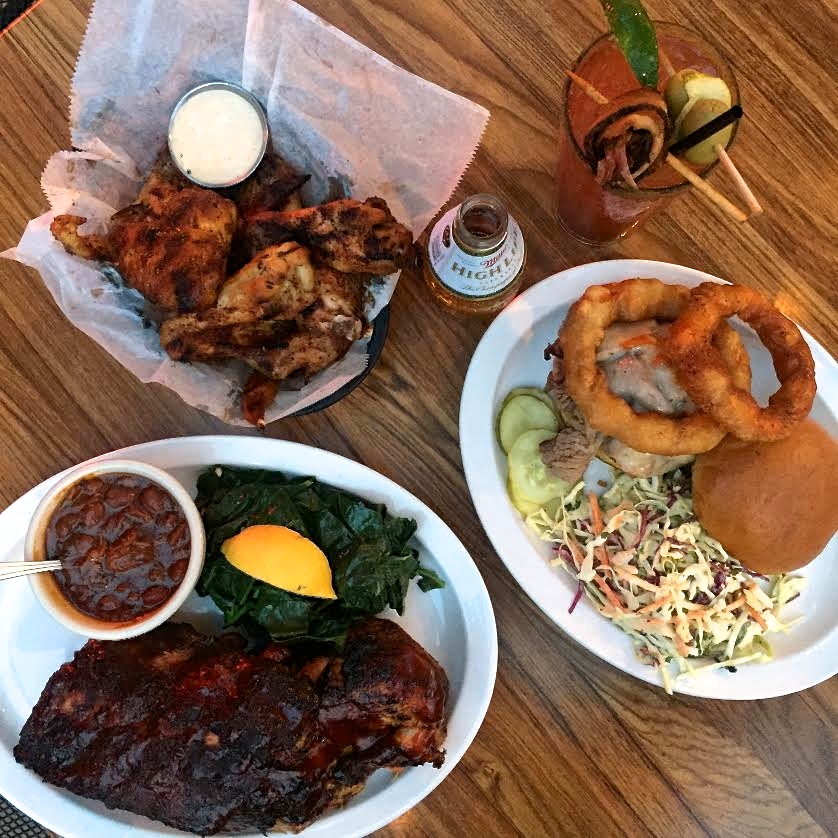 They also offer desserts and brunch, and I'll be back to try them! The Monkey Bread and Pulled Pork Benedict sounds especially good. Or the Brisket Breakfast Skillet. Or Iron Skillet Blueberry Cornbread. Oh gosh, looks like I might be back sooner than later!
If you're in the mood for BBQ, definitely give Smoke Daddy a try! Everything was fantastic. This food will immediately make you sigh and put a smile on your face. Thank you, Megan, from Smoke Daddy and Girls on Food for having me!