Before I moved back to Chicago, I lived in Koreatown in Los Angeles, and loved it! One of the things I knew I'd miss was KBBQ. Since moving back, I've been looking for a restaurant to fill that craving and bellyQ definitely satisfied it.
When I sat down at my table, I had the opportunity to look around the restaurant and admired the industrial look paired with greenery and different accents throughout the restaurant. bellyQ, owned by Chef Bill Kim, is located that the end of Randolph St. in the West Loop, and it has been making a big name for itself since 2012- this year it earned a Michelin Bib Gourmand distinction for Inspectors' favorites for good value!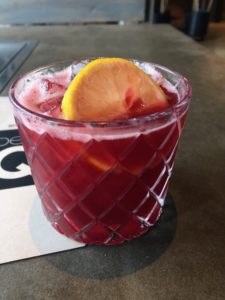 To start off this tasting, I had the Charlie (named as an homage to Charlie Trotter, who Chef Bill had the opportunity to work for twice at Charlie Trotter's); bourbon, blackberry drinking vinegar, cocchi, and lemon. This drink paired perfectly with everything I ate. This was my first time sipping on a bourbon cocktail and I couldn't even tell there was liquor in the drink- that's a sign of a good cocktail!
The first dish I tried was the Lamb Potsticker, and it was amazing! I love lamb, so having it in a potsticker was perfect for me. This dish has napa, cucumber, onion spiced yogurt, and mama Kim's dipping sauce. Mama Kim's dipping sauce paired perfectly with the lamb potsticker, and this is definitely a dish I'll have to get the next time I go to bellyQ.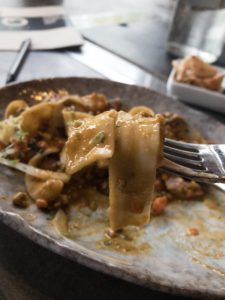 The next dish I sampled was the Tea Smoked Duck "Bolo." This is an Asian and Italian fusion dish, and it was amazing. This dish has duck, biang biang noodles, napa cabbage, and cilantro. I would never have thought of transforming these ingredients into a Bolognese, but the way Chef Kim created the mix was perfection.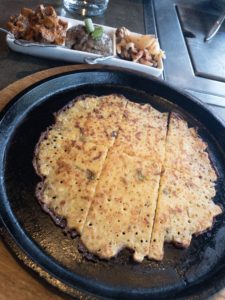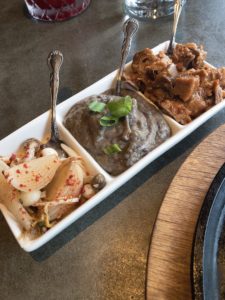 Shortly after the Tea Smoked Duck "Bolo" arrived, so did the Savory Scallion Pancakes. The Scallion Pancake comes with three accompaniments, and they are:
Seasonal Pickles with mixed mushrooms
Hummus with eggplant, black beans, and sesame
BBQ Pork pulled shoulder with hoisin bbq
When eating the scallion pancake you're supposed to put a little of all of the accompaniments on the piece of pancake. I would never have thought about pairing some of these flavors and ingredients, but they paired beautifully, and I couldn't stop eating it!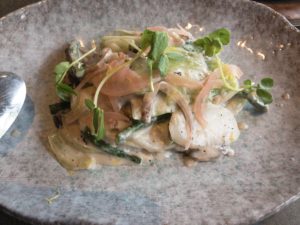 The next dish I tried was the BQ Alfredo, which is another Asian and Italian fusion dish. This dish has rice cakes, wrinkled beans, bok choy, mushrooms, and oregano. Substituting noodles with rice cakes worked incredibly well and I loved all of the vegetables!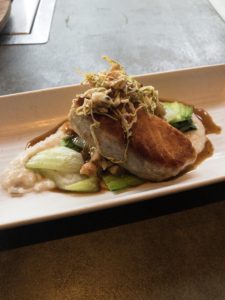 The final dish I enjoyed, was the Lemongrass Salmon. This dish has white corn grits, brussels sprouts, and pesto giardiniera. I loved the grits and brussels sprouts- definitely recommend this!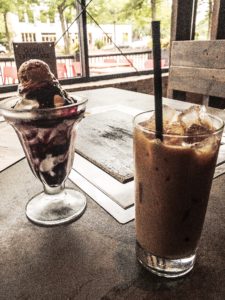 To top off this excellent meal, I had the PB & J dessert and a Vietnamese Coffee. The PB & J has coconut soft serve that's flavored with vanilla, blueberry compote, and peanut butter. I am a HUGE fan of a classic PB & J, so this dessert paired with coffee was a incredible way to end this tasty meal at bellyQ.
I want to thank Chef Bill Kim and Elizabeth (operations manager) for putting together the perfect meal, and a huge thank you to all of the staff at bellyQ for an amazing dining experience. Also, if you want to try some of Chef Bill's creations but aren't in Chicago, make sure to get a copy of his cookbook, Korean BBQ: Master Your Grill in Seven Sauces– I can't wait to recreate some of the recipes at home!
Thank you to Kinship for setting up this tasting. Although this dinner was comped, all thoughts and opinions expressed are my own.