One of my favorite things is discovering hidden foodie gems in unexpected neighborhoods, and Arami is one of those gems located in West Town. Arami, a repeat Michelin Bib Gourmand-awarded izakaya, offers some of the best sushi that I have ever had.
Arami
1829 W. Chicago Ave., Chicago, IL 60622
http://www.aramichicago.com/
I loved how natural-feeling all the bamboo decor is. The plants and skylight make the atmosphere create a sense of calm, making the dining experience very relaxed. I definitely want to come back on a sunny day, to experience the skylight and see how it lights up the dining area.
For this tasting, we started off with cocktails, and they were refreshing and delicious. We ordered the St. Dorothy, Shiso Kiri, and Bohemian Grove; I had the Bohemian Grove and I loved how nicely it paired with all of the food we tried.
To start off we enjoyed the Tako Kani Salad, which has octopus, king crab, shrimp, cucumber, yuzu, ponzu, and micro shiso. I am a HUGE fan of ponzu and yuzu, so I loved this dish. It was light but flavorful, and the cucumbers made is very refreshing.
Then we moved onto the Hamachi sashimi, which was divine. I loved the presentation and the buttery fish with a tangy finish.
Next, we had the Zuke Sake Hotate (spicy Hokkaido scallop wrapped with marinated salmon and taro) and Zuke Maguro Kani, which were amazing (spicy Alaskan King Crab wrapped with marinated tuna and taro). Both specialties had the right balance of spice, rice, fish, and garnish. I had never tried a tokubetsu (a specialty nigiri) like these before, but I loved them. I was a little nervous about the level of spiciness, but I was pleasantly surprised that everything balanced the spice out.

While we were enjoying the tokubetsu, we were served the Cornchizu. This has corn, queso fresco, shiso, cilantro, miso garlic sauce, and togarashi. Initially I was really surprised that there was a corn cheese dish on the menu because I had only seen dishes similar to this at Korean restaurants. However, when we asked about the inspiration behind the dish we were told that there's a Korean restaurant down the street that the staff of Arami enjoys and they like the corn cheese dish, which made perfect sense to me. This dish has a bold blend of flavors, and I would highly recommend it if you like the Korean corn cheese.
The Poke was the next dish we devoured, and it was the most unique take on poke that I have ever had. Immediately, I noticed that the colors were more muted than most poke bowls that I've had, but once it started eating it, then I noticed how different the flavors were. The fish had a smokier flavor, but that was balanced out by the onion, seaweed, and cucumber. The Macadamia nuts were a nice touch too.
Once we finished the Poke, we were presented with a beautiful flight of nigiri. We started eating it left to right, which meant eating the Hirame (Japanese flounder), then Aji (horse mackerel), and ending with the Sake (salmon). Each fish had more and more flavor, but I loved the ponzu on the Aji.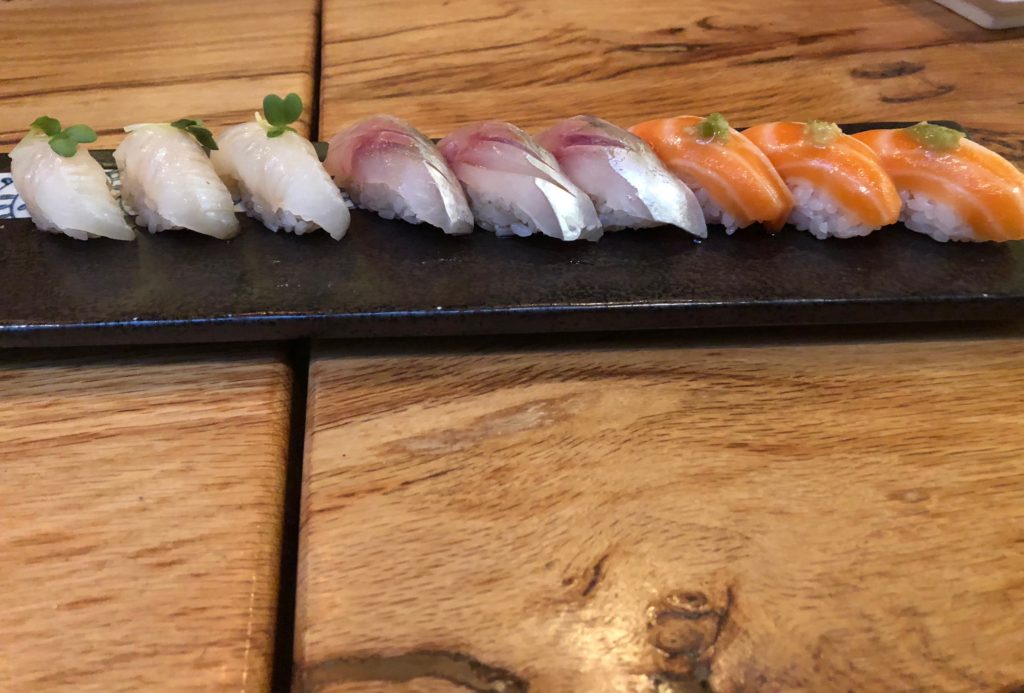 Then we moved onto the Pipikaula Steak, which was phenomenal. It consists of koji dry-aged domestic wagyu short rib, shoyu mango, and poi. The short rib was amazing, but I really loved the way the shoyu mango complemented the steak.
After the steak, we had the Unagi Spicy Maguro. Unagi is one of my favorites, so I was excited to try this roll. The spicy tuna wasn't too spicy and the cucumber, sweet soy, and negi definitely helped balance the flavors and spice levels in the roll. Even though, this has spicy tuna, I still found this roll to be very light and refreshing.
Our final dish was the Hotate-Su, which has Hokkaido scallop, Hawaiian hot pepper water, coconut lime sauce, hearts of palm, Thai basil, and passionfruit. This dish is super light and I loved how all of the different flavors mixed.
I loved all of the dishes that we had at Arami. I love the twists they've put on some dishes like Poke and the Korean Corn and Cheese dish. Additionally, I also appreciated that they notate on their menu which items are safe for people who are gluten free/have celiac, shellfish free, vegetarian and vegan, and which items have octopus. I don't know if I've ever seen this before at a Japanese restaurant, but I appreciate it because I know that I have a place I can bring friends who have dietary restrictions. If you love sushi and are in Chicago, then I definitely recommend Arami!
Thank you to Isabelli Media Relations for setting up this tasting. Although this dinner was comped, all thoughts and opinions expressed are my own.