My annual summer trip to Chicago was met with a big first for me – it would be the first trip with my 4-month-old daughter Marie! Usually, on my trips, I freely roam the city, restaurant to restaurant doing whatever I please. There was one time I went with all my girlfriends and we had a blast! We got mini bus rental chicago so we didn't have to worry about keeping together on public transport and it made everything a lot easier… those days are over.
Now that we're traveling as a family, I have a lot to consider when looking for a hotel. I wanted to make sure my stay was comfortable for baby Marie, charming to the eye for my husband and food-centric for myself. I was a little nervous about staying at a boutique hotel because I wasn't sure how baby friendly it would be. Many boutiques I've stayed in, tend to be a smaller in bedroom size, with more sophisticated furnishings – great for adults but I need to consider the little one.
We decided to book a junior suite at the St. Jane Hotel, which opened in July, and it delivered on all 3 counts.
This boutique hotel is located in the 37-story Carbide and Carbon Building, built in 1929. The outside maintains an art deco flair with its black granite and gold accents and the moment you walk in, it feels half Great Gatsby half Lana Del Rey – Jazz age meets hipster chic.
The Premiere Junior Suite is a bit of splurge, but it's so perfectly spacious that it's worth it or a family vacation. The astonishing views of the city, a roomy shower (that also has a beautiful city view!) and a big comfy bed are worth the upgrade. Bonus: the toiletries are products by Mason Margiela's 'Replica' Jazz Club line, my all time favorite perfume!
St. Jane Hotel's key restaurant is Free Rein, a modern French brasserie led by chef Aaron Lirette, who obtained a Michelin star for GreenRiver. Free Rein serves breakfast, lunch, and dinner, offers a coffee shop, full bar and provides the hotel room service. Here's how I savored the hotel with an ultimate epicurean stay.
I started the bright and early at their café, which is separated from the main dining room. The coffee is provided by Chicago fan-favorite Dark Matter and pastries by fellow Michelin star collector, pastry chef Evan Sheridan of Sixteen.
The Ham and Cheese Croissant, although not shaped in the classic crescent style, the Ham and Raclette is still flaky, buttery and I loved the addition of mustard on top. I loved my Dark Matter lattes every morning too, but with the time changes and general baby exhaustion, I did fuel up on their Nitro Cold Brews as well.
Later on, Chicago Girls on Food blogger Hilary met up with me for lunch, where I was able to get a little break from the family and do what I love to do the most – explore a new restaurant. Highlights from this lunch included:
Sweet Corn Soup– corn, scallion, and coconut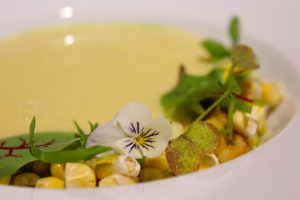 I always love a presentation of soup pouring!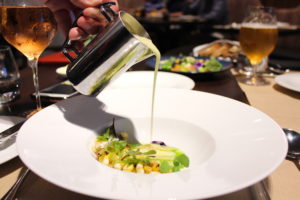 Kanpachi Crudo– English peas, heart of palm, citrus, caviar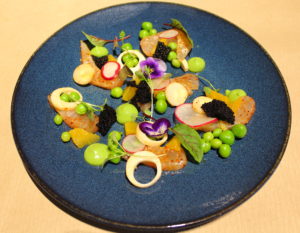 Soft Shell Crab BLT– Bacon, gem lettuce, Old Bay aioli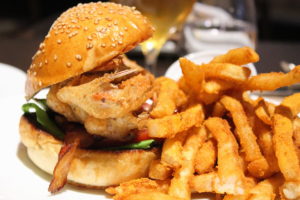 Saffron Spaghetti – tomato, fine herbs, parmesan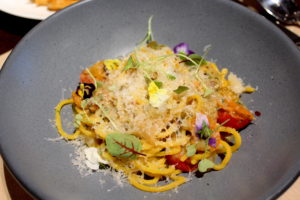 I loved all of Chef Lirette's artful takes on American classics for lunch. If I had to choose tops spots, my number 1 was definitely the Soft Shell Crab BLT. This succulent sandwich is paired perfectly with the crispy Old Bay seasoned fries. The Kanpachi Crudo is a close second, it felt like a spot-on execution of "summer on a plate". For lunch, I recommend washing it all down with a glass of Virtue's Rosé Cider, it's crisp, lightly floral but pairs perfectly with any of the dishes above.
Virtue Rosé Cider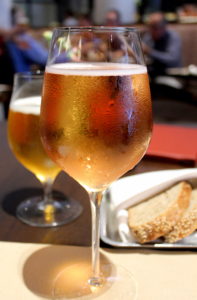 For dinner, the lights dim down and it feels a little fancier at Free Rein. The menu expands out to a number of new options, including large format items, intended for sharing.
I started with a glass of Clos des Papes "Le Petit Vin d'Avril" a rich, Rhône blend to pair with decadent dishes. The absolute favorite item was the Foie Gras Tourchon with black truffle, Marcona almonds, cherry compote and summer berries. This item will be available on the Fall menu, so make sure you pop in there soon!
My other favorites included the Tomato Salad, with black garlic, cucumber and sourdough and the large format Dry-Aged Slagel Farms Ribeye with chanterelle mushrooms, potato puree, and beef jus.
Staying in a very touristy part of town and relying on the hotel to have extraordinary food sets a bar very high and sometimes isn't realistic, but Free Rein and the St. Jane Hotel exceeded my expectations.
GOF Tip: The room service menu offers some items from the Free Rein menu – go for the Smoked Whitefish Toast. Since I was watching Marie, it's nice to have an easy-to-eat but still gourmet meal around!
Although the lunch portion was provided by Free Rein, all thoughts and opinions expressed are my own.