Happy #nationaltacoday!
The first time I stumbled onto Salt & Lime Cabo Grill, it was with my sister in law and her then 3-year-old. It was a beautiful, unusually cool North Carolina summer day, and we comfortably sat outside in the patio area with our two toddlers, eating salads and drinking margaritas. It was awesome (and surprisingly relaxing)!
Salt & Lime Cabo Grill
6006 Falls of Neuse Rd, Raleigh, NC 27609
http://saltandlimecabo.com/index.html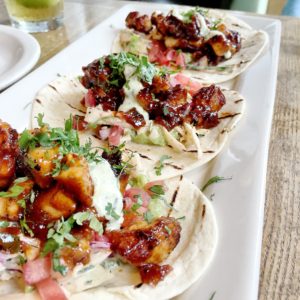 Fast forward a year later, and this restaurant has become a staple for our Friday Family Date Nights! It's so much fun to get the four of us together for a no-pressure meal. Over chips and salsa, we laze our way into the weekend. Over the course of the meal, our almost-toddler daughter nabs her way through the fruit at the top of my white wine sangria, and our 3-year-old son eats chips and salsa non-stop for about 45 minutes. Insane. The GM always stops by to play with the baby, and every single wait staff we've had has been both incredibly accommodating and extremely welcoming to our chaotic family. On several occasions, they have even squeezed us into a table that is reserved in 45 minutes, allowing us to get in and out and home before bedtime. As far as I am concerned, Salt & Lime has the best customer service in town!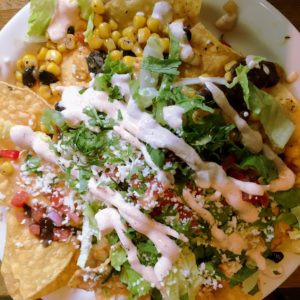 Salt & Lime is a Baja-inspired restaurant serving everything from taco plates to fresh salads to delicious looking burritos and plated entrees. Everything is prepared fresh daily, which would be my only caveat with this restaurant. On one occasion the salsa was way too spicy for us, which ruined our son's "dinner" – but one in twenty times is a blip; hardly an issue! They have a pretty extensive menu with several types of salsa and guacamole – one day I'm going to try that fire roasted tomato with goat cheese guacamole; it sounds amazing! I regularly order their Avocado-Tomato Salad with House-Spiced Salmon added. It's one of my favorite things on the menu, so fresh, and the salmon is just perfect!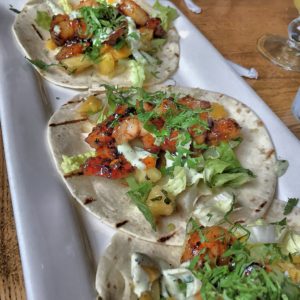 Recently, I've been on a bit of a taco kick! This is our new go-to when our parents are in town, so it's fun to order 3 or 4 taco plates and swap out tacos. My husband always goes for the BBQ Mahi taco plate – he loves it! My current favorite is the Bangkok Shrimp – they are sticky and sweet and a little bit spicy! My only albeit is that it is fried shrimp, but a little cheat every once in a while is good for the soul! (I'm sure they would grill it if you asked, as a whole, the restaurant seems very keen to please). The Jamaican Jerk tacos are also on point, but a tad too spicy for me! The last time I took the whole fam, my brother, a vegetarian, ordered the spicy gazpacho and the Baja nachos and was very impressed. I was pleased, to say the least, as he is quite the world traveler; Paris being the newest town he can call home. My sister and mom split the Quesadilla Grande, and we all shared around the table. Everyone was full and happy when we called it a night!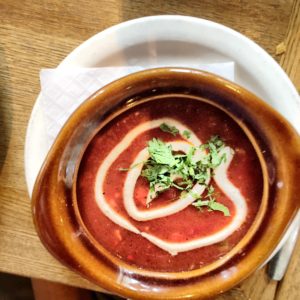 They are constantly adding to the menu, and so there is always something new to try whenever you go! I'm excited – we are heading there Friday night to celebrate my babe Margaret's first birthday! We rarely get dessert when we head out on the town, but you can bet I'm getting my girl something sweet to celebrate the big UNO!