As Thoreau once said, I went into the woods because I wished to live deliberately…..and to sample wine.  ALL OF THE WINE.  Ok, maybe I added that second bit, but I imagine that's what he was thinking.  I had the pleasure of traveling the back roads of Windham, NY with my father and happened upon some new local treasures.
After traversing The Windham Path, our first, stop was Higher Grounds.  This laid back coffee, breakfast, sandwich shop has some wonderful options for people looking to stay healthy.  I sampled their Garden Goddess served with feta cheese, tomatoes, spinach and you can add avocado if you're feeling frisky.  It doesn't hurt that when you look out the window, you're staring at a mountain.  Also, they had peppermint coffee, and I'm a sucker for peppermint coffee.  Keep your eye peeled on their specials; they like to switch it up.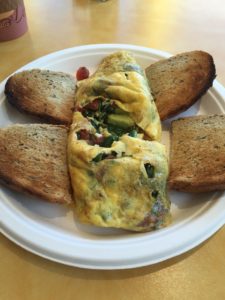 Higher Grounds
61 State Rt 296, Windham, NY 12496
https://www.facebook.com/Higher-Grounds-Coffee-Co-302891989763169/
After a morning hike, we decided to get a closer look at some of the towns finer grapes.  Situated off the main road a piece is The Windham Winery, a local establishment featuring a $20 tasting that doesn't disappoint.
Their tasting menu has an excellent assortment of choices.  Different and unique was their Diamond wine, a grape that is not frequently used because it has to be worked with individually and carefully.  The owner is very present and walks you through all of his wines. He's laid back, personable- he makes this an experience you won't forget!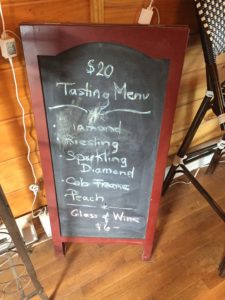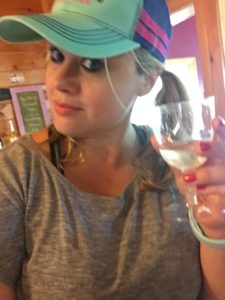 I only do wine tasting in my finest Ron Jon surfer trucker hat, an obvious class act as I taste intricate wines in this refined hiking ensemble.  Their Vino is on the sweeter side but never left my cheeks in cartoon pucker.  It has an at home, laid back feel.  You'll find yourself staying longer than the time you expected because you can't stop petting the dog and leisurely staring out toward the beautiful mountain vista.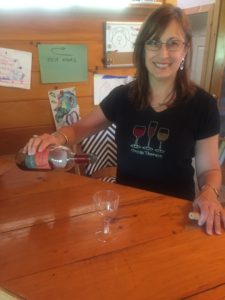 Next stop – Ze Windham Wine Bar.  A cozy little locale on the main street of town.
Ze Windham Wine Bar
5369 Main Street Windham NY 12496
(BEHIND THE POST OFFICE)
http://zewindhamwinebar.com/wine-beer-food.html
This quaint family operated business has a lovely array of wine and beer alike.  My father is traditionally a bud light drinker but was pleasantly surprised by one of their options, the Berliner Weissbier.  I squealed with delight that I managed to get Papa Lohne to try a brew that had a decorative decal #familygoals.  Just check out the artistic craftsmanship on this bottle.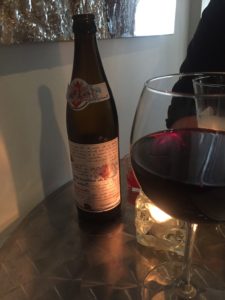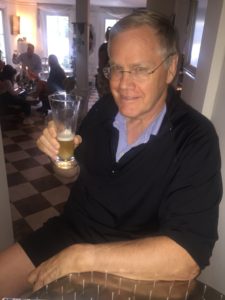 Father proudly holds his maiden voyage of a beer that isn't handed out for free at intramural sporting events.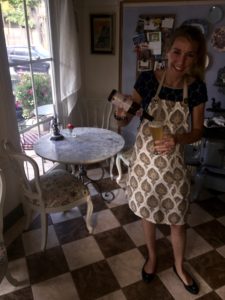 One of the owners, Cordelia, poses artfully for me in her native wine habitat.  I highly recommend Ze Windham Wine Bar and not just because it utilizes Ze as a "the."  It's charming, friendly, warm, and a wonderful place to have a glass of wine and socialize with the owners and the surrounding guests alike.  While I happily sipped on a cabernet, I regretfully did not try one of their cheese plates or charcuterie boards.  Suffice it to say, next time I am on a self-enforced writers retreat, I will stop by and sample a pretzel roll and pecorino cheese.
As the winter approaches and ski season is just around the corner, take a moment and visit Windham, NY.  You can traverse the friendly slopes and then grab a glass of your favorite cabernet, just maybe don't do both at once.  Your not broken leg will thank you for it.