Spoiler alert: Los Balcones' new location in Studio City is way worth the drive for a Westsider.
The Hollywood-based Los Balcones team (Brothers Jorge, Eduardo and Walter Rodriguez) recently took over the fine dining Girasol space, a beloved spot that just wasn't able to make it in the long run. It's always tough taking over a treasured spot but I believe the Peruvian brothers will win the locals with their diverse dishes. This Los Balcones location features mestizo (Spanish for mixed race) dishes by veteran Girasol chef Polit Castillo, and creative director Ricardo Zarate of Rosaliné.
Upon checking out the menu at Los Balcones prior to dinner, I have to admit I was a little stumped with some of the descriptions of the items. My server, Tomas admitted he learns something new about this modern cuisine daily, so I felt a little less guilty about my lack of mestizo knowledge.
If not just for the fun presentation of it, I recommend starting with a glass of their house white, the 2017 Bodegas Gaintza Txakolina. This Txakolina (pairs well with the seafood-based appetizers) arrives in a porron, a wine pitcher commonly found in Spain. This was a first for me, since I've sadly never been to Spain. Tomas pours the Txakolina from the porron (see image below) at your table, which gives the wine a natural effervescence. This is such an Instagramable way to begin dinner!
Fun fact: porrons are often used at Spanish weddings to pour wine directly into guest's mouths.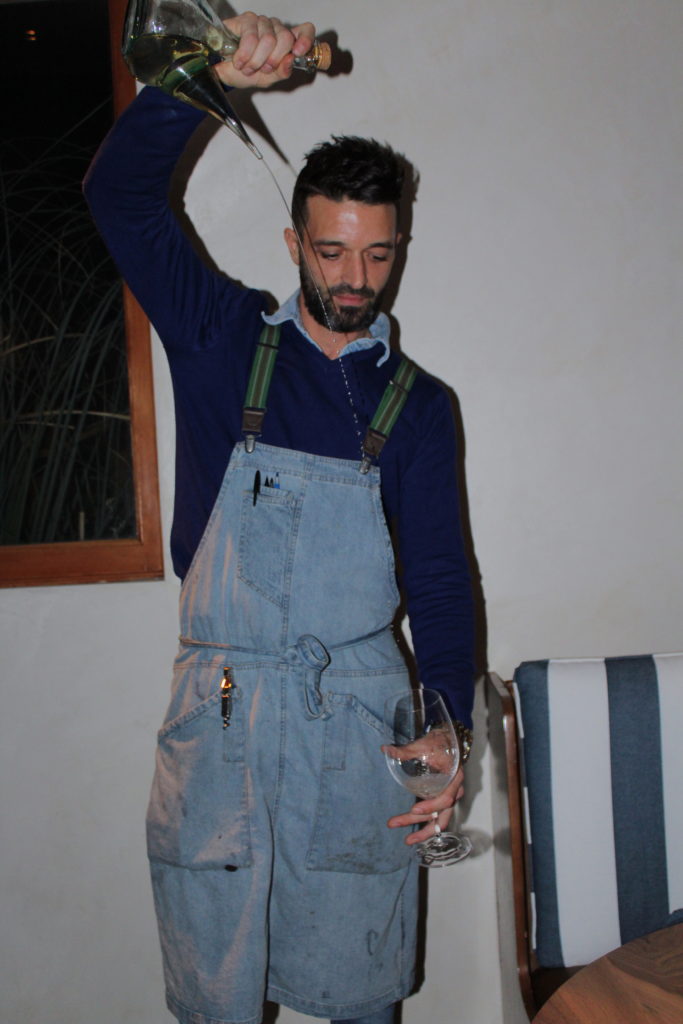 For those of you on the progressive wine-train, all of the wines by the glass are made from organic grapes. In addition to the boost of girl power from their Somm, Sarah Jones, 40% of the wines by the bottle happen to be produced by female vintners.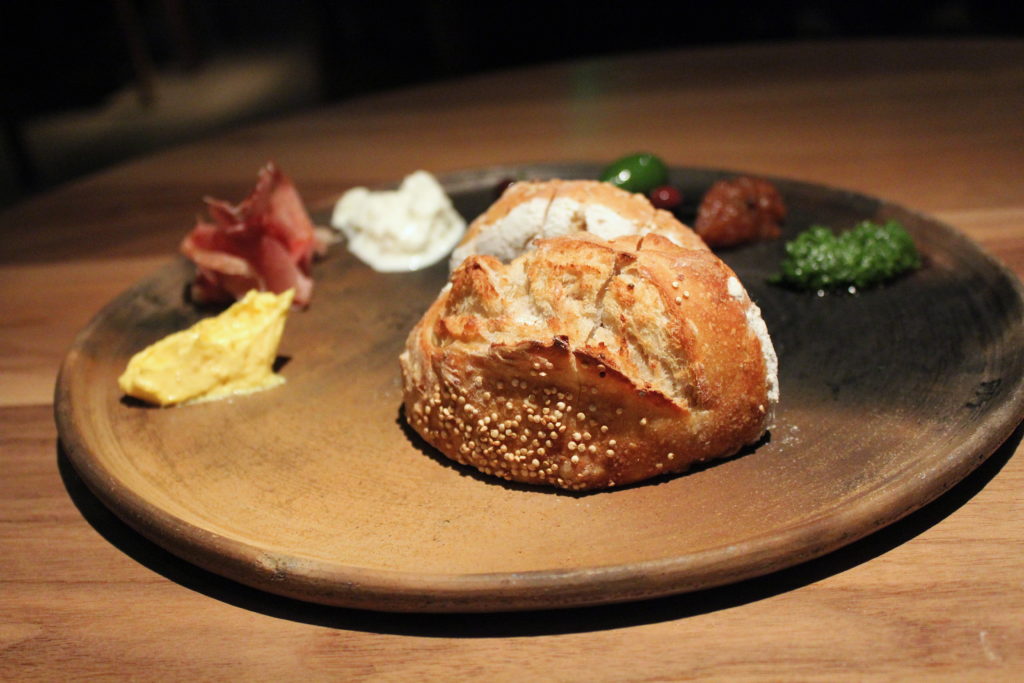 I love that Los Balcones focuses on refreshing seafood dishes to start and works their way into meatier, richer dishes for main courses. I started with the Pan de la Chola (a crusty, dense potato bread on a tasting plate), Oysters (1/2 dozen topped with uni ponzu, popped quinoa, charred aji oil, and garlic chips) and Salmon Tiradito (salmon thinly sliced with an orange miso rub in a citrus and beet sauce). All three of these starters were complex but not in a way that's pretentious. Every unique flavor is robust and feels purposeful. All three of these starters were fantastic but I have to give extra props to the Salmon Tiradito, cause the earthiness of the beets worked so well with the miso and citrus flavors.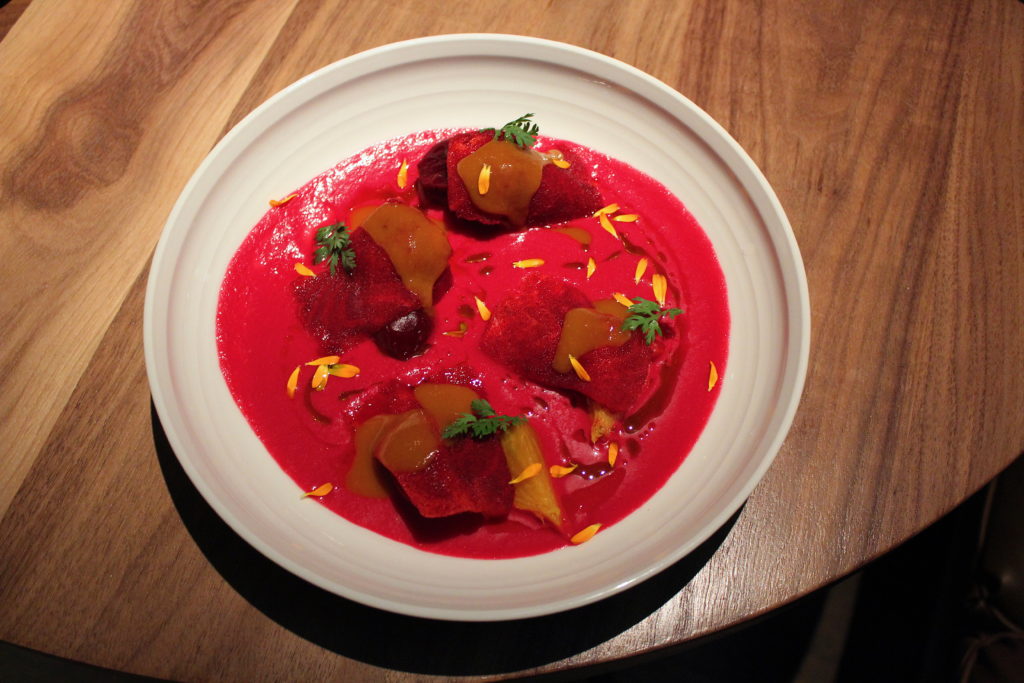 For a second course, I went with their Italian-Japanese creation, Quinotto. This one is a quinoa risotto with shimenji shitake, trumpet royale, maitake, pecorino and truffle essence. I am a big fan of quinoa used as a risotto substitute, so this one was a major win for me. The mushrooms are buttery and pack an umami flavor. The use truffle flavor is light, which is a nice change of pace from many LA restaurants.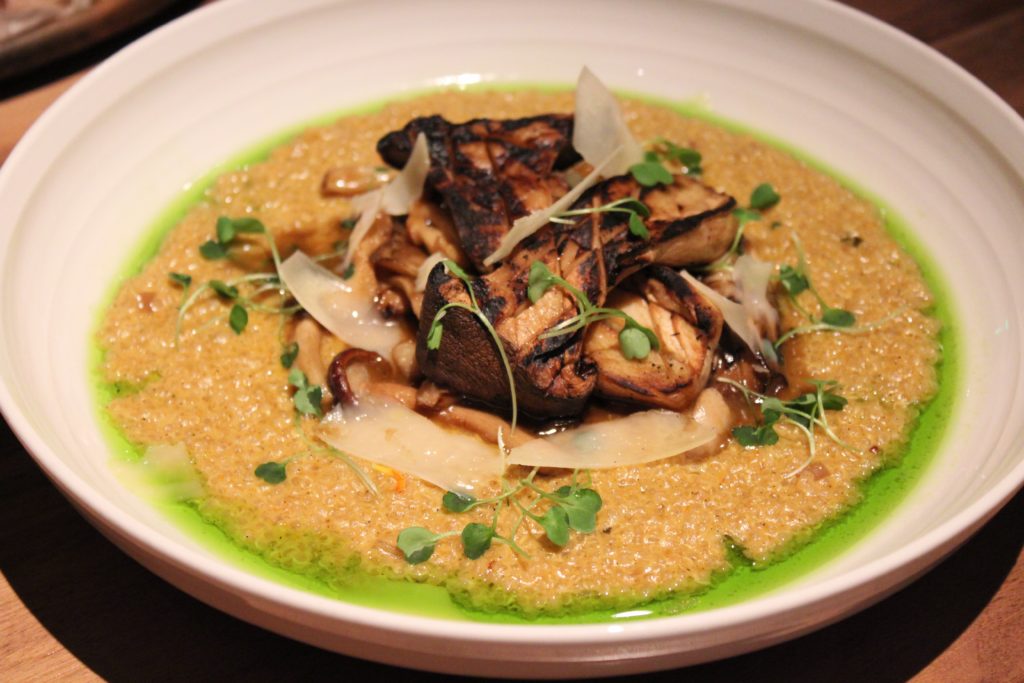 My compliments to Somm Sarah, who is super knowledgable on the wines but also very approachable. At this Los Balcones location, don't feel guilty about tasting more than one wine, they want you to be happy with your choice. As you can see from the image below, I tasted 3 wines before choosing a glass of 2014 Celler Pinol "Ludovicus", a jammy Garnacha with a lingering smoky finish. Those of you who love a strong tannin profile will love this glass, it pairs well with many of their meatier dishes. The house red, 2017 Vinos del Atlantico "Flaco", a Spanish Tempranillo is juicy with light tannins, a great lighter option to pair with meatier items (and also only $12 a glass).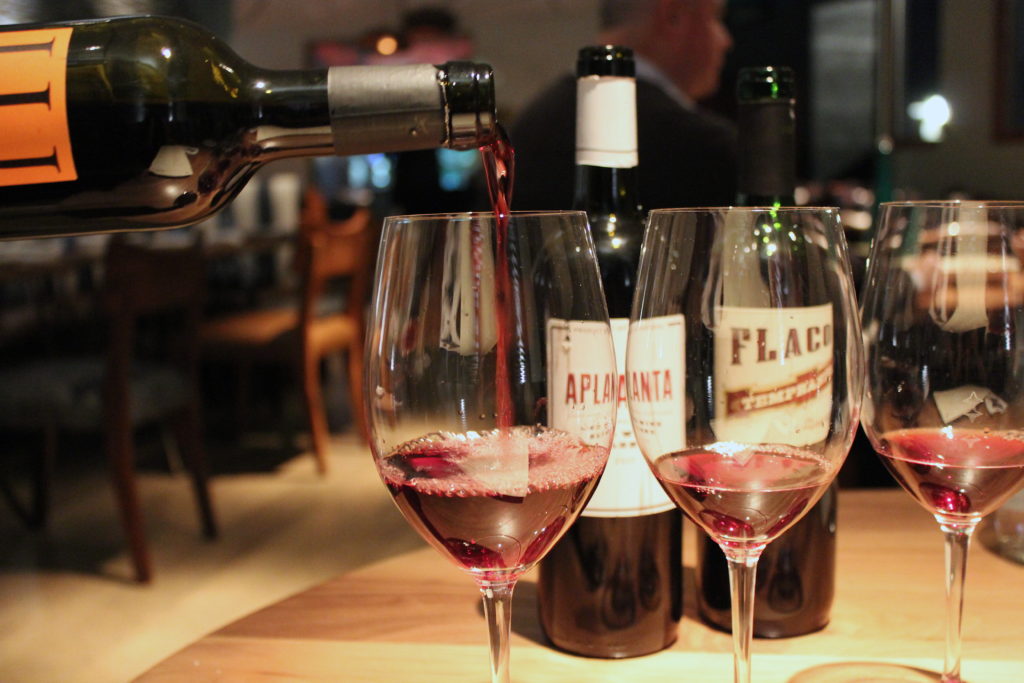 With my glass of Garnacha in hand, the time came to feast my eyes upon one of Los Balcones unique dishes. The Costilla de Short Ribs comes in a stainless steel box, taking a nod to Korean culture. This concept is known as a Lunch Box and many people shake this container mixing all the flavors together before eating. I decided to keep it intact (for the 'gram!) and savor each item one by one. The tender braised short ribs are topped with a runny sunny side up egg, paired with a lima bean and rice patty (another Korean-inspired item) and also paired with banana topped with salsa criolla. Those not down for mixing textures and temperatures should steer away this one. But those of you who love to mix foods together, like me, this will be a treat for you.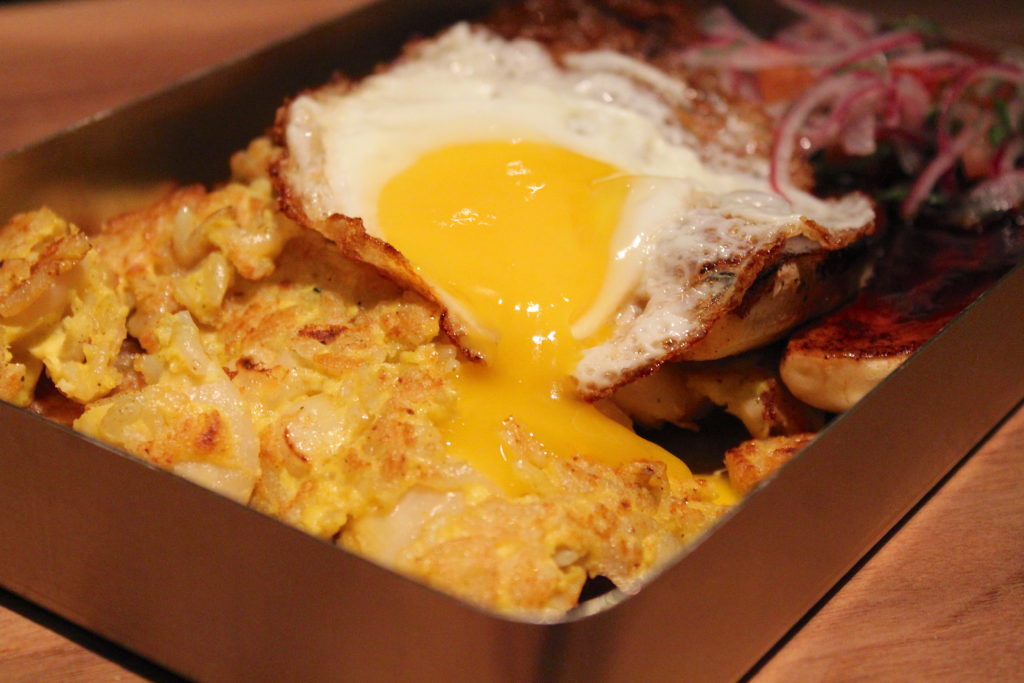 The final feliz will have me driving from Culver City to Studio City more often! You must order the Lucuma Bundino, a pudding made with lucuma, which is like an avocado mixed with a mango, chantille cream and topped with salted feuilletine (crispy crepe pieces) crumbles. When you order this, tell them to add extra crumbles because the saltiness is so tasty with with sweetness of the pudding and cream. I even told them Tomas they could've layered the pudding like a parfait with the crumble and that would be even more delightful. Fingers crossed they listen to me on this before you get there!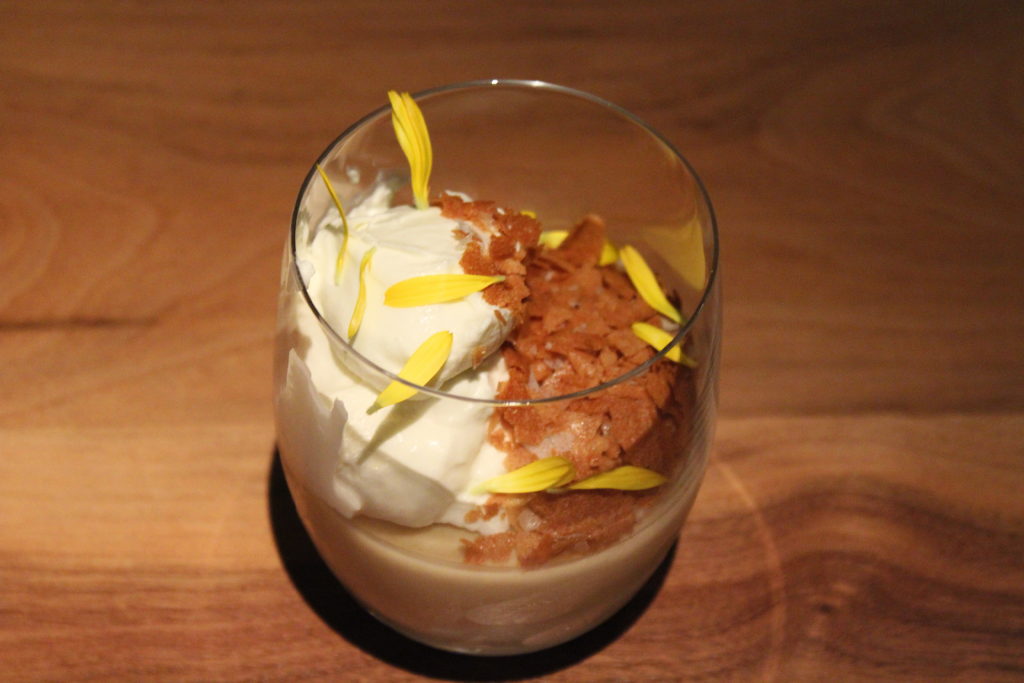 Additional items I'm looking forward to coming back and devouring are the Locro Pappardelle (with pumpkin ragu and goat cheese) and the Seco de Pato (duck two ways, confit and roasted) and the Lomo Saltado. I'm more of a wine drinker but those of you who love cocktails should sip on the Chilcano made with Pisco and ginger.
I am very excited to see watch this Los Balcones location flourish among the Studio City scene. With a unique takes on traditional Peruvian and flavors familiar to LA locals, I have no doubt guests will be coming back for more!