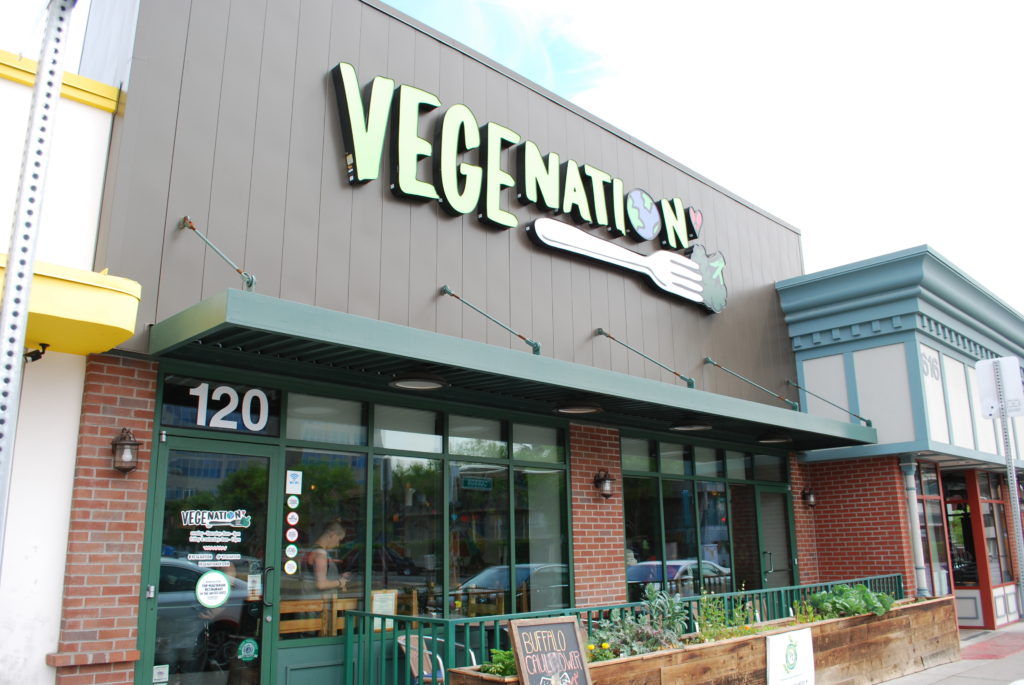 The East Fremont section of Downtown Las Vegas is a special place. Business owners have worked hard to nurture an environment that makes tourists feel welcome, while giving locals a much-needed sense of community. Chef Donald Lemperle's VegeNation is one of my favorite places in town, and he's serving up plant-based global flavors, that are both beautiful and delicious.
VegeNation
616 Carson Ave #120, Las Vegas, NV 89101
https://vegenationlv.com/
Many products on the menu are sourced locally, like the cashew cream-based Virgin Cheese, and French Press service from Frankly Good Coffee. You won't want to miss their fresh "juicetails" – their Sangria is perfect for brunch.
The patio space might be small, but it's cute and welcoming, with a small garden and twinkle lights. It's a great place to enjoy a (non-alcoholic) Jamaican Hibiscus Punch!
If the idea of a plant-based menu makes you nervous,  don't worry. VegeNation's menu has something for everyone. You won't miss the fish in the Save the Tuna roll, made with veggies and forbidden rice, and topped with  a dollop of sweet potato puree. Do yourself a favor and order more than one if you are with a group, you aren't going to want to share. (The Buffalo Cauliflower is also a great appetizer option!)
They often offer special pop-up menus, so be sure to ask your sever, or follow them on Facebook or Instagram to stay in the know. If you are new to plant based foods, I would suggest going with something familiar, like the Daniel Negreanu meatball hoagie, or The VegeNation Burger, black bean and oat based, with flavors of miso and herbed nuts, topped with a crunchy kale and cabbage blend, and served with potato wedges and their house-made ketchup. (Make sure to save room for some Chocolate Tacos or a Brownie Sundae for dessert!)
Whether you are visiting Las Vegas, or a local, you can place your bets on VegeNation for a meal you can feel good about eating. Creative flavors, awesome people, and a cool community-vibe. Kale yes!