In March of this year, I went on an incredible trip to Peru and Brazil! I had the opportunity to see fantastic sites, try all different types of food and meet my Peruvian side of the family for the first time. If you feel inspired to go to Peru, you might want to also check out these tours of peru here. You might be pleasantly surprised by what you find.

During my trip to Lima, I was able to try out Maido Mitsuharu – Experencia Nikkei in Miraflores which is an area of Lima. Lima-born Chef Mitsuharu Tsumura is known for his modern takes on Nikkei cuisine. His goal is to create dishes that combine both Peruvian and Japanese cultures. Maido made The World's 50 Best Restaurants 2016 with the 13th spot. And they just announced that they moved up to 8th place in 2017!
Maido
Calle San Martin 399, Miraflores 15074, Peru
http://www.maido.pe/en/

For less than $140 without a wine pairing, you get a 13-course meal of a lifetime. I have never spent that much on myself for a meal, but I was on vacation, I was in PERU, which is dominating the culinary game and I was ready for a new experience.
The 13 course called 200 miles, takes you through a fusion of Peruvian and Japanese Cuisine while appreciating different elements, flavors, and ecosystems. What's great about Maido is that they change their menu, and give you a brochure, so you remember everything you ate. Trust me; you will be in such awe with the presentation you might forget every detail that was made for each dish.
About 90% of the dishes included seafood of some sort. So if you're allergic, I don't suggest going here. They do have a vegetarian menu, but honestly, the fish is incredible, and I can't imagine any of these dishes without it. Below is each dish I tried:
Snacks

Onion terrine, sole tartare, smoked silverside fish, masago.

Sushi rice cracker, avocado, trout belly, ponzu gel.

Black rice cracker, olive tofu, octopus, pachikay, ginger sauce.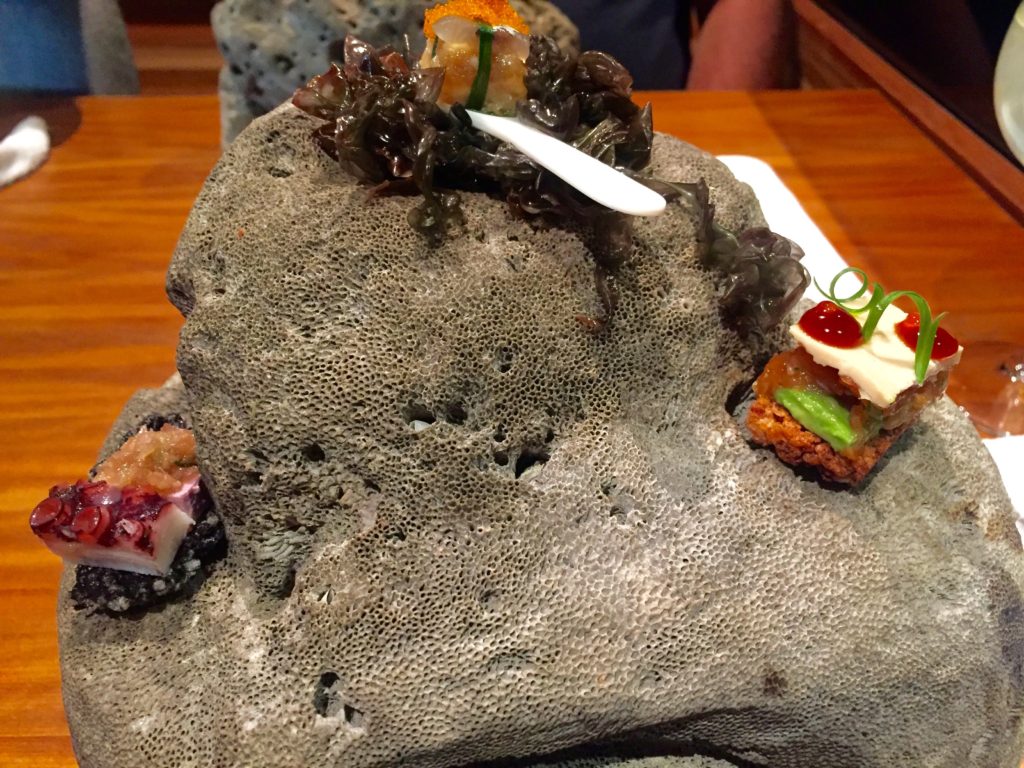 Check out this rock! I have never had food served on a rock like that. This set the tone.
Poda Cebiche

Sarandaja cream, mackerel, shallots, limo pepper, chulpi corn nikkei leche de tigre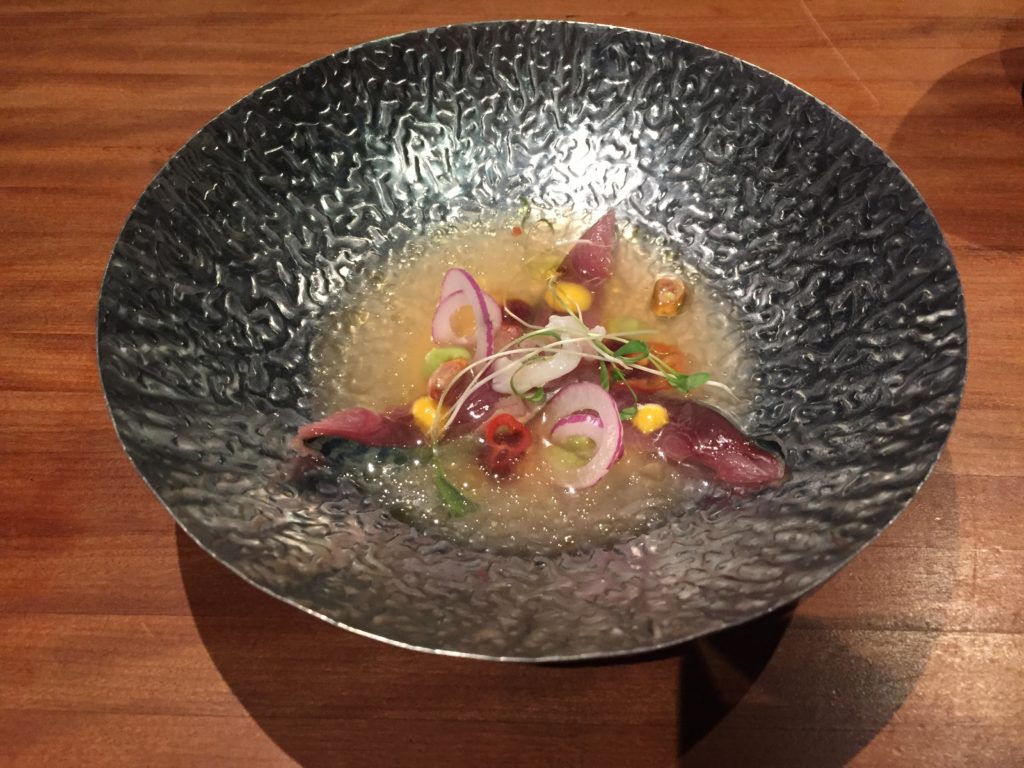 This was my second favorite dish. Very tangy, but the mackerel was perfection. The plate was so vibrant.
Dim Sum

Squid and snail cau cau, caotillo cream, crispy white quinoa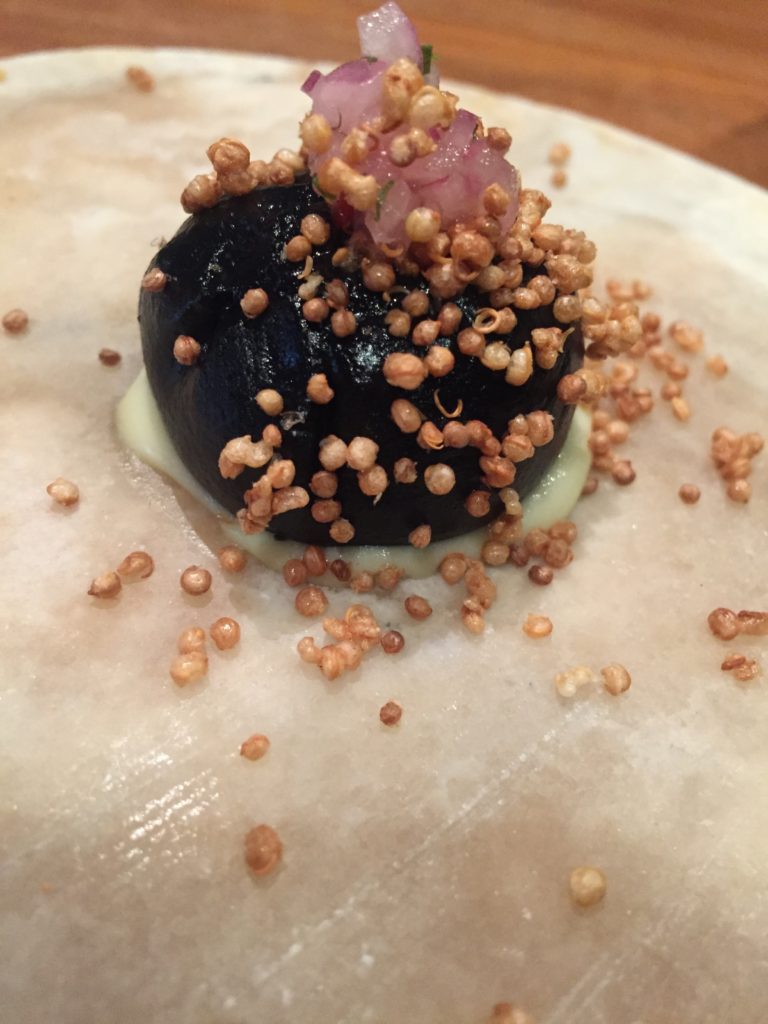 The quinoa was my favorite part.
Choripan

Steamed bread fish, and octopus sausage, pickled vegetables, Japanese mustard, native potatoes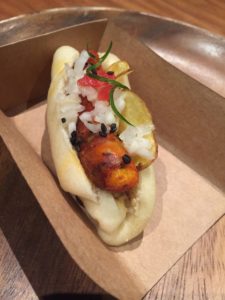 When this dish came out I instantly thought "fancy hot dog, " but it sure was the best hot dog I've ever had.
Nigiris – Catch of the day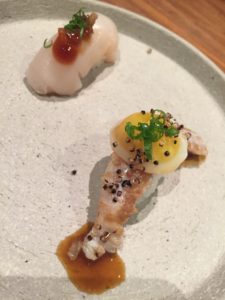 Talk about melt in your mouth fish. Phenomenal.
Lapas Cebiche

Chullpi corn, lapas, avocado, aji amarillo leche de tigre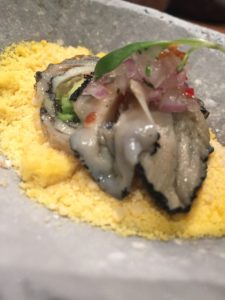 This dish was nitro frozen, and you ate it with a wooden spoon, very cold but really cool!
Gindara Misoyaki

Cod marinated in miso, crispy Bahuja nuts, apple gel, Porcon mushroom powder.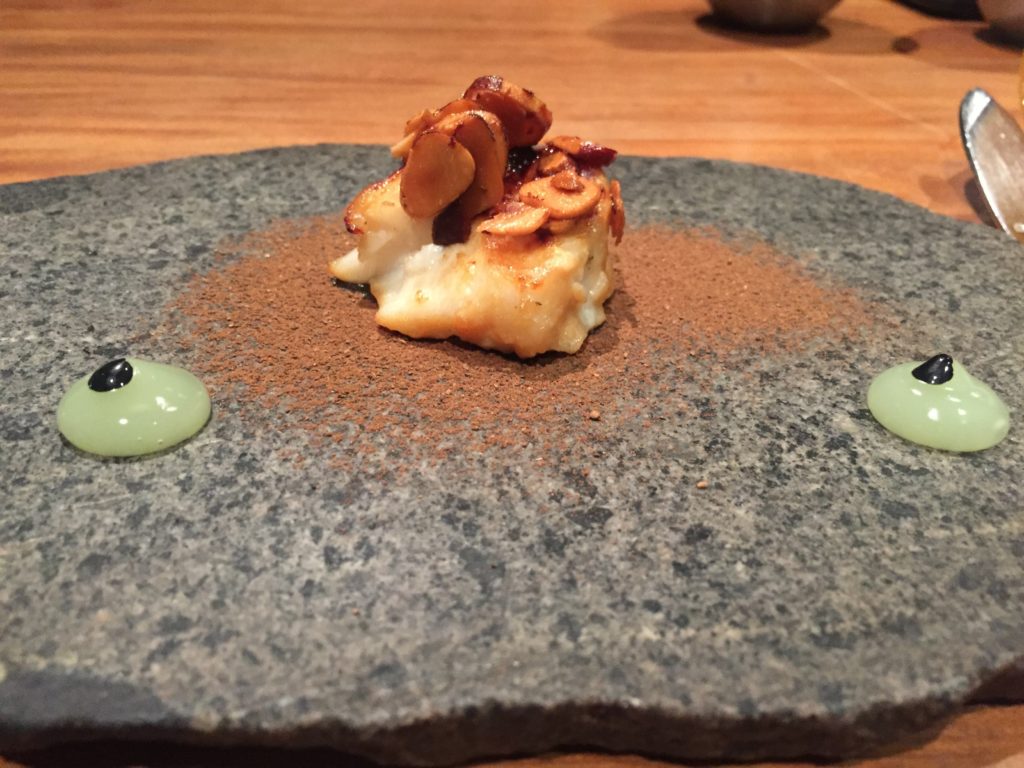 This was probably my least favorite dish. It was very nutty, and the green apple gel was potent and sour however it was beautifully put together.
Catacos de Camarones

Green rice tamale, sautéed river prawns, creole sauce, cheap reduction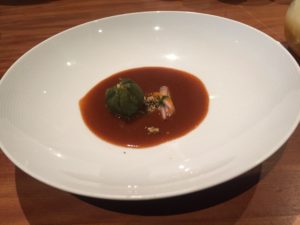 Very savory, and it did taste like a tamale. The creole sauce was the perfect addition.
Cassava Soba

Cassava soba, tenkatsu, vongole dashi.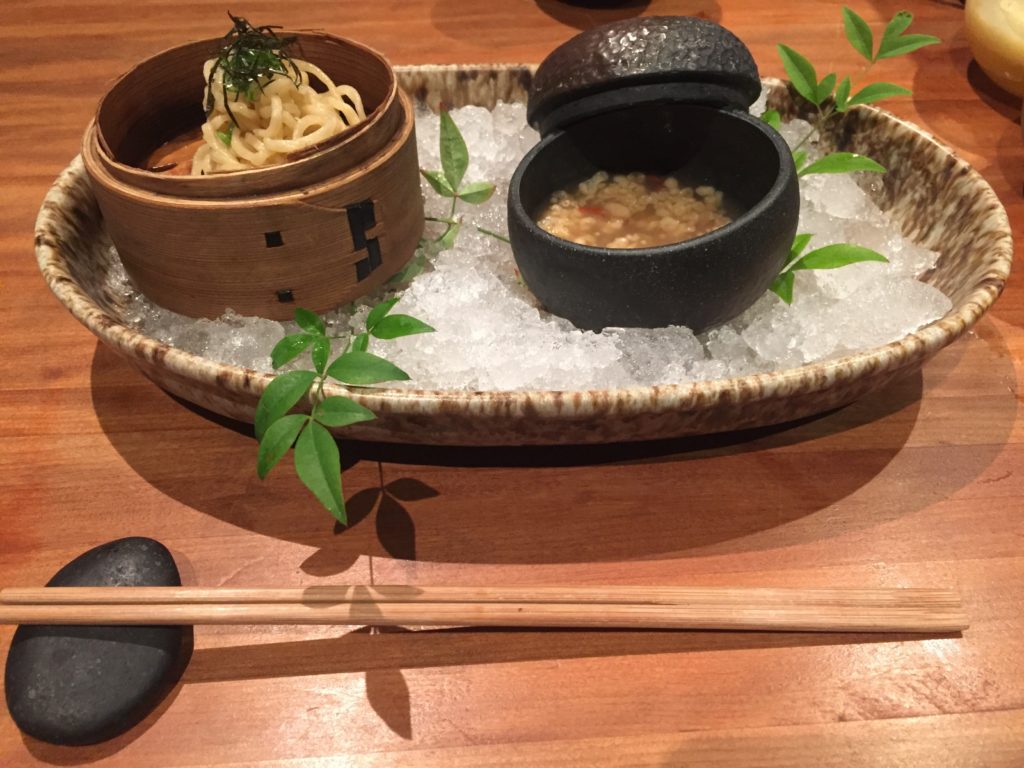 Cassava noodles are delicious; I want to have them for breakfast, lunch, and dinner. The dashi is very tart, don't dunk all your noodles in it.
Sudado

Catch of the day, sudado reduction, seaweed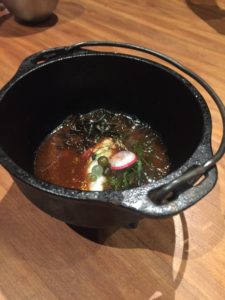 This stone hot dish continues to sizzle as you eat, it's warm and hearty. Perfect for eating a cold noodle dish.
Sea Urchin Rice

Chiclayo rice, Atico sea urchins, avocado cream, wan yi, baby corn.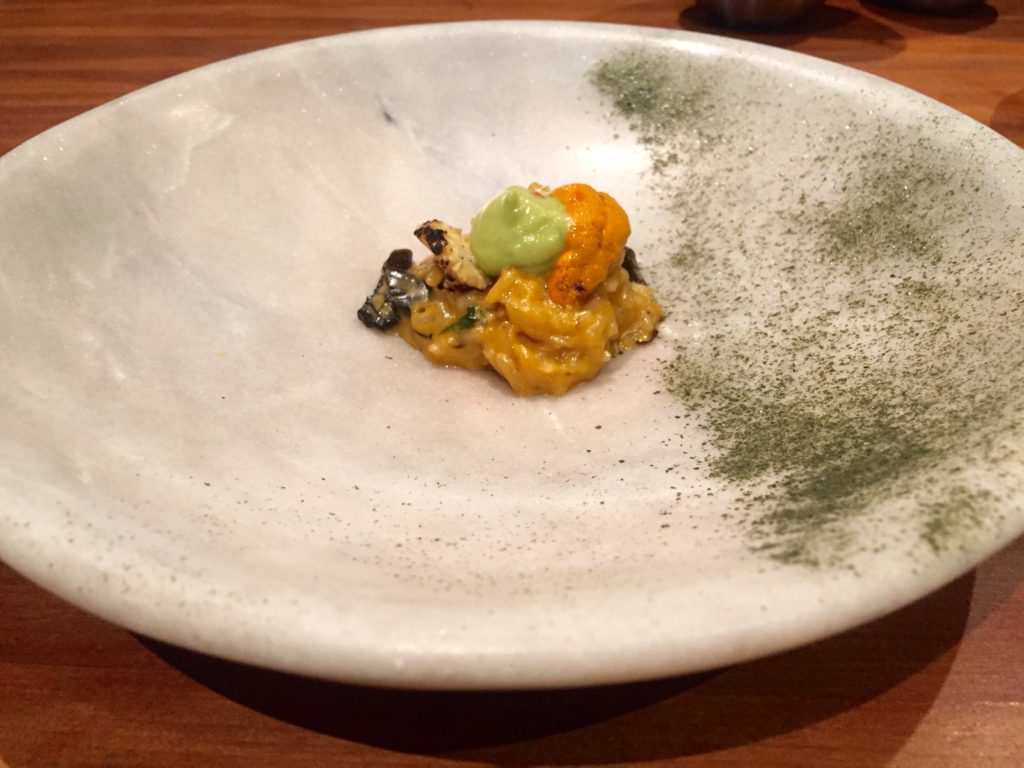 And this …. takes the cake for the BEST DISH. It's so creamy, rich and almost taste like a cheesy risotto. I could eat a giant bowl of it. More sea urchin rice, please!!
Reef

Tofu cheesecake ice cream, bread, sand, sweet potato, apple with wake camu camu, taperiba and burgundy grape tapiocas, soy milk.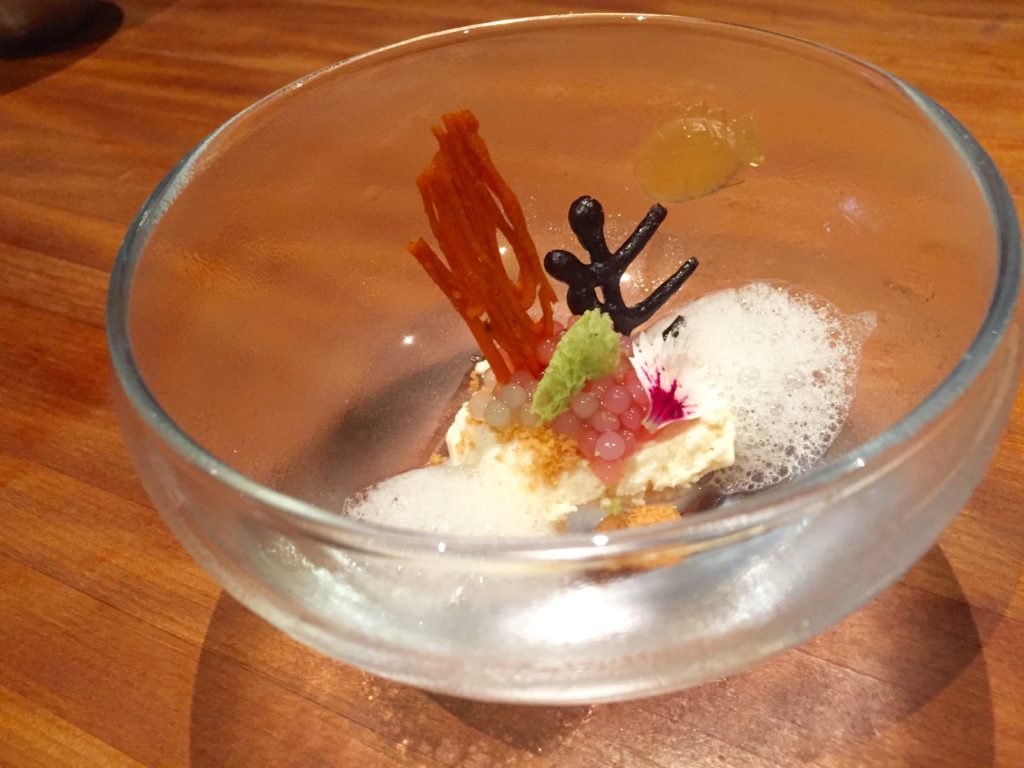 All of this goodness in this dish right here. There was even a lil' jelly fishy hanging out in my bowl. It was so nicely put together, and who would've thought tofu cheesecake ice cream would taste so good? Very satisfied.
Mussel

Granadilla with mandarin sorbet, mucilage foam, cacao nibs, lucuma ice cream, raspberries.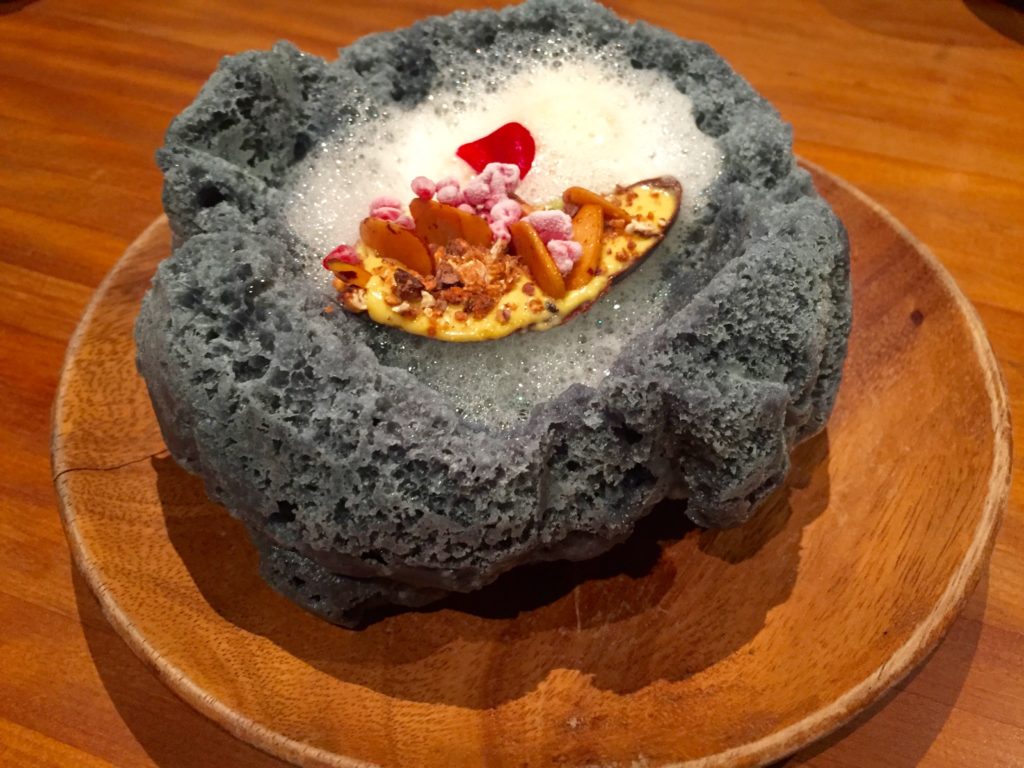 A rock made out of sugar. Beautiful. The raspberries were tart and nitro frozen and it was the perfect topping. Locuma ice cream is so rich and creamy, it's a signature fruit in Peru. I kept scraping the bottom of the rock dish, it was the perfect ending to the the 200 Miles Nikkei Experience.
I do want to mention that even though I didn't do the wine pairing, I had a delicious pineapple chilcano (left) and maracuja blended pisco sour made with passion fruit (right).
The incredibly friendly staff cared about cleanliness and encouraged you to eat with your hands for some of the dishes. They brought you hot towels, they gave you your time with each dish and didn't rush you.
At the end of the 13 courses, you will get full. However, I made sure I had a "snack" two hours before at the sangucheria which ended in a full blown pork belly sandwich and a couple of bites from a tamale.
Maido was so fun. They don't have a dress code, meaning they don't expect you to wear an outfit for an award show. I simply wore jean shorts and a cute button up. It's HOT in Peru; I don't think they want you to suffer either.
Make sure to reserve your spot at least a month before your trip. My experience was at 2 pm, so if you're expecting dinner, you might want to book even earlier.
Peru is a breathtaking country. I didn't get to see all of it, but within Lima is an amazing time. I stayed in Miraflores and had the best time ever…until I got dehydrated and sick! So drink lots of BOTTLED water when you go there, even if you think you're drinking a lot, you're not. Pisco sours will dehydrate you and have insane amounts of sugar. Walk around with an IV if you can. But seriously, if you every get the chance to go to Peru, do it. You can try some of the worlds best restaurants and also experience the local Peruvian food joints that are comforting and untouchable.