I always feel my best when I'm following a pescatarian diet. I may post the best burgers in town, but in my off time, I try to limit my proteins to ocean and plant based ones. When I was invited to taste items from the Hermosa Beach Fish Shop menu I was relieved, cause after so many meat-packed tastings, I was excited to try some lighter bites.
Hermosa Beach Fish Shop 
719 Pier Ave, Hermosa Beach, CA 90254
http://thefishshophermosabeach.com
Right when you walk in, the atmosphere is very SoCal- casual and beachy. There's also a huge menu to guide you through how their counter service works.
1.) Pick a Fish – I chose Sea Bass 
2.) Pick a Marinade – I chose Fish Shop Seasoning
3.) Pick a Style – I chose Plate, your choice of 8 oz fish grilled served with your choice of 2 sides. For my side, I went with 2 portions of Seaweed Salad. Make fun of me all you want, but wakame is packed with nutrients.
And since I went so healthy on the sides, I decided to live it up with an extra taco and I doubled on wine. But more on that in a moment…
The Fish Shop Seasoning was the perfect choice for the tender, flakey, 8 oz seabass. This house-made Cajun rub is a little sweet from brown sugar and a little spicy from cayenne and red pepper. For a lighter meal, all the flavors worked perfectly together and it hit the spot.
The TKO Taco is a customer favorite. This fish taco comes with your choice of flour or corn (I went with corn as you can see) tortilla, grilled and Fish Shop Seasoning marinated mahi mahi, topped with shredded cabbage, shredded cheese, tropical salsa and a cilantro sauce. For lovers of sweet and savory together, this taco is a must!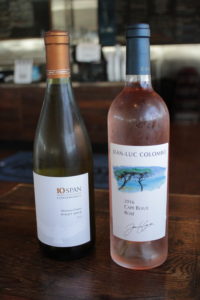 Majority of fast-casual spots aren't known for plentiful options with beer and wine but Hermosa Beach has a decent amount of both. For beer, they offer domestic and Mexican drafts as well as rotating craft beers. Since lighter wines are my jam, that's what I chose.
I lucked out and arrived in time for Happy Hour for $4 wines (South Bay winos, rejoice!) The wine program here is less expensive than most LA restaurants and well-thought out, since all of the selections pair well with seafood. I started with the 10 Span Vineyards Pinot Gris, a mildly fruity (notes of cantaloupe and apple) and light creamy finish.
Then I moved onto the Jean-Luc Colombo Cape Bleue Rosè. When it comes to rosè, the lighter the pink, the better (for me!) This is a delicate rosè with berry and floral notes. This actually paired perfectly with the TKO Taco, since it has a sweet flavor pop.
Other options for wine include 10 Span Vineyards Chardonnay, Chloe Pinot Grigio and 13 Celsius Sauvignon Blanc.
Hermosa Beach Fish Shop a solid amount of weekday specials including:
Happy Hour – Weekdays 3 pm – 6 pm – Food & drink specials, excludes Thursdays, cause they offer…
Oyster Night Thursdays – $1 oysters starting at 4 PM, with $4.50 pints and $14 pitchers
Wine Down Wednesday – Half price bottles of wine, no corkage fee and $1 off glasses
Kids Eat Free Tuesdays – Purchase one regular meal and receive a kids' meal free
For seafood that's healthy and fast Hermosa Beach Fish Shop offers plenty of delicious options.  I cannot wait to come back for the Wine Down Wednesday!