Mi'hito Sushi Laboratory
285 College St, Toronto, ON M5T 1S2
https://mihito.ca/
https://www.instagram.com/mihitosushi/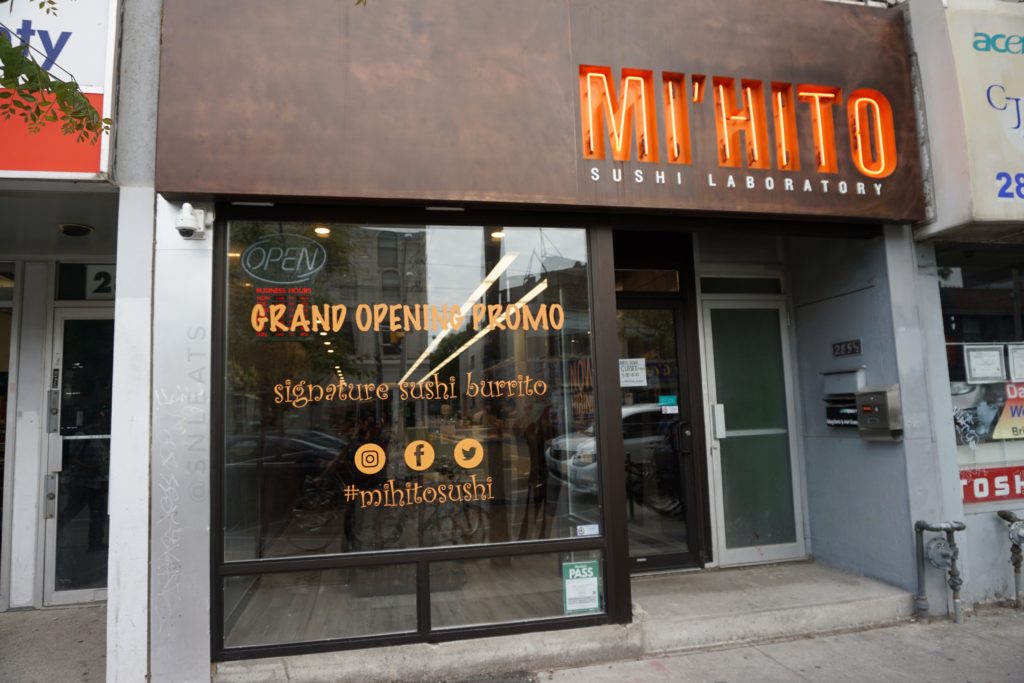 Welcome Mi'hito Sushi Laboratory to downtown Toronto! I was given the privilege to attend a media event hosted by DKLO Events to explore this new sushi joint and all their offerings. Mi'hito opened up their first location in Mississauga (right next to Toronto) and were the first to bring the sushi burrito craze to the GTA (Greater Toronto Area)! I have actually dropped by this downtown location during their opening week and had the chance to try a few of their varieties but this event allowed me to try more.
This post will highlight the dishes/items that I have had the opportunity to sample during the event (so many options!) and wish I could have some more of!
SUSHI TACOS
SUSHI + TACO = AMAZING. As you can tell from above, if you aren't a fan of raw sushi items they do offer varieties with other cooked proteins! Definitely has something for everyone to enjoy. I got to try the top two, the spicy salmon and the unagi (you'll notice a trend in this post). Both tacos (during the event and even during my visit prior to the event) had plenty of protein that this one taco is perfect size for a snack if you were to be walking by the restaurant. The spicy salmon had the perfect amount of spicy sauce without being overpowering and the salmon was very fresh. While the unagi has just the right amount of unagi sauce while the actual eel is cooked perfectly and had enough for each bite.
SUSHI NACHOS
Man oh man, this was definitely something that I would have never thought of! Not only is it your traditional nachos (with melted cheese, tomato, advocate, jalapeno etc) but it is also topped off with the various proteins that they offer (including, spicy salmon, lobster, unagi etc). I chose the sampler of the spicy salmon and it exceeded my expectations! The sauces they use is just enough and adding the melted cheese with the fresh ingredients just rounds it all out so perfectly.
SUSHI BURRITO
Their sushi burritos come in the most unique of combinations. They have burritos that contain your classic salmon and tuna but there is also burritos that have smoked duck and lobster! Love, love, love this Unagi Dance! So much unagi and arugula (which I love!) that the pepperiness of the arugula complemented the sweet taste of the unagi with the dressing. The burrito is so packed with fresh ingredients that just having one half was super filling and I managed to save the other half for a late night snack.
I highly recommend this spot for fresh ingredients, value for the buck and also easy on the wallet! Next time I have a hankering for sushi type items, I will definitely swing by Mi'hito to grab a taco or two.