When you've got a hankering for rooftop fabulousness and world class bites; get in your car and head over to The London. Do not pass go or collect $200. Valet park, get in the elevator and push the button for the rooftop bar, Boxwood. 
Boxwood on the Roof
1020N. San Vincente Blvd, West Hollywood, CA 90069
http://www.thelondonwesthollywood.com/
Even though my recent dinner at Boxwood on the Roof was haunted by fog that would not burn off, I was kept warm and cozy by heat lamps and the incredible company of my fellow diners. I can only imagine how gorgeous it would be on a clear night! Executive Chef Anthony Keene sent us a number of tasty morsels from his new menu that is largely New American with some fun street food inspiration.
The cocktail list is inspired by English rockers such as The Who. Their coordinating cocktail, "Behind Blue Eyes", a concoction of fresh blueberry, mint, lime, and vodka. My favorite was the unlikely "Rebel Rebel," a margarita with a float of Pinot Noir wine on top.
For starters, we tried street food inspired options: Shaken Fruits and Tacos. The shaken fruit was inspired by fruit carts and topped with a similar lime juice and chili salt seasoning. I liked the fresh and light option of the fruit. This would be even better on a hot summer day! The tacos were made with oxtail barbacoa and cotija, served with a side of lime and salsas. They did justice to their street food relatives. 
Then came another of my favorite foods…Burrata Cheese served with grilled peaches, tomato, radish, and seasoned with za'atar. Za'atar is a Middle Eastern spice mix that commonly contains oregano, thyme, and savory. I love burrata and this dish is another hot summer day pick!
The next dish we tried was the Glazed Lamb Ribs which were very tasty. Grab a napkin and sink your teeth into these. Next up was the Crab Toast. Small but crab with green papaya. I would easily order this little morsel again…and again!  The Roasted Spring Beets with goat cheese fritters and yogurt dressing were a noteable bite.
For my main course I had the Salmon, which was cooked to perfection and served with a tangy Meyer lemon puree, picholine olives, and Ras el hanout; a North African spice mix. This dish is something I would eat every day if I could, light but flavorful!
After the salmon, I tried the Pork Porterhouse. It was thick cut pork chop topped with whole grain mustard sauce and a crispy big ear salad. The pork was juicy and perfectly cooked, but the mustard sauce was a tad salty for my tastes.
I was almost stuffed to the gills at this point, but dessert was on the horizon! You must try the Mille Crepes, a hundred layer crepe cake with strawberries and cream. This dish was both delicate and decadent, easily a new favorite dessert!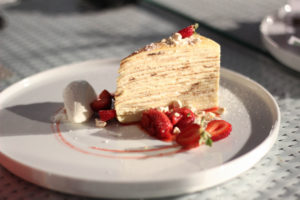 I also tried the Cherry Tart with piloncillo sugar and Mexican vanilla bean ice cream. My other favorite was the pudding. The English-inspired pudding was a Sticky Toffee Pudding served with a side of stout ale ice cream. The flavors in this were the perfect marriage of spicy and sweet. Last up were the Lemon Meringue Eclairs: a zesty and sweet confection that the lemon lovers will adore.
Boxwood is open seven days a week and offers fun specials such as Tuesday "rosé all Day" where you can receive a glass of rosé for tagging the London on social media and Sunday jazz brunch on the rooftop. The hotel does offer valet parking which I recommend as the surrounding neighborhood has a lot of restricted parking.