As your editor-in-chief, I have a new goal here at Girls on Food: I want to make steakhouses and haute cuisine well… hot again.
I'm not saying steakhouses and other fine dining establishments suddenly became passé, but my Instagram feed is inundated with rainbow/freak/junk foods and I'm just over it.
I believe the reason these foods are so popular on social media is because they're cheap and easy to obtain. They photograph well with their bright colors and craziness. An influencer can budget out their Instagram shoots easily. I get it. I respect it, I just want to deliver our readers a different perspective.
But while I set the bar a little higher for myself and continue to grow my palate more into the world of finer dining, I promise to not get too bourgeois on anyone. I will never forget my McDonald's roots. And don't worry, we'll maintain plenty of comfort food content here at Girls on Food. (holla at Fatboi Tendencies)
I had just gotten out of a foodie event (I wouldn't dare say which one) with a lack of fantastic bites. I decided I just wanted a steak and glass of red wine. So I went to Alexander's Steakhouse in Pasadena on total whim and my evening was redeemed times infinity.
Alexander's Steakhouse
111 North Los Robles Ave, Pasadena, CA 91101
http://alexanderssteakhouse.com
The Alexander's Steakhouse mini-chain has locations in Pasadena, Cupertino, San Francisco and Tokyo, with Patisseries in Cupertino and Mountain View; they also own By The Sea in Palo Alto. Alexander's Steakhouse serves classic American steakhouse cuisine with a Japanese influence. The San Francisco location was at one time a Michelin-starred location, but has lost the star since. (inspectors, get back in there!)
The Pasadena location is a posh, dimly lit spot, tough on me as a blogger for photos (I did my best here at the last minute!), but fantastic for a date night. Right when I walked in, the service was very attentive and precise, without a stuck up attitude.
I wanted to go all out and try The Chef's Table Experience ($200 per person), a custom tasting menu, but that is quite the endeavor as it's intended for a party of four guests. This option requires a reservation (by phone or in person) in advance. Sure, it would've been fun to have Executive Chef Matt Bata all to myself, but the Chef's Tasting ($175 with an optional $75 wine pairing) was the next best available option and I was so happy I went with this 8 course tasting.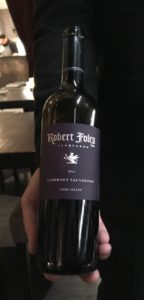 I opted to not sip the night away with the wine pairing, since I drove out from Culver City. But next time, I'm taking an Uber out to be safe! I had a glass of Robert Foley Vineyards Cabernet Sauvignon, 2011. Perhaps not the perfect pairing with seafood and lighter courses, but boy was it beautiful once the steak came out.
Editor's note – the Chef's Tasting menu could have slightly changed with the season, but they told me it doesn't change up that much. So if you're reading months later, the menu may have altered.
First Course: This was one of the pride and joy items at Alexander's, the Hamachi Shots. The shot glasses are filled with hamachi, dashi, avocado, fresno chilies, ponzu sauce, negi and arare. It's a little more filling than just a shot, so don't be ashamed to use a utensil for assistance. I love the crunchiness from the toppings with the saltiness of the sauce.
Second Course: The Dry-Aged Tataki isn't the traditional medium rare tuna steak, this is medium rare steak with a lovely sweet but savory ponzu sauce topped with crispy yuba (tofu skin) and a light wasabi mustard.
Third Course: It may be a little hot for a chowder-like soup in the summer but the Potato Leek Soup comes at a perfect time, cause it breaks up the Japanese influence for just a moment with an item that feels more like a soup at a traditional American steakhouse.
Fourth Course: The Pea & Potato dish is like a hearty salad. The peas, pea shoots, potato and bean sprouts are dressed with a light nettle cream. The nettle cream adds a spinach-meets-artichoke flavor to it.
The Bread Service is served a little bit later into the courses, but it is worth the wait! The batch includes Squid Ink Baguettes, Manchego Cheese Rolls and Japanese Milk Rolls. It's tough to not gorge on all this bread, but I did my best to contain myself.
The spreads are all creamy but each bring something different to the table. The Strauss Organic Butter is a classic butter, there's a little Rendered Beef Fat but the star is the Honey Butter Served in a Bone.
Fifth Course: This is my first time dabbling into Chawanmushi territory. I don't consider myself a person who has had a lot of hot custard dishes, but I was in love with this one. This egg custard, made of bottarga, is topped with uni and Ossetra caviar. It's oceanic, decadent, buttery and warm. Julianne tip: I dipped my squid ink baguette for fun and realized they actually go perfectly together.
Sixth Course: I love Branzino for its mild, lightly sweet flavor. I know it's a mainstream fish common on menus in LA, but I never grow tired of it. And I love the additions of apple ponzu complete with tart sliced apples on top. I wanted a spoon to slurp up the miso juices!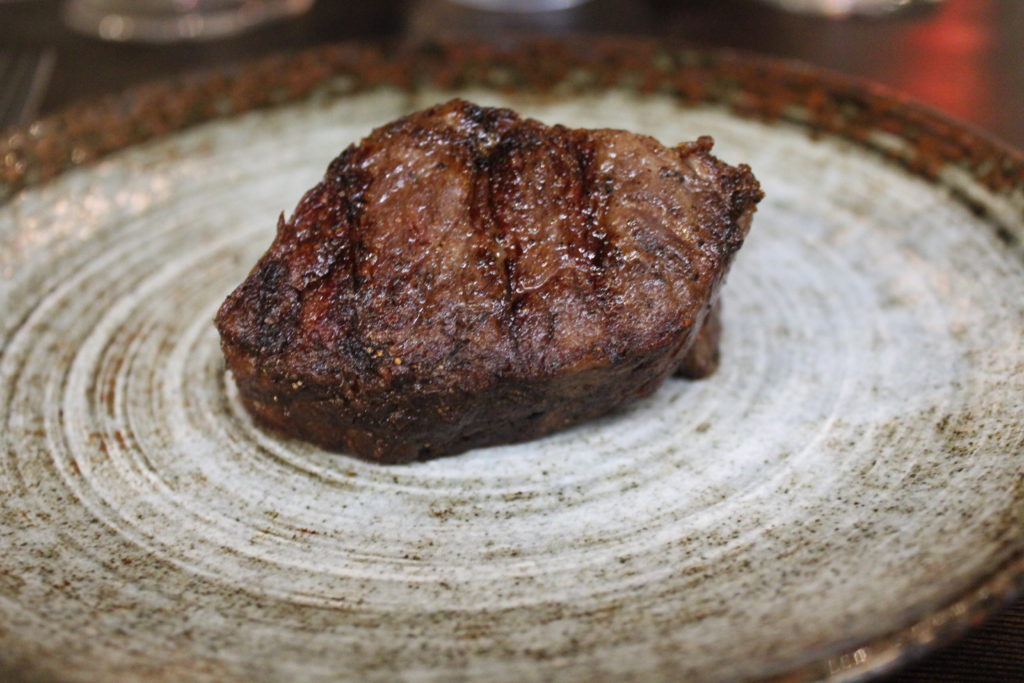 Seventh Course: Every bite of the Miyazaki Japanese A5, served with Six Salts is an absolute smooth, buttery joy. It may look a little small in the image, but even at 3 oz, it's so rich I had to take it home.
Confession time: I've been very skeptical of seeing Wagyu beef on the menu, cause I have read a lot of articles online saying it's not likely to be the real deal, but I found the source of this steak here.
When it comes to the salts, the server had me start at Brittany, then work my way up to the Kala Namak. My top salts were the Bamboo Jade, Black Truffle and the Brittany. The most unexpected is the Kala Namak, which is so sulfuric, each bite tastes like you're eating a steak with scrambled eggs. It's fun to try but the other three were still my favorites.
Dessert: To start this dessert off, you are provided with a palate cleanser (ginger and pineapple).Then you're off to tackle this decadent beast. Chocolate, a bone marrow caramel with crème fraîche, 24K gold leaf flakes and popcorn, is the most ritzy dessert I may have ever eaten.
 I was speechless as I devoured it and to be honest, I'm still a little speechless as I try to find the words to describe how delicious this dish was. The struggle is real.
After this dinner, Alexander's Steakhouse is a new favorite of mine. I am excited to see they're participating in this summer's Dine L.A.
Nothing tops the appeal of a classic steakhouse to me and Instagramers, you can't do anything to change that.