If there is one thing you all know about me by now, it is that I love tacos, and luckily here in San Diego, the next taco is never very far away. It can almost be overwhelming, how do you choose?!? I have had my eye on one place in particular for quite some time though, and that is The Taco Stand! They have several locations around San Diego and are slinging some authentic and truly delicious tacos, so I was super excited to finally give it a try! My friend Mary Bradlee came out to visit with her adorable baby, and since La Jolla is where she used to live, I thought a La Jolla Taco Stand day was just the thing.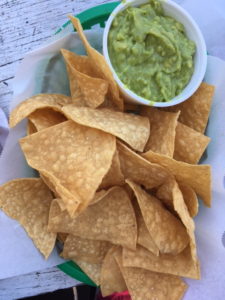 The Taco Stand 
621 Pearl St, La Jolla, CA 92037
www.letstaco.com
The Taco Stand is crazy packed at lunch time, but well worth it, and serves up all of your favorites from house made guacamole, to a perfect fish taco. We were a little overwhelmed, but started with chips and guac, of course. These chips were seriously perfect, and so was the guacamole, and trust me when I say I am usually a huge snob when it comes to both of those. Perfectly salty, crispy chips, and mild creamy guac with just a little kick, that is what I am after, and I was far from disappointed.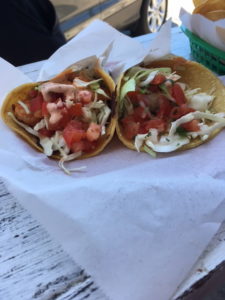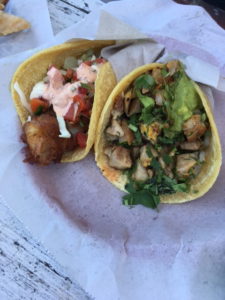 I decided to dive into three of their taco options, the Pollo Asado, the Camaron, and the Grilled Pescado. The Pollo Asado Taco served up flame grilled chicken with guacamole, salsa, cilantro, and onions and despite being simple, it was probably my favorite of the three. The Camaron was a close second, with perfectly cooked, succulent, spicy grilled shrimp, cheese, avocado, cabbage, tomato, and chipotle sauce. The Grilled Pescado started with grilled mahi-mahi and topped with cabbage, onions, tomato, avocado, and chipotle sauce. The Grilled Pescado taco had the mildest flavors and served as the best base for the salsa bar, which had a ton of offerings including pickled onions!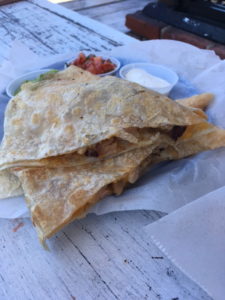 Mary Bradlee chose to go with a Pollo Asado Quesadilla and the Baja Taco, with crispy battered fish, cabbage, cilantro, tomato, onions and chipotle sauce. The quesadilla was huge and filled with chicken, and the fish in the taco looked perfectly fried, though it was eaten way too quick for me to sneak a bite!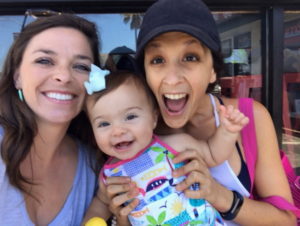 We somehow managed to control ourselves and skip the housemade churros, but I will be back for those, more of these delicious tacos, and a cold Cerveza the next time I am in the neighborhood!