The French Riviera is known for beautiful beaches, sunshine, and luxurious, over-the-top experiences. Instead of indulging at one of the well-known hot spots like Cannes, Nice, Monaco, or St. Tropez, I opt for the low-key, classic European vibe of Antibes. Antibes is located between Cannes and Nice. It's 30 minutes by car from the Nice airport and easily accessible by train.
Antibes has the beautiful beaches the French Riviera is known for and the Mediterranean's famous ultra-blue water to go with it. But, instead of Lamborghini lined streets filled with high-end boutiques and 5-star resorts, Antibes maintains the charm of an old world city.
The Old Town neighborhood of Antibes has everything I want in a French town: gorgeous old buildings, classic architecture, a renowned daily market, a fantastic weekly antiques and flea market (Thursdays!), a 14th century chateau style castle turned world class art museum (Picasso!), picture-perfect mazes of backstreets, corner cafes for sipping espressos in the morning and cocktails at night, and loads of traditional bakeries (almond croissants!).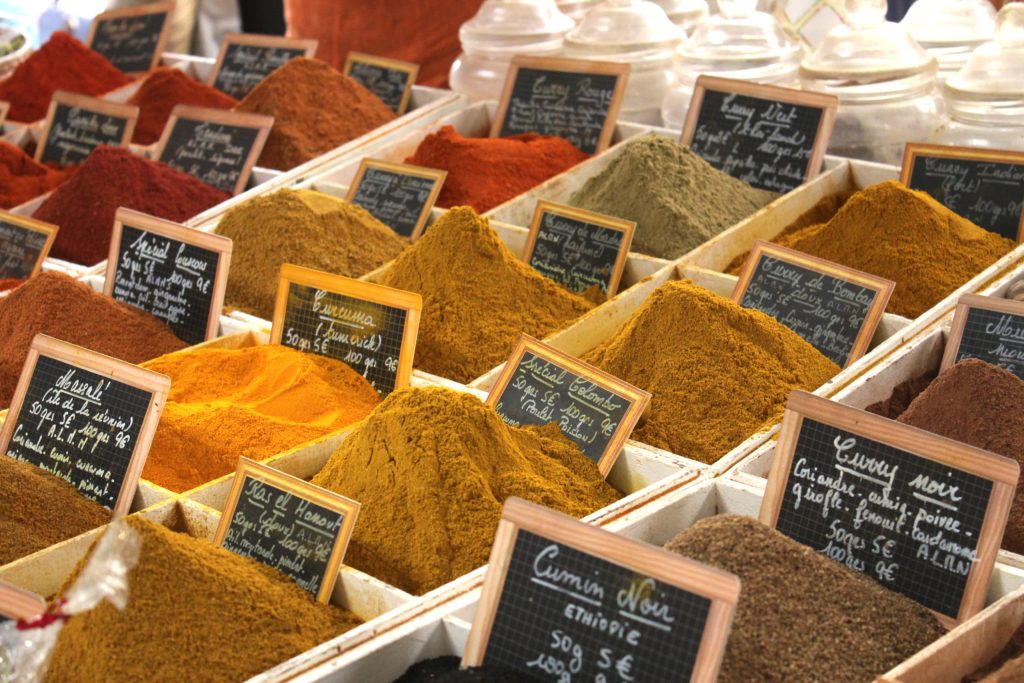 Almond croissants aside, I haven't even scratched the surface of Antibes's culinary scene! It is France after all! The Riviera's warm climate and seaside geography inform the flavorful and diverse regional cuisine full of fresh, local produce and seafood. Sure, there is amazing cheese – (Its still France!), but fewer dishes are drowned in cream or filled with pork lardons. The Riviera showcases a lighter side of French cuisine!   A culinary haven for vegetable and seafood loving foodies like me – especially when prepared with the precision and expertise of the area's best chefs!
The husband and I habitually end our trips to Europe with a few days in Antibes. After a few weeks of being on the go and exploring new cities, I'm might not be ready to go home, but I am starting to crave a hint of familiarity.  Antibes is a beautiful, relaxing, and charming final chapter to a trip. It has the perfect blend of everything we love – sunny weather, fabulous beach, cool architecture, great art, interesting history, scenic drives, and of course, amazing food.
Since Antibes has become a recurring theme in our travel repertoire, I keep my pulse on the town's restaurant and chef buzz. So when we arrived, I had two things on my culinary agenda: 1. Find the best Almond Croissant (Boulangerie Veziano) and 2. Figure out why L'Arazur is the spot on every who's-who in the food world's radar.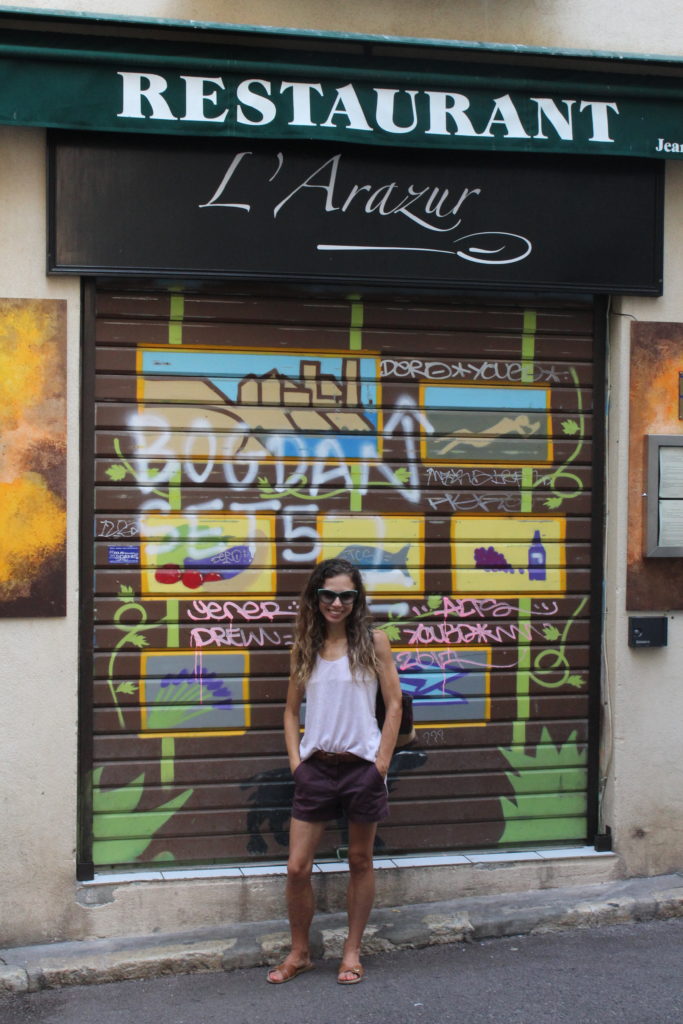 When the duo behind L'Arazur's resumes include a combined nine Michelin starred restaurants, the hype is high and the expectations are even higher. Located a hop away from the center of Old Town and by pure coincidence, a block from our AirBNB flat, I couldn't pass up the opportunity to dine at L'Arazur.
8, rue des Palmiers
06600 Antibes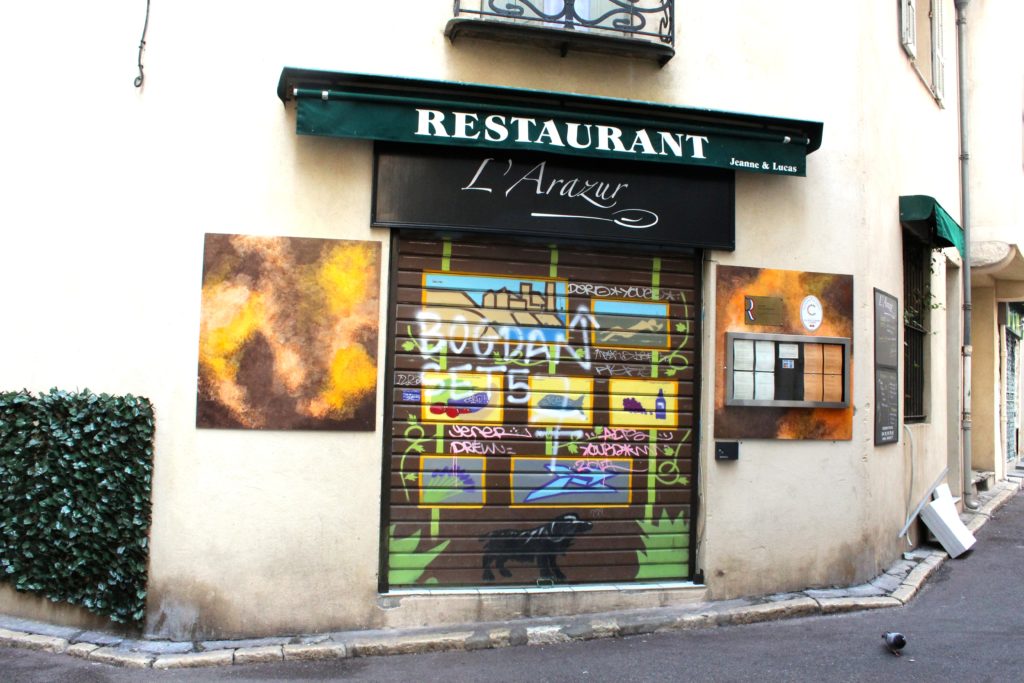 On an unassuming corner of a tiny side street, L'Arazur's location is equal parts charming and understated. The restaurant opens at seven for dinner. For most of the day, the modest signage, a glass case containing the menu and a few of the restaurant's accolades make the exterior no more remarkable than any quaint establishment in an old French alleyway. This becomes even more true when factoring in the roll down metal door covered in graffiti.
At seven o'clock, when the doors of this back-alley establishment open and the service starts, nothing about what follows is typical. The oh-so-thoughtfully planned tasting menu with a mind-blowing amuse bouche, intuitive service, and perfectly timed courses are remarkable. There is a reason its on critics' radars and rumors about a star are circling. L'Arazur's dishes are a true tour d' force.
We ordered the five-course plus dessert tasting menu. Their tasting menu has gotten lots of attention. So I went into the meal with a mixture of heightened expectations and skepticism. I was disarmed of my skepticism quickly.
L'Arazur's execution of both the food and timing is among the best, and I can't recommend their tasting menu highly enough! The menu showcases a perfect balance of lighter dishes followed by richer ones and bright acidity followed by decadence, accompanied by an almost eerily attentive level of service. Each course left me itching for the next, not out of hunger, but out of shear delight! Every plate was as tantalizing as the one before. Bites displayed a myriad of creative techniques and artistic presentation.
With a masterful blend of familiar and unfamiliar elements, L'Arazur sheds a fresh perspective on seasonal, local ingredients without alienating diners with avante garde techniques or inaccessible flavor profiles.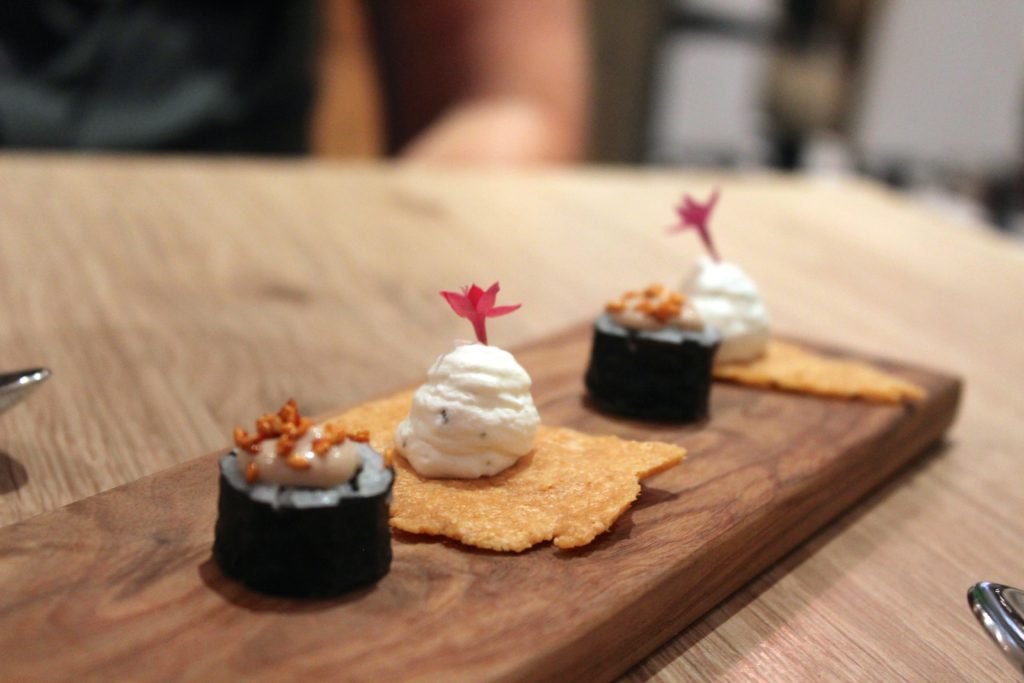 STARTER: Parmesan crisp with herb infused cream, & sushi-style cucumber roll with cashew crème. Accompanied by a not-too-sweet, bright, citrus Aperatif.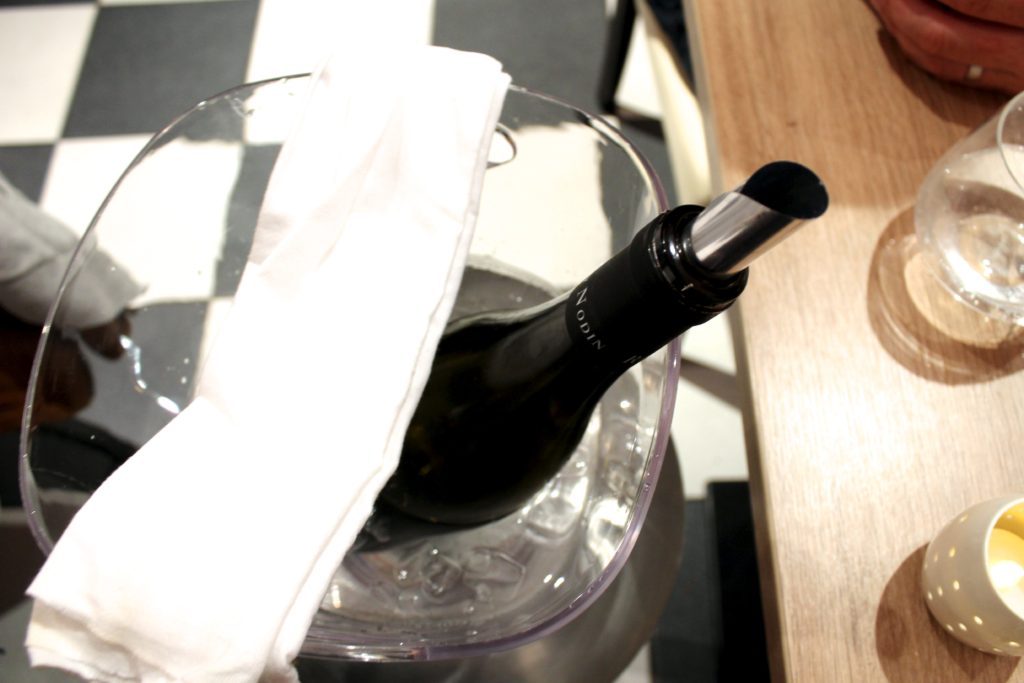 WINE: Saint Peray, La Beylesse. A mineral forward white. Recommended as a complement to the tasting menu by our server.
COURSE 1: An amuse bouche of whipped sweet potato foam & raw halibut. Served with black bread infused with orange.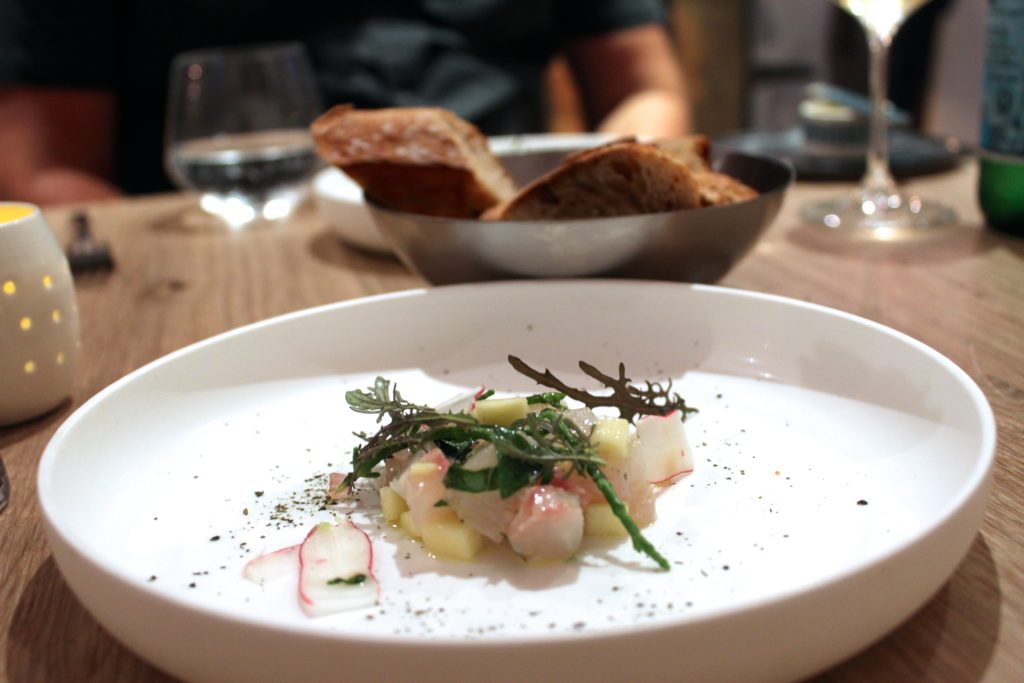 COURSE 2: Snapper Ceviche with sea beans, pineapple, & radish.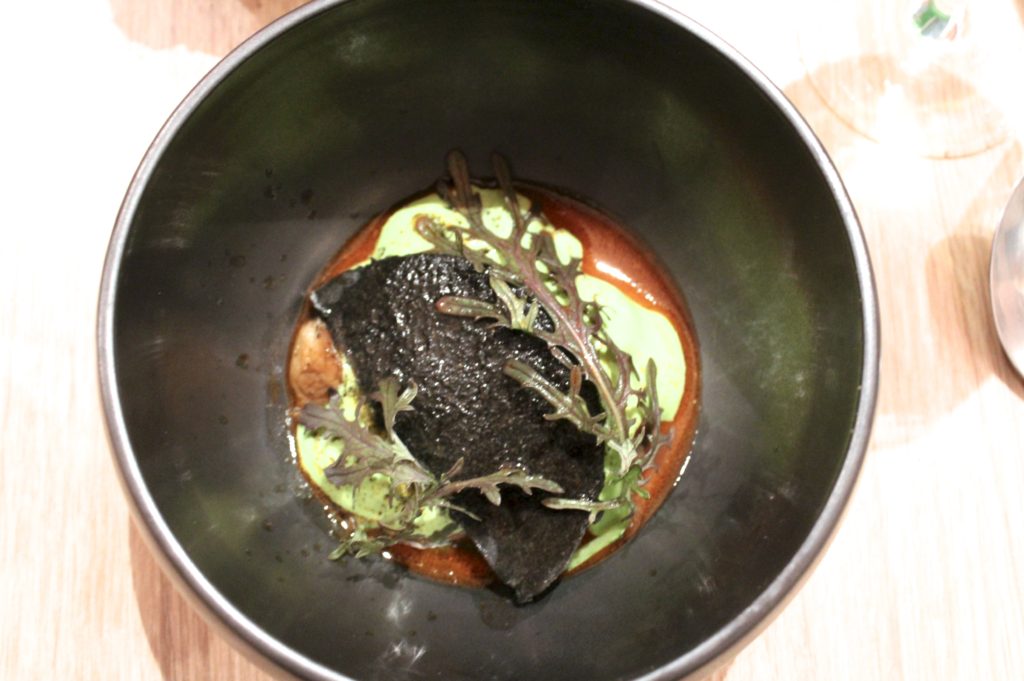 COURSE 3: Blue lobster, mushrooms, black bread crust, parsley emulsion with a rich buttery bisque.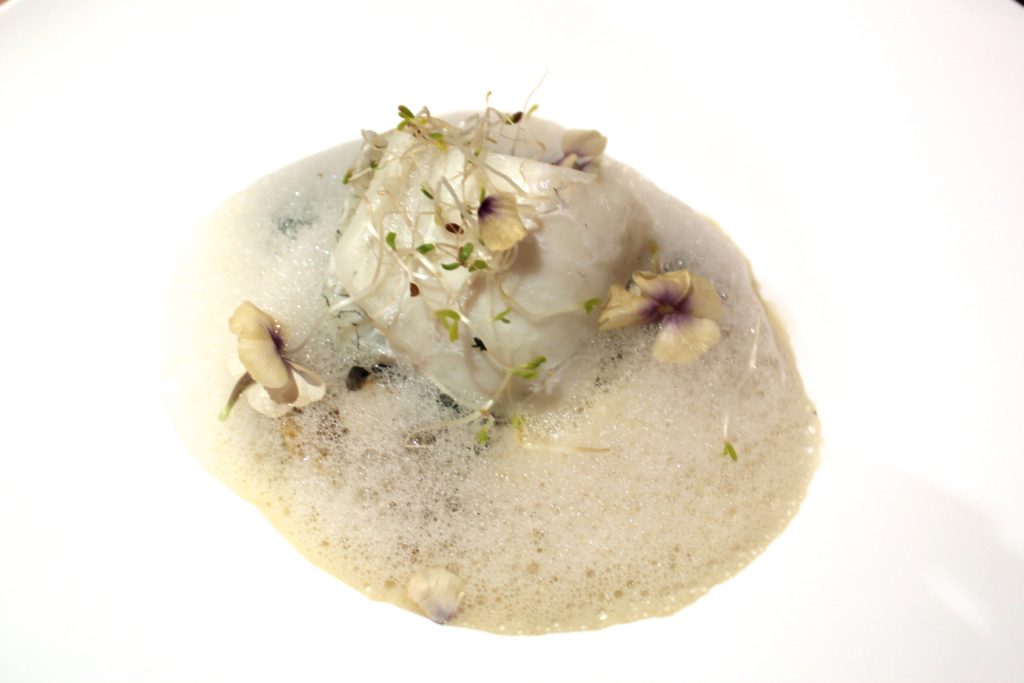 COURSE 4: Poached turbot with cockles, smoke emulsion, & chard. Served over a bed of pureed celery root with flowers.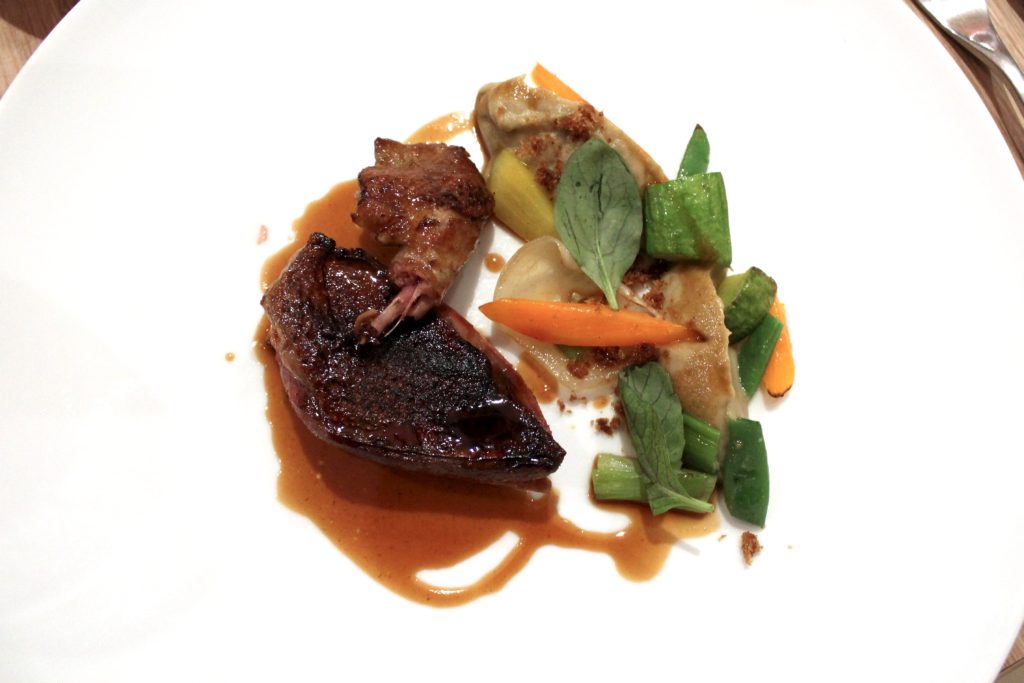 COURSE 5: Roasted pigeon with glaze, roasted vegetables, & fresh herbs.
PALATE CLEANSER: Lime sorbet with cucumber sugar.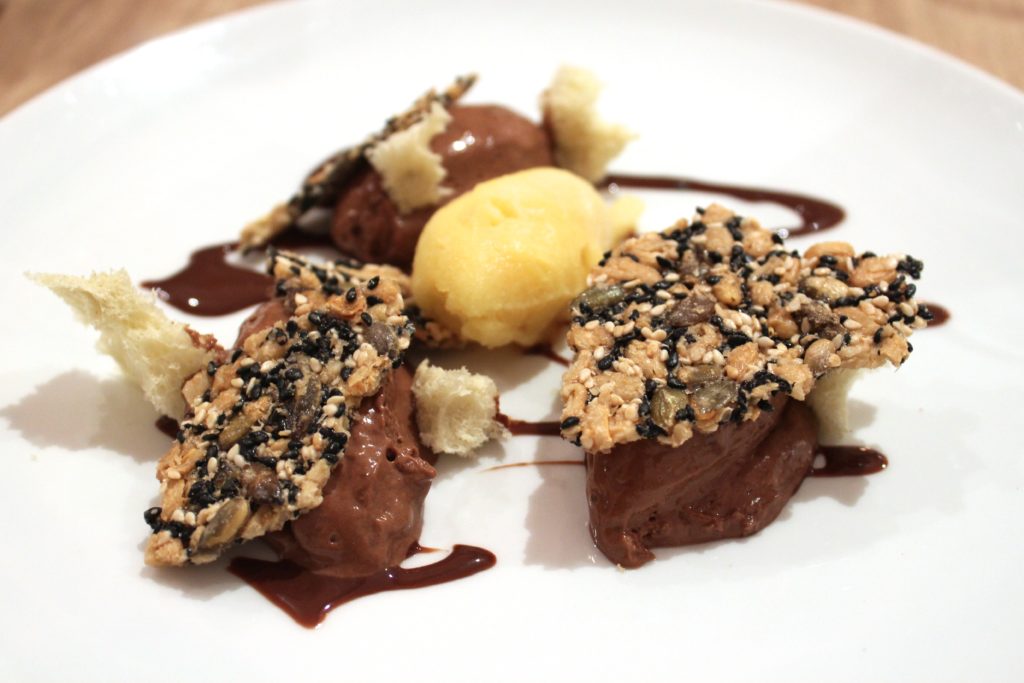 DESSERT: Chocolate Mousse with kalamansi citrus sorbet, orange blossom sponge cake, & candied seeds & grains.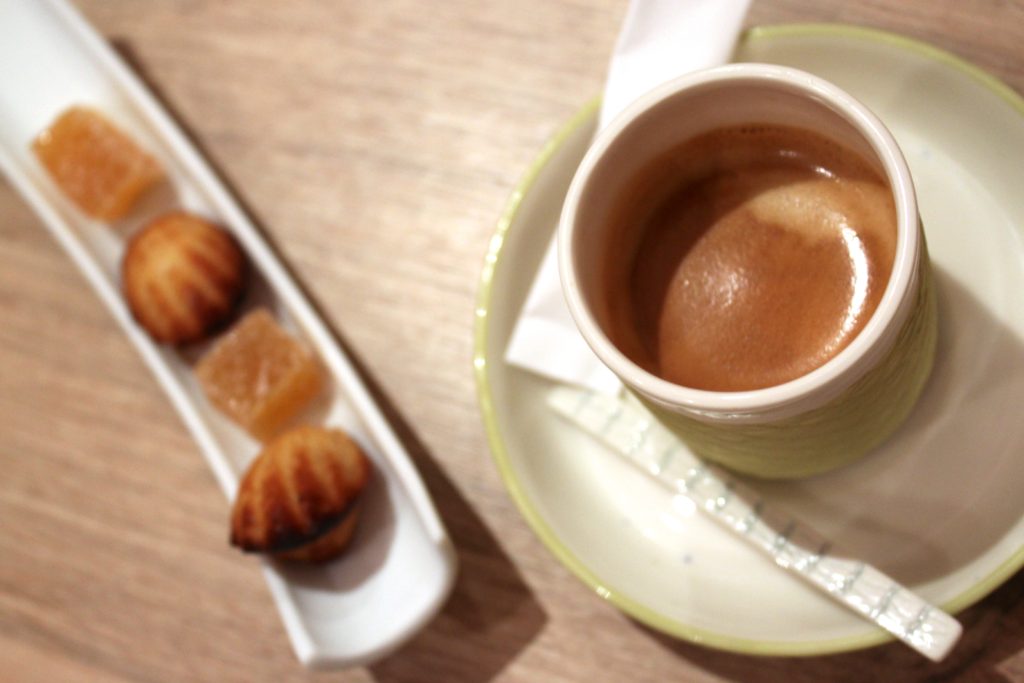 POST MEAL SWEET: Madeleines with Mirabelle Jelly Candies (and we ordered espresso).
I soaked up every morsel of L'Arazur's expertly crafted dining experience. The wine pairing was perfect. I really wanted to pick a favorite course and rave about it. But, I can't choose just one! The amuse bouche is a memorable stand-out. The turbot was so perfectly and uniquely prepared! And, the rich, flavorful complexities of the lobster were phenomenal. Their chocolate mousse ruined me for all other chocolate mousse. My chocolate loving palate wants to be mad about it but can't be.
The bottom line? L'Arazur deserves every ounce of buzz, the hype, and a star of its own. I can't wait to return.