The sixth annual Music City Food and Wine Festival came to a close Sunday, September 16th. Those who were lucky enough to score tickets to the sold-out bash had a chance to sample some of the best bites and booze from across the country. The talent roster was an assortment of celebrity chefs, TV personalities, authors and local Nashville culinary masterminds. From book signings, cocktail throwdowns, chef panels, and a concert headlined by Kings of Leon, this weekend was a celebration of all things that make Nashville "Music City."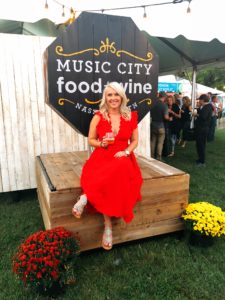 Here were some of my favorites from the weekend festivities!
What girl can resist bubbles and a perfect photo op? Ruffino brought their A game to Music City Food and Wine. Not only did they have this darling champagne cart complete with photo booth capabilities, but they greeted guests on Saturday morning with their own miniature bottle of Prosecco or sparkling rosé. You know what I say, " Rosé all day!"
Wicked Weed is one of my favorite breweries in Asheville, North Carolina. When I saw their tent on Friday night, I couldn't think of a better way to beat the heat than with their Uncle Rick's Pilsner. Given the insane temps and number of beer enthusiasts at the festival, this tent was in high demand.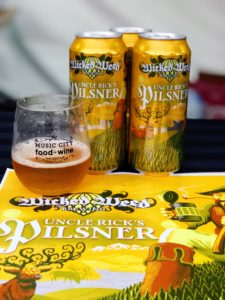 Chefs Trey Cioccia and Chad Kelly knocked it out of the park this year. I might even go as far as to say it was one of my top three food bites of the festival. Don't be fooled by the unassuming, monochromatic appearance of this bite, it was filled with flavor and the toppings packed a punch. Below you will find a Rabbit Terrine Taco topped with cabbage, onion and mustard sauce. Seriously, is your mouth watering?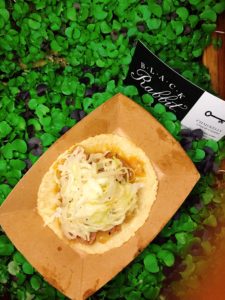 I couldn't let Music City Food and Wine Festival pass without checking out one of my favorite Nashville establishments, Nicky's Coal Fired. Not only are they making some incredible pizza and pasta, but the owners, Tony and Caroline Galzin, are two of the nicest people you will ever meet. Chef Tony served up his legendary Gnocchi Sardi with Bolognese Blanco and Porcini Breadcrumbs. Thank goodness I know Tony pretty well so there was no judgment when I went back for second and thirds… Yes, I have zero shame when it comes to his pasta.
If you are planning a trip to Nashville, this is one of my most recommended restaurants outside of City House.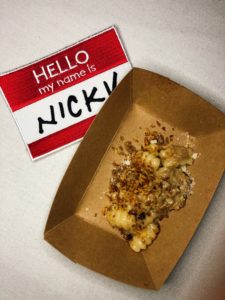 You can't officially call yourself a Southerner if you don't have an affinity for bourbon. While I had a chance to sample their full portfolio at the kick-off party, these gentlemen were serving guests Cold Fashioned, which was the BEST way to stay cool on Saturday. When there are four massive tents filled with bites and booze and you make the conscious effort to seek out the same cocktail on repeat, you know you have a winner!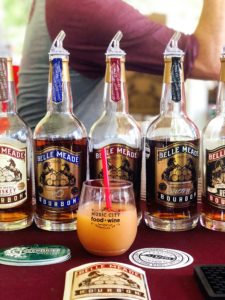 This isn't your average KFC, ladies and gentlemen. Chef BJ Lofback served one of his highly sought after dishes, Korean Fried Chicken to festival goers on Saturday. This is one of those legendary dishes that you often hear about but rarely have the chance to sample. I'm not going to lie, this dish was worth the sticky fingers.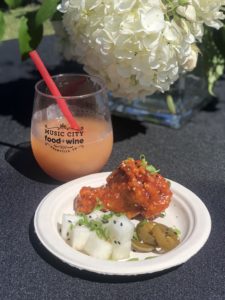 Lonesome Dove Western Bistro (Website and Instagram)
There's nothing I love more than a good stuffed pepper and when I heard that Chef Ian Shorndon from Lonesome Dove Western Bistro in Knoxville was serving up brisket stuffed chili peppers, I had to swing by and check them out. I was fortunate enough to snap a photo right after they were replenished because these guys couldn't keep up with the demand. A crowd favorite for sure!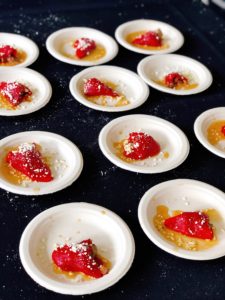 Martin's Bar-B-Que Joint + Friends (Website and Instagram)
Every year Pitmaster Pat Martin hosts an extraordinary bar-b-que inviting friends from across the country to brave the Tennessee temps and cook over the open coals for the weekend. Dishes and chefs rotate on a frequent basis, so it's worth making multiple stops. I had a chance to sneak back to the prep area and see where all the magic happened and skip the excessively long lines. It's hard to pick a favorite from this but I have to say I was at a loss for words after taking one bite of Chef Chris Shepard's concoction. Chef Shepard is the at the helm of UB Preserv, where he was awarded a James Beard award in 2014. Next time I find myself in Texas, you better believe I'll be at Underbelly!
Chef Tom Bayless, The Public House
If you have followed along on the blog or caught a glimpse of my Instagram, you know I was ecstatic when I walked into Harvest Night and saw that Chef Tom Bayless was making my all time favorite creation, The Tomato Sandwich. Yes, it may sound like a simplistic Southern dish, but I assure you it is far from that. Imagine three layers of freshly sliced tomatoes, topped with sea salt, sandwiched between a sesame seed bun slathered with charcoal mayonnaise. Is your mouth watering? I know mine is. I exercised no self-control at this tent, it was on repeat.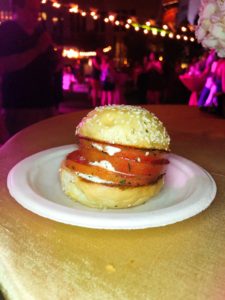 Chef Jeni Britton Bauer, Jeni's Ice Cream
I have a sweet tooth like no other. Sometimes I exercise complete restraint while other times I say screw it and enjoy all the things. It goes without saying when "Jeni's Ice Cream" is mentioned, I get a little weak in the knees. Saturday evening, Chef Jeni Britton Bauer partnered with Hi-Fi cookies and created a Sweet Corn and Blackberry Ice Cream Sandwich. You know Jeni's Ice Cream, I don't have to tell you how good it was!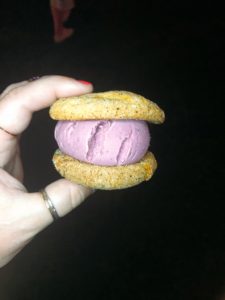 Music City Food and Wine, you are by far one of my favorite weekends in Nashville. My clothes may be a little tighter, my feet a little sore and my liver beyond repair, but you throw one heck of a party. One I will never miss!
If you are interested in attending THE festival of the year, stay tuned to the Music City Food and Wine website (click here) as they will be announcing the dates for the 2019 festival soon!