On Saturday, October 7th 2018, the 11th annual La Feria de los Moles will commence at Grand Park in DTLA. This free event is an LA classic celebrating all things mole, offering live music and mole preparation workshops. Favorite local vendors including Rinconcito Poblano, Carniceria La Flama and Zapotec Cafe will be selling their dishes starting at $10 per plate. One new addition for fans of this event is a "Passage Through the Eras of Mole" an exhibit that will detail the development of mole ingredients during "pre-Hispanic" era and the creation of mole and it's evolution into specific dishes based on environmental region during "post conquest" era.
La Feria de los Moles Co-founder Lourdes Juarez, who grew up in South Central LA, has a serious excitement for sharing this iconic Oaxacan dish with others. Growing up, Lourdes and learned how to make Mole Poblano, Green and Red Pepian from her mother and these experiences awoken that passion in her. I recently spoke with Lourdes about this event and her mole endeavors- check out my interview with her below!
GOF: Do you have a standard mole recipe that you always cook for events or do you like to mix it up? LJ: My Mole recipe is fairly standard now, but it must have been more unique before. I feel this way because I recall my mother saying "if your grandmother was alive, oh no, I would be in trouble." See the thing is that it is very hard to get Ingredients common to Mexico. It is often one or two ingredients, a small variation, that becomes the essence of each family's recipe.
GOF: How did you start up La Feria de los Moles?
LJ: My husband (co-founder Pedro Ramos) one day said "I want to honor my grand-mother." Of course she too had a special Mole recipe and I recall that moment because he tells me he saw my face shine like a light bulb in my head was shining through my eyes and skin. The dots all connected with memories of his mother's Mole, and of course with my parents each coming from Oaxaca and Puebla would tease each other about growing up with the best Mole. The difficulty at first was getting the Moles and the chefs to come from those Mexican states. It was kind of hard to find it on menus here. Now everyone from the smallest to the grandest restaurants have Mole on the menu. If Angelenos still can't find a Mole they love, they should make plans each year to taste different Moles at La Feria de Los Moles.
GOF: Can you tell me about the process of getting Mole sauce it's own national holiday in Mexico?
LJ: Oh my gosh. First we had to submit an official request. Then we wait for majority approval. It is a long extensive writing process. It's like submitting a scientific study on Mole with research and findings, etc. Its very difficult but not impossible, we are indeed excited.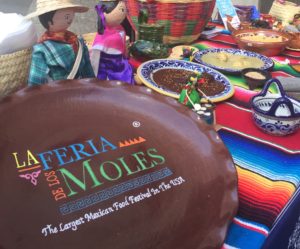 GOF: Can you tell me your top 3 spots for Mole dishes in LA?
LJ: Sorry, but no, not really. That's just too difficult a question for me because some places just use about 6 ingredients in their Mole while others are far more extravagant with over 40 ingredients and I completely appreciate any and all Moles. If someone loves, cares, and respects the history of Mexican cuisine enough to place Mole on the menu I'm going to be a fan. So I'm just going to take the easy way out of that question and say come down to La Feria de los Moles and find your own favorite.
GOF: Have you ever tried to add something different to Mole, and did that work out?
LJ: Yes, I have always been very interested in exploring and experimenting with different ingredient options. One day I tried honey instead of homemade chocolate, and my mother stop talking to me for over two months! In my family that's like an eternity and every family member knew I must have done something horrible and when they found out what I did they agreed with my punishment. My lesson learned was go ahead and experiment around the edges, but never mess with the core of our Mole recipe!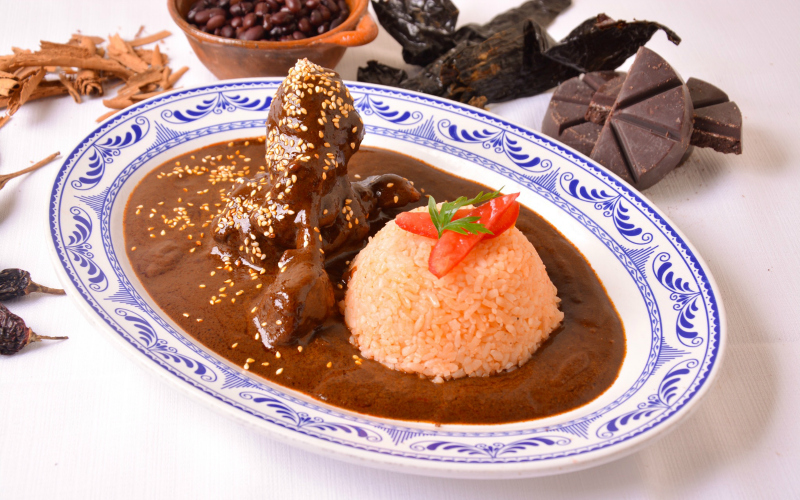 GOF: What does mole represent to you?
LJ: Mole represents my roots. The flavor always takes me back to my childhood, which goes back four generations. In my opinion Mole is the epitome of family. Mole brings families together, large and small. When Mole is being served everyone comes over. The table is full, everyone is happy, it's just the best.
For more information on La Feria de los Moles, click here.