The Old School
5022 Old Hydes Ferry Pike, Nashville, TN 37218
Website and Instagram
As much as I love to travel and explore new things, I can sometimes become a creature of habit. I tend to revisit my favorite local restaurants and cocktail bars that I know won't disappoint. Imagine my reaction when one of my dearest friends wanted to brunch "outside the city" in Scottsboro, Tennessee.
"Scottsboro, Tennessee. Where is that?"
"It's only twenty minutes or so outside the city, like Bells-Bend area. I've heard there's a great restaurant out there. Come on, let's check it out! "
(Shaking my head) "You seriously want to leave the city for brunch? Ok, but this better be worth it and you're driving!"
To this day, my friend continues to give me a hard time about this. Especially given the fact that I have gone subsequent times and The Old School is now one of my favorite Nashville establishments.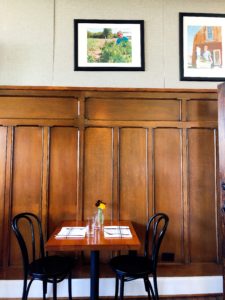 The Old School is located approximately twenty minutes outside Nashville and I promise, it's absolutely worth the drive (and that's coming from a girl who detests driving). Led by executive chef, Kristie Bidwell and Pastry Chef, Danielle Veit, all of the items at The Old School are sourced directly from The Old School farm or purveyors within a 25-mile radius.
While farm to table is one of the most popular trends in the restaurant industry, I assure you, this is not your typical farm to table restaurant. The Old School "is a unique, historic, culinary destination experience."  In addition to the farm and restaurant, The Old School has a lovely event space that is perfect for just about anything. From weddings and flower crown making to goat yoga, they have literally done it all.
The Old School supports local farmers and encourages sustainability through an ever-changing menu that highlights hyper-seasonal fruits and vegetables. Aside from sustainable sourcing, they pride themselves on their environmentally conscious practices as The Old School is a prominent member of the Nashville Food Waste Initiative.
After road-tripping an entire twenty minutes (does that even qualify as a road-trip?), we arrived at our destination. Given the fact that we didn't have a reservation, we made sure that we were approaching the doors exactly at 10:00 a.m. Escorted to our table, I was in absolute disbelief. Is there such as thing as farmhouse-chic? If so, The Old School would receive top prize.  From the sweet bouquets of field flowers, the quaint tables for two and the melodious music from the bluegrass band, everything was just perfect.
Given that The Old School uses such hyper-seasonal ingredients, it's highly unlikely that brunch dishes will remain the same from week to week.  Heck, if a brunch dish is uber-popular on Saturday, there could quite well be small substitutions made on Sunday. It changes THAT much. Heed my advice, if there's something that you want to try, order it. While there could be a variation of the dish, it's possible you won't see it again.
The Old School has a fully stocked bar with several beers on tap as well as classic brunch cocktails. If you only take one thing away from this post, I hope it's this. ORDER THE BLOODY MARY. It's bloody BRILLIANT! The bartender uses the seasonal vegetables which range from tomatoes, peppers, onions, you name and then roasts them with various spices to concoct this mix. Once you've had this bloody, you won't want to drink anything else….I don't.
Pastry Chef Danielle Veit is an absolute mastermind of all things sweet. Before I learned about the Baker's Basket, I would order small treats like the Goat Cheese Beignets or Cinnamon Roll to snack on throughout the meal. However, after seeing the Baker's Basket for the first time, I forever changed my ways. This basket is filled with bites both sweet and savory and rest assured you will have a smile on your face. The best part, if you don't finish you can get a box and enjoy them later.
Take it from this Southern girl, there's nothing better than The Peach Truck peaches. I have been fortunate to enjoy two dishes created by Chef Bidwell this summer. First, Grilled Peach Truck Peaches with Endive Frisée and secondly the Peach Truck Panzanella. I thoroughly enjoyed both dishes, but if I had to choose a favorite, I'd lean towards the Panzanella. It had these crispy fried red onions that were out of this world. Which dish would you choose?
If you don't have a penchant for peaches, there are plenty of other items on the menu. The Old School offers several smaller dishes in the event that you went a little too crazy on the Baker's Basket or perhaps just want a lighter meal.
During my last visit, the server recommended the Marinated Baby Heirloom Carrots. Normally, this is not a dish I would gravitate towards, but with his recommendation, I knew it was worth a try. O.M.G. I was a little surprised that the dish was served cold but I really enjoyed the amazing flavors and freshness of the dish.
If you prefer sweet over savory breakfast dishes, I can't recommend the Pain Perdu enough. Talk about a little bite of heaven. These pillowy pieces of bread are covered in blackberries and bourbon powdered sugar and topped with Asiago cheese. I was a little perplexed when I saw that flavor combination on the menu, but it was love at first bite.
From brilliant bloody marys, Peach Truck peaches and a Pain Perdu that will leave you speechless, it's evident why brunch at The Old School is a must. Word on the street is that dinner is just as incredible but for some reason, I've only made it for brunch. I totally blame it on the bloodys.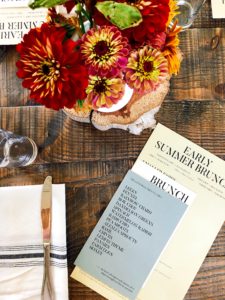 Escape the hustle and bustle of the city and check out The Old School. It's sure to become one your Nashville favorites
**GOF Tip: Swing by Opentable and make your reservation today. Brunch fills up quickly. Click here for reservations.**