This week I was enlisted by my super awesome Editor, Julianne, to try out Lauryn's Barbecue Sauce and try to come up with some recipes.
So much pressure you guys, but it was so worth it. I've spent the last three weekends messin' around and now I am here to share with you, our loyal Girls (and boys) on Food, my findings.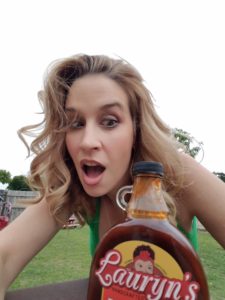 Over the course of three weekends, I used the sauce in three different ways. My litmus test with all BBQ sauces is how well it works for chicken wings. I was not disappointed.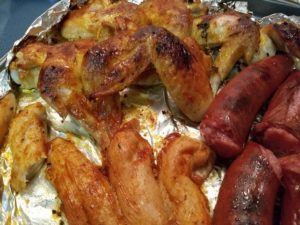 Lauryn's Maple Bourbon Barbecue Sauce is probably the best sauce I've ever used on wings you guys.
I'm not crazy about wing sauce that is super spicy or overly vinegar-ish, but this sauce has a kick to it and rounds the sweetness out so well.
It's not too sweet, not too tangy. It's perfect.
Then last weekend my adorable foodie husband bought a teeny new grill to play with this summer. We christened the grill with the sauce and a huge rack of baby back ribs.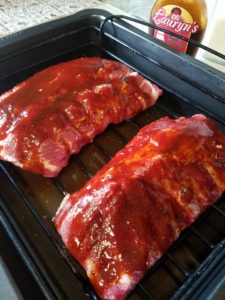 Recipe for mouth watering, fall off the bone ribs By SouthDallasFoodie:
Salt, pepper then sauce them bad boys up.
Place ribs on a wire rack inside a roasting pan.
Fill the pan with water, about an inch deep. You don't want the water touching the meat. Cover very tightly with foil and bake for two hours at 325.
You'll know they're ready when you can see the bones poking out.
Then sauce them again and either put them under the broiler on low (continuously monitored) for about 2 minutes, OR…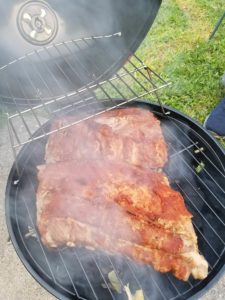 …give them a few moments on the grill. All we're trying to do is get these babies nice and caramelized so just about five minutes or so should do the trick.
Today, the hubs and I had friends and family over for Memorial Day. I decided to enlist one of my own little Girls On Food, my Goddaughter – Emma, to help me with the most fun and most delicious recipe in the whole experiment.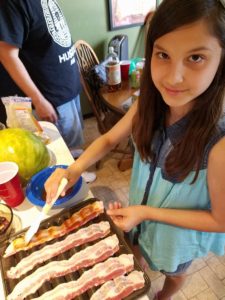 This recipe is not just delicious and fun but also super easy.
Take about 1/2 a cup of Lauryn's Maple Bourbon Barbecue Sauce and mix in about 1/4 cup of brown sugar.
Now lay some bacon out on a roasting pan and brush the mixture on.
Bake at 350 for 5 minutes then baste again…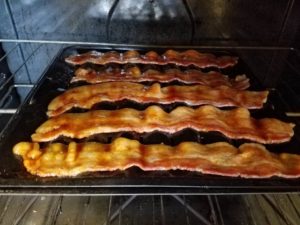 You're gonna do a baste, bake five minutes, baste, bake five minutes thing here. About twenty minutes should do it; it just depends on how crisp you like it.
When you're done, VOILA, you have Maple Bourbon Candied Bacon Strips. If you're looking for a unique appetizer, then look no further.
The maple flavor with the bacon was off the hook. A super unhealthy/delicious snack for any occasion.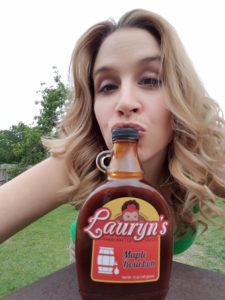 Lauryn's is available for sale online here. Other flavors include Honey Mustard, Pineapple Heat and Bite of The South.
Let Lauryn know Girls On Food sent ya! Happy cookin'.