One of the best things about living in Northern California is no matter which direction you turn there is always something to do. Head north, you can stomp grapes, hike among the redwoods and explore the little tiny towns that connect the dots throughout the upper portion of the state. Look west towards the Pacific Ocean and endless oysters can be feasted upon, whales can be watched until your hearts content and waves can be caught with just a cowardly lion's thimble full of courage. Look below, towards the south and you can lose yourself amidst the fog as your roam the streets of the city by the bay, cheer on the red and gold at the future home of Superbowl XLIX or chew until your jaw falls off on some of the best saltwater taffy Santa Cruz has to offer. This weekend, however, my compass pointed towards the east. A direction known for Cal Bears, an entire nation who bleed silver and black and a community whose cultural heritage and pride often help to carry them through the most adverse of life circumstances.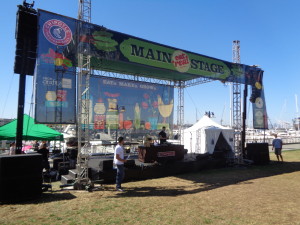 I was in Oakland this weekend for the 7th Annual Eat Real Food Festival, a community celebrating one simple thing… GOOD FOOD!! If a state fair, a block party and a street-food festival had a threesome and created a baby from it… Oakland's Eat Real Food Festival would be its amazingly beautiful and delicious offspring. With an eye on teaching the public how to support local food systems as well as promoting a stronger and healthier community-run organizations and businesses, the Eat Real Food Festival strives to bridge the gap between the average consumer and their local food producers and growers. Individual food artisans mingled with national sponsors who in turned rubbed elbows with regional farmers and mom and pop businesses as a way of showing their support for one another. With 100% of the proceeds going to support the Food Craft Institute, a non-profit educational institution which supports the entrepreneurship and economic growth of small traditional food businesses, the Real Food Festival allows the community to sample the offerings of up and coming Bay Area businesses. Which really, when you think of it is a win/win situation for everyone.
The Eat Real Food Festival has, thus far, been the biggest food festival I have ever been to. With over seventy-five thousand people attending the event within a three-day period, there were more than a few mouths to feed. Fortunately, the sweet and savory selections did not disappoint. Over 120 food, wine and spirit vendors showed up with the very best of all types of cuisine. Mexican, Peruvian, Spanish, Korean, All-American, Portuguese, Soul Food, Seafood, French, Italian, Breakfast, Lunch, Dinner… you name it they had it!!! Enough to make your head, or really your stomach explode.
One of the first items I happily indulged on was actually not a meal at all. I am a firm believer in dessert first, therefore I saddled up to the West Coast Style Frozen Custard Truck to try my first ever frozen custard. Half custard, half ice cream and all completely heavily (literally I think that is what heaven tastes like), it left me asking one question: How after 29 years of being on this earth have I never tried frozen custard before. Though there were numerous selections to choose from, including vanilla bean and rich chocolate, it was easy for me to pick a flavor. Being a sucker for anything Thai inspired, I immediately went for the Thai Ice Tea flavor with sweetened condensed milk on top.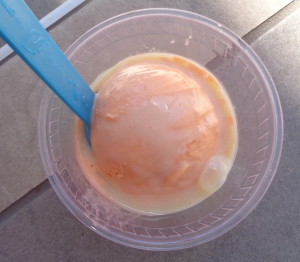 With the temperature being over 90 degrees outside, it was no surprise that the creamy treat cooled me down, but even if it was ten below zero I'm sure I would have found myself face deep in the bowl of goodness.
Next up came the paella from San Francisco based catering company ñora. Paella, a traditional Spanish rice dish is known for being cooked in a large round, shallow pan, which allows the rice in the Paella to become extra crispy. Along with aiding in the cooking process, this cooking vessel and the chefs who work the Paella in the pan create quite an exciting spectacle for those waiting to try. Fortunately, the taste was worth the wait… it was absolutely delicious, perfectly seasoned with saffron and not too hot right off the Paella pan.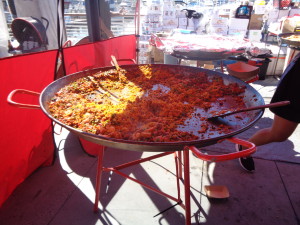 Following the Paella, I decided to give my tummy a bit of a break so I wondered over to the entrance to the festival where many of the information booths were located. I learned about the importance of urban farming and sustainable food systems from the fine volunteers at City Slicker Farms, a non-profit organization designed to educate the general public about where their food comes from.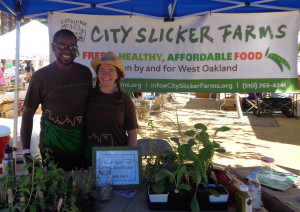 After collecting a complementary package of antique sweet pea flower seeds I quickly made a beeline to the Love A Bee honey stand, where I learned about importance of bees in our ecosystem all while sampled some local varieties of organic honey. I ended my mini farm tour with a visit to some adorable fine feathered friends, baby chicks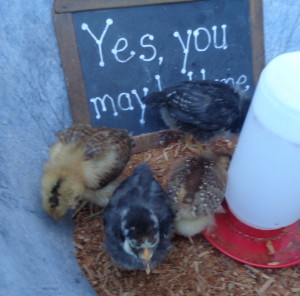 brought by Clover Stornetta Farms in Petaluma, where they along with eggs, produce a wide variety of delicious organic dairy products.

My second lunch (my first being the paella) came from Bombzies Asian BBQ. The Vietnamese BBQ chicken, their original recipe had me at first site.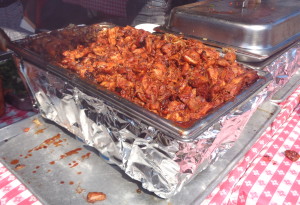 Next came giant pickles and marinated vegetable salad from Happy Girl Kitchen Co.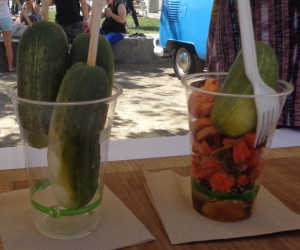 followed by a demonstration from the Chipotle on how to make their signature fresh guacamole with only six fresh ingredients: ripe Hass avocados, lime juice, cilantro, red onion, jalapeno and kosher salt… yes, please!!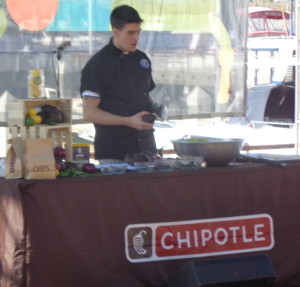 It was impossible for me to end my day without grabbing a few things to go for my hungry folks waiting at home. That was actually an easy choice. It was organic modern soul food in the form of a BBQ pork belly sandwich from Keenan's Kitchen for my dad.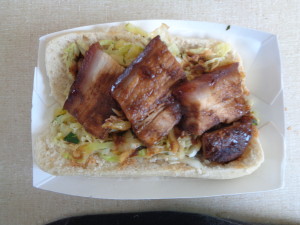 And for my mom, the ultimate mushroom lover, it was wild mushroom and cheese empanadas from the El Porteño, an Argentinian food truck and caterer located out of San Francisco. Empanadas so good, I found myself look up the locations of their food truck for future reference.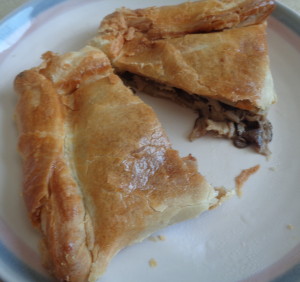 Finally, my last stop before departing the Eat Real Food Festival was to glutinously pick up something which I had been thinking about all afternoon. It was to an unpretentious little popcorn stand I stopped by and quickly sampled at the beginning of my day. The popcorn at the POP Mama POP Artisan Popcorn booth is easily the best popcorn I have ever had, and this coming from someone who grew up on classic air popped popcorn all her life. Their organic locally grown corn paired with the delicious flavors they create is out of this world good. Flavors such as Jalapeno Sweet, Parmesan Garlic, Hot Chocolate and Sea Salt & Cracked Black Pepper left this life-long popcorn connoisseur coming back for second and third samples.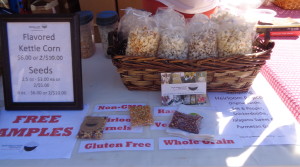 I came back so many times the founder Kathleen Hackett, couldn't help but laugh as I stuffed yet another sample of the kettle corn in my mouth (nearly choking on it in the process.. thanks to the random bystander for the quick smack on the back) Kathleen, who not only makes a good product and was generous enough to indulge my numerous samples, but was also generous enough to have all of the festivals tips go towards the victims of the valley fire. But in the end it was the popcorn that kept me coming back for more, especially the Snickerdoodle flavor. What was once a childhood cookie memory, had been transformed into the ultimate sweet and salty snack. A snack so good I have no shame in admitting that I ate the entire bag I purchased from the festival for breakfast this morning.
To say the Eat Real Festival treated me well is an understatement. If life was being played out in the novel pages of Charlotte's Web, I was for the briefest of moments Templeton the rat, the errand boy (or girl) set out to bring back to you messages of up and coming, new and thriving food favorites in the area. I and my stomach are more than happy I followed my compass east this weekend. If I had not done so I would have surely missed out on the veritable smorgasbord-orgasbord of deliciousness.