One of the problems, when you're hosting a holiday dinner, is the holiday breakfast and holiday lunch. Isn't it enough you have to plan and prepare the dinner PLUS clean the house AND set the table?  And, if it's Christmas, there are presents to open! Who has time to cook extra meals???
Fear not, I have the perfect solution:  BREAD & CHEESE OMELETTE CASSEROLE!
You put it together the day before, then just pop it in the oven in the morning and let it bake for an hour. While it cooks, you can open presents or tackle any of the hundred tasks that need to be done before company arrives.
NOTE:  I use this casserole as an opportunity to finish up odd bits of leftover cheeses. (I hate waste!)
BREAD & CHEESE OMELETTE CASSEROLE
3 cups French bread pieces (about 1″ squares)
12 oz cheese, shredded (your choice – mix it up, if you like)
8 eggs
1½ cups + 2 T milk (I use nonfat)
1/4 cup white wine
1 tsp dried mustard
1/4 tsp pepper
1/4 tsp cayenne pepper
1/3 cup scallions, sliced thinly
Butter a 9½" x 13″ casserole dish. Evenly sprinkle on bread followed by cheese.

In a bowl, put the dried mustard, pepper, and cayenne pepper. Pour in a little of the milk and blend, smashing out any lumps. Add the eggs and beat well with an egg beater or whisk. Add the remaining milk and the scallions. Beat well.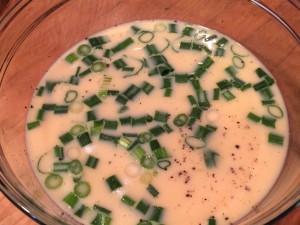 Pour over bread and cheese. Cover with foil and refrigerate.

If possible, remove from fridge about half an hour before cooking. Bake covered at 325º Fahrenheit for 1 hour. Remove foil and bake another 5 minutes. Let rest at least 15 minutes to allow it to firm up.