Good morning Baltimore!  Every day is indeed like an open door of delicious food fantasticalness.  I found myself in this Harbor town for Play Big Apple/Baltimore Social Skeeball National Championships where teams from Baltimore, NYC, Charleston, Denver and more gather to remarkably throw wooden balls with as much gusto and pride as three cups deep of Bud Light will command.  We may not have won the belt of greatness, but we did have a chance to have some bonafide tried and true crabs and isn't that what going to Maryland is all about?
Our first day we wandered Baltimore Harbor, a compact alley of restaurant options and a MASSIVE Barnes & Nobles.  We decided to grab a drink outside at Phillips.
Phillips Seafood
601 E. Pratt Street
Baltimore, MD 21202
http://www.phillipsseafood.com/locations-and-menus/baltimore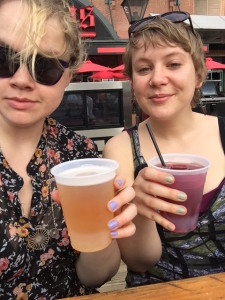 My skeeball teammate Caitlin and I attempt to control our wild hair while enjoying a mid-afternoon libation in the eighty degrees Baltimore heat.  She opted for the Sangria while I sampled The Baltimore Pale Ale.  A light and crisp local brew my taste buds were tingling.  The crab deck is an outdoor seating area that if it weren't for the wind would have been the perfect way to spend our early evening.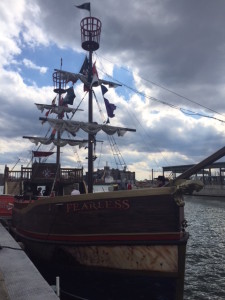 After some afternoon exploring bookended by poetically staring at elaborate ships, we traveled to the Skeeball opening night event at Mother's Bar & Grille conveniently located right near the Airbnb where we stayed.
I wasn't daring enough to attempt "The Heart Attack", the beer battered burger stuffed with cheddar cheese and deep fried that was featured on Man vs. Food, but I did pick at their Iggi's nachos and cajun honey buffacue wings a good two nights in a row.  Let's be honest; I was mostly at Mother's for The Skeeball Nationals but the back room is spacious and the perfect compliment to cue inspirational sports music…..somewhat important sporting events.  This is most of the crew climbing out of a Greyhound around roughly 3 pm and realizing that the heavy NYC rainboots are already making your ankles sweat in the unexpected sun of Baltimore.
With a name like Skeeracha, bold green headbands are necessary.
As a team, we unitedly decided that we had to have the authentic Baltimore crabs experience.  So, we googled hard and found an eatery in the trendy hood of Fells Point or as our uber driver so expertly explained to us "where the party at."  We went with Captain James, which was quaintly in a boat.  The nautical decor got us all in the mood to get crabs.  And that indeed we did.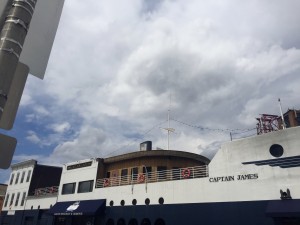 Captain James
2121 Aliceanna St, Baltimore, MD 21231
captainjameslanding.com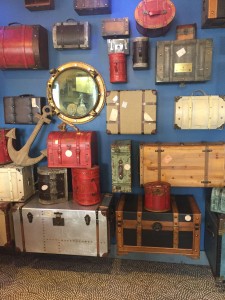 We started with Maryland crabs and LOTS of them.  Let's be real; we do have a team of eight.  The waiter brought out mallets, a bucket, and spread out the paper on the table.  It was time to partake in one of the delicacies of the city and after an elaborate explanation of how to crack open the crab and scrape the lungs off (never eat the lungs) it was time to dig in.  As you can see, crabs are more photogenic than the Olsen twins.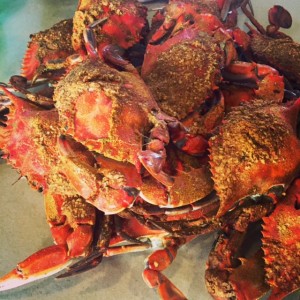 As for my main course, my seafood frenzy continued as I received my broiled seafood platter.  Fresh fish, gulf shrimp, mini crab cakes, crab legs, and an imperial stuffed oyster it was a veritable feast.  One of my teammates ordered the seafood alfredo and RAVED about it.  Just look at the succulent shrimp, scallops, and lobster tossed in an irresistible alfredo sauce.  Being the athletes we were, carbo loading was an absolute necessity.
The unexpected delight was the crab seafood chowder.  Very similar to a New England Clam Chowder with a cream base, it gets two claws up.  After quickly losing in the first round to two native Baltimore teams we shrugged the sigh of champions and partied on.  Before we left Majestic Baltimore, we couldn't go without taking in one of its most impressive sights: The National Aquarium.  It was spectacular, and I took pause to don my most exciting, dramatic underwater sea pose between two liquid pillars.  That B.F.A. in acting really pays off a solid….third of the time.
National Aquarium
501 E. Pratt StreetBaltimore, MD 21202
http://www.aqua.org/
After an aquatic day of wonder, we loaded back into The Greyhound foggily shutting our eyes and took the four-hour journey back to our native NYC.  I would be remiss if I didn't mention that Danny managed to carry a Domino's Pizza not consumed from the night before around on our final day.  He even swindled the bag check man at the aquarium to store the pie while he wandered around staring at fish.  At the bus depot, he turned a profit when two young women offered to buy half of it for four dollars.  If Danny can manage to smuggle day old pizza back to NYC, anything is possible in this world.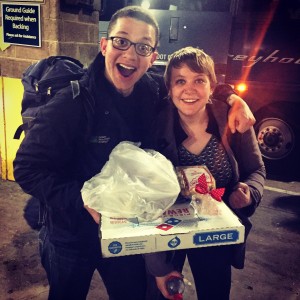 I recommend Baltimore for a weekend trip.  Compact, historical, and fishy it's a delight!  There's always room in anyone's schedule to take countless hypnotic pictures of jellyfish, if you're lucky and can shove past a crowd you may even get to pet one. #lifegoals