White Wolf Café & Bar
1829 N Orange Ave, Orlando, Fl 32804
www.whitewolfcafe.com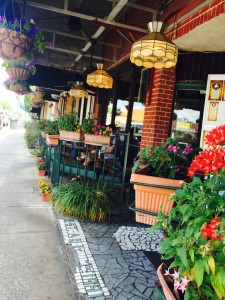 White Wolf Café & Bar is an eclectic neighborhood restaurant in the Ivanhoe Village District, affectionately referred to as "Ivanhood". Founded as an antique store, the owner transformed the space into a restaurant twenty-five years ago. Today, White Wolf is still recognized for its unique art and light fixtures, which of course, are all for sale. Even more impressive than the art collection, though, are the creative signature dishes served for brunch, lunch, and dinner every day!
My friend, Katie, and I went to White Wolf for lunch after checking out the funky record and antique stores on Orange Avenue. The restaurant's namesake is the owner's late white German Sheppard, so we knew they would be accommodating to Matilda, Katie's perky little Pomeranian. We sat outside under the lush, hanging flower pots and the waitress brought Matilda a water bowl while we perused the menu.
After a lot of deliberation, I ordered the Moroccan salad, sans chicken. The salad had bananas, raisins, and almonds soaked in a sweet and tangy curry dressing, on top of a crunchy bed of Romaine lettuce. The combination of textures made this salad stand out. I was a little apprehensive about ordering a salad with bananas on it, but they were chilled to the perfect temperature to keep from being soggy or slimy. Who knew bananas tasted so good drenched in honey curry?! The dish came with a side of warm pita bread, which I lapped up the remainder of the dressing.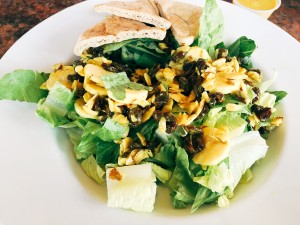 Katie, also being a quasi-vegetarian and a self-proclaimed "Black Bean Burger Connoisseur", ordered the house Black Bean Burger with a side of French fries. Unlike the usual dried out veggie patty, this one was flavorful and thick, without being too mushy. The combination of the hearty black beans and sharp Bleu cheese was delicious! I have to mention that I stole more than a couple of her fries… They were crunchy, perfectly seasoned and served with some garlic mayo and ketchup. I dipped a few in my honey curry dressing and opened a whole new world for my taste buds.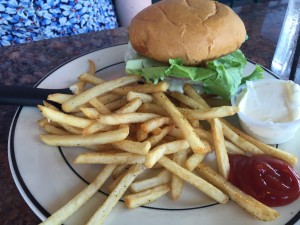 We felt like regulars, sitting outside with Matilda and our curiosity shop finds. The restaurant is in a great location for people-watching, and you can walk off your food coma around Lake Ivanhoe. White Wolf Café & Bar is a neighborhood spot that is more than welcoming to newcomers, but I wouldn't mind becoming a regular. You may leave with a new painting, chandelier, or just a to-go box, but you'll definitely leave satisfied.