The happiest place on earth has gotten a little bit happier. Adventureland in Disney World's Magic Kingdom, is the place to go if you are jonesing for a Dole Whip, but what if you need more sustenance for your 14-hour death march theme park day? Look no further than Jungle Navigation Co., Ltd. Skipper Canteen.
Jungle Navigation Co., Ltd. Skipper Canteen
Walt Disney World's Magic Kingdom
1180 Seven Seas Dr., Lake Buena Vista, FL 32830
Disney World Dining
I was spending the day at the Magic Kingdom with two friends, and we had a few criteria for lunch: A/C, semi-quiet, vegetarian options, A/C, reserved seating, IG worthy, and A/C. Jungle Skipper Canteen met all these requirements, and I was even able to make a reservation using the same app now used to schedule fast passes. WHAT A TIME TO BE ALIVE!
Having ar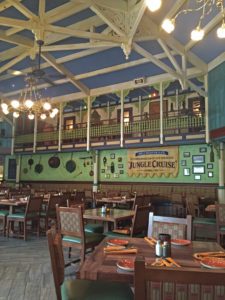 rived a few minutes before our reservation, we sat in a cute entryway with a water cooler…and A/C. Once our table was available, we were in the "mess-hall" room, which was large, but very quiet, and uncrowded, such a nice reprieve from the afternoon sun, and crowds of people.
We stuck with water, but the menu offered some fun drink choices, including Coca-Cola® selections from Brazil and Thailand, a large selection of teas, a punch made with a mango puree, and a frozen apple slush topped with green apple boba.
The restaurant is an extension of Disney's Jungle Adventure Cruise ride, and eclectic menu choices reflect flavors found in South America, Asia, and Africa. Our culinary adventure began with complimentary Ethiopian ambasha bread, served with a fenugreek-infused honey. We ordered the Falls Family Falafel ($8.50), which was served with a flavorful white bean dip, and tomato-cucumber garnish.
I also ordered the house-made arepas ($9.50), which was my favorite thing from the whole meal. The arepas were a little denser than I am used to, but were a delicious base for the flavorful shredded beef, while the tostones (twice-fried plantains) were perfect with the not-too-spicy black beans. If you are only ordering one appetizer, I would recommend this one!
For entrees, my meat-eating friend chose the "A Lot at Steak" salad ($19), which was huge and loaded with tender slices of grilled steak, she barely left a dent in it by the end of the meal. My vegetarian friend went with the Curried Vegetable Crew Stew ($17) which smelled so good, we all had a bite or two. Cauliflower, potatoes, and a variety of other veggies were smothered in a delicious house-made curry, and served with fluffy coconut rice, and hot naan bread. I selected an appetizer as my entrée, the Shiriki Noodle Salad ($11); chilled rice noodles, loaded with edamame, micro-greens, red pepper, cucumber, green mango, and tossed in a sweet chili sauce—very refreshing!
The dessert choices (all $8) sounded fantastic, but all three of us were stuffed (we may or may not have had Dole Whips before lunch #perksofadulthood). I was especially interested in Bertha's Banh Bong Lan Cake – vanilla chiffon cake, soaked in lemon grass-ginger syrup, with mango-lime sorbet, but that will have to wait for my next visit.
The only low-point of our dining experience was having to exit back out into the oppressive Florida-in-July heat, but we quickly remedied that with our next stop, the air-conditioned Enchanted Tiki Room…and maybe another Dole Whip.
Skip the crowded fast-food eatery lines, and reserve a table at the Jungle Navigation Co., Ltd. Skipper Canteen!